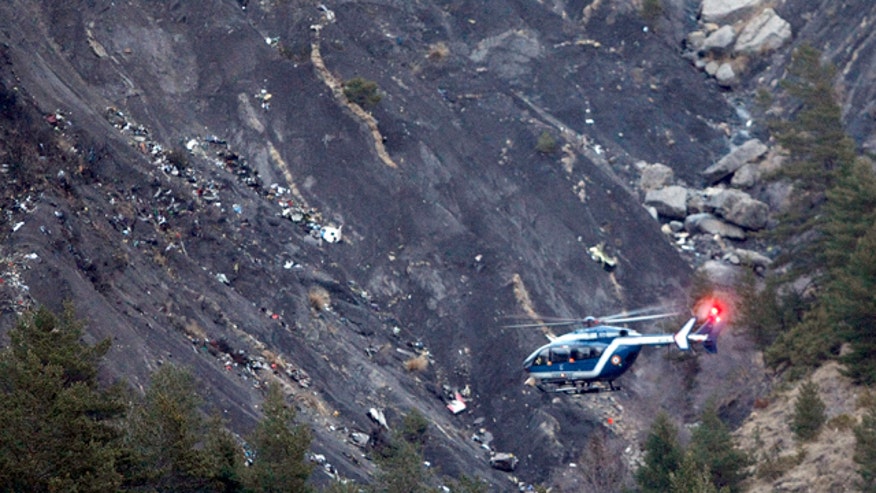 Search teams found a "black box" from the plane that crashed early Tuesday in a remote section of the French Alps, providing the first possible clue as to what caused the Dusseldorf-bound aircraft to suddenly lose altitude and crash, likely killing all 150 people aboard.
The French Interior Ministry Bernard Cazeneuve confirmed searchers had recovered the flight data recorder in a debris field where "everything is pulverized," according to one local official.
Alpes-de-Haute-Provence lawmaker Gilbert Sauvan said the debris is spread over an area that is the size of one-to-two football fields.
"Everything is pulverized," Sauvan said. The largest pieces of debris are the size of a small car, he said.
The official said no one can access the site from the ground, but that helicopters are circling the area to get information and 500 firefighters and gendarmes are in the area.
"A black box that we found a few hours after the crash will immediately be examined to help the investigation move forward quickly," Cazeneuve told French media.
The first helicopter that managed to land near the mile-square crash site in the Alpes de Haute Provence region, about 65 miles north of Nice found no survivors, according to French Prime Minister Manuel Valls.
The flight data recorder and the other black box, the cockpit voice recorder, should help investigators determine the circumstances behind the crash of the Airbus 320, which French President Francois Hollande called "a tragedy that has occurred on our land."
The plane, operated by German carrier Lufthansa's budget airline, Germanwings, was 44 minutes into its flight from Barcelona in relatively clear weather when it dropped from a cruising altitude of 38,000 feet to around 6,800 feet over the town of Barcelonnette. The eight-minute descent was described as unusually rapid, but possibly controlled though it left the plane too low to navigate the mountains.
"This is a mourning period that we need to overcome because it's a tragedy that has occurred on our land."

- French President Francois Hollande.
"We will do everything possible the clarify the causes of the accident as quickly as possible," Germanwings official Thomas Winkelmann said at a Tuesday news conference hours after the crash. "We want to know what happened. That is our obligation."
Hollande was scheduled to talk to German Chancellor Angela Merkel and Spain's King Felipe as most of the crew and 146 passengers,including two babies, were likely from those countries. The airline and the route are both popular for vacationers from both nations. No names of passengers were released, as the airline and authorities sought to contact family members. Reports said about 45 people on the plane had "Spanish surnames," and 67 were believed to be German.
Sky News said 16 students from a German high school and two of their teachers were aboard the plane. The students were part of an exchange program in Spain.
Two opera singers were also aboard the doomed flight. Contralto Maria Radner was returning to Germany with her husband and baby after performing in Wagner's "Siegfried," according to Barcelona's Gran Teatre del Liceu. Bass baritone Oleg Bryjak had appeared in the same opera, according to the opera house in Duesseldorf.
Dusseldorf Opera House director Christoph Meyer said "we have lost a great performer and a great person in Oleg Bryjak. We are stunned."
Germanwings has had to cancel seven flights out of Dusseldorf because a number of crew members felt they were unfit to fly following news of the accident.
Lufthansa CEO Carsten Spohr said Tuesday evening that he understood the crew members' sentiments.
"One must not forget: many of our Germanwings crews have known crew members who were onboard the crashed plane," Spohr said.
"It is now more important to ensure psychological assistance if needed. And we will get back to a full flight operation as soon as possible then. But for me, this is rather secondary now," he added.
At a White House press conference Tuesday afternoon alongside Afghan President Ashraf Ghani, President Obama expressed condolences to the families of the victims.
"Our thoughts and prayers are with our friends in Europe, especially the people of Germany and Spain following a terrible airplane crash in France," he said. "It's particularly heartbreaking because it apparently includes the loss of so many children, some of them infants."
Obama said the State Department was working to confirm how many Americans may have been on the plane.
"This is a mourning period that we need to overcome because it's a tragedy that has occurred on our land," Hollande said.
U.S. officials said there were no initial indications terrorism was involved.
"There is no indication of a nexus to terrorism at this time," said Bernadette Meehan, spokeswoman for the National Security Council.
"It was a deafening noise. I thought it was an avalanche, although it sounded slightly different. It was short noise and lasted just a few seconds," Sandrine Boisse, the president of the Pra Loup tourism office, told the Associated Press.
The owner of a campground near the crash site, Pierre Polizzi, told The AP he heard a noise from the plane shortly before it crashed.
"I heard a series of loud noises in the air," he said. "There are often fighter jets flying over, so I thought it sounded just like that. I looked outside, but I couldn't see any fighter planes."
He added that the search teams would have a difficult task. The nearest road to the crash site is two hours away.
"It's going to be very difficult to get there," he said. "The mountain is snowy and very hostile."
Former National Transportation Safety Board Chairman Jim Hall told Fox News a crash in midflight was extremely rare and said "criminal activity" cannot be ruled out.
The plane was built in 1991 and had always been in Lufthansa's fleet. Winkelmann said the pilot had more than 10 years' experience and that the plane had been thoroughly inspected a day earlier.
AFP initially reported that the plane had issued a distress call at 10:47 a.m. local time, but later retracted the report. Germanwings officials could not immediately say whether a call was made.
The sudden descent could point to engine failure, an electrical problem or onboard fire, Kenneth Honig, former commanding officer of New York's JFK and LaGuardia airports, told Fox News.
"They had something going on that was causing them to lose altitude quickly," Honig said.
Honig said the recordings captured on the "black box" will aid in the crash investigation because they will capture the dialogue between the pilot and co-pilot and what they were saying to one another as they tried to work through the problem.
"We do not yet know what has happened to flight 4U 9525," Lufthansa CEO Carsten Spohr told Sky News. "My deepest sympathy goes to the families and friends of our passengers and crew on 4U 9525. If our fears are confirmed, this is a dark day for Lufthansa. We hope to find survivors."
Lt. Gen. Tom McInerney told Fox News he was puzzled that the plane did not divert its course away from the mountains after losing altitude.
"If it disappeared [from radar], it means it got into the mountains," McInerney said. "There's probably quite a bit of [cockpit] dialogue that we're not getting yet."
The Associated Press contributed to this report.