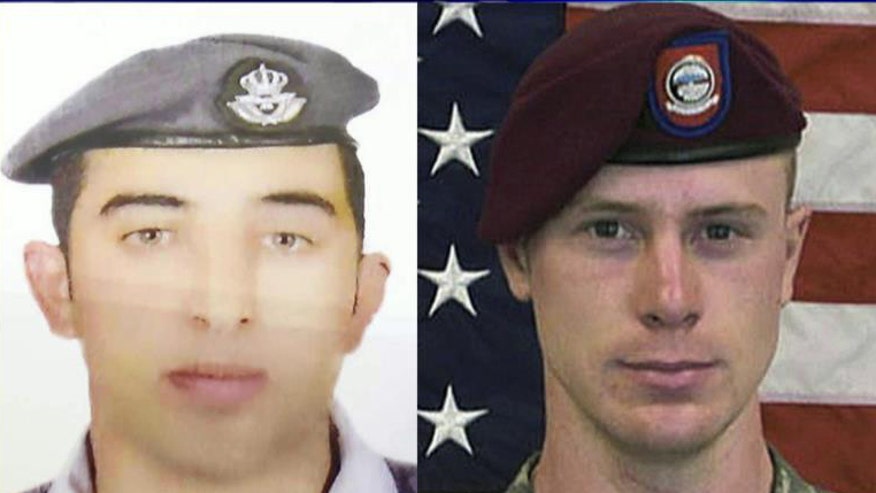 The Islamic State group released a message purportedly from Japanese hostage Kenji Goto on Thursday, extending the deadline for Jordan's release of an Iraqi would-be hotel bomber linked to Al Qaeda.
The audio recording, in English, says the Jordanians must present female jihadist Sajida al-Rishawi at the Turkish border by sunset Thursday, or Jordanian pilot Lt. Muath al-Kaseasbeh will be killed, The Associated Press reported.
On Wednesday, Jordan agreed to an ISIS demand for the release of al-Rishawi.
"Please save Kenji's life."

- Mother of Japanese freelance journalist Kenji Goto
The recording, distributed on Twitter by IS-affiliated accounts, appeared to be more rushed than two previous ones purportedly from Goto, which showed a photo of him along with the audio recording.
Thursday's recording contained only the audio, with an image of Arabic text that was an exact translation of the statement.
The Associated Press could not independently verify the contents of the recording. It was not immediately clear whether Goto would be included in any swap or left behind.
Jordanian government spokesman Mohammed al-Momani said Wednesday that the nation was prepared to free al-Rishawi, who was convicted of taking part in a 2005 deadly hotel bombing that killed 60 people, if al-Kaseasbeh was released unharmed. His comments were carried by Jordan's official Petra news agency. Although he made no mention of Japanese journalist Goto, a hostage audio message released by Islamic State a day earlier tied Goto's fate to that of Al-Rishawi, as well.
Jordan reportedly was in indirect talks Wednesday with the militants through religious and tribal leaders in Iraq to secure the hostages' release. The chairman of the foreign affairs committee of Jordan's parliament, Bassam Al-Manasseer, has been quoted as saying that Jordan and Japan would not negotiate directly with the Islamic State group and would not free al-Rishawi for the Japanese hostage only.
Jordanian Foreign Minister Nasser Judeh later wrote on his Twitter account that Jordan asked for proof that the pilot is alive. "We have asked for some time for evidence of the health and safety of the hero Muath, but didn't receive it," he wrote.
The mother of another Jordanian prisoner, Ziad al-Karboli, said her family was told the Islamic State group also wants his release as part of a swap, but it is unclear if that was related to a possible deal involving the Japanese hostage.
Al-Karboli, an aide to a former Al Qaeda leader in Iraq, was sentenced to death in 2008 for killing a Jordanian citizen.
Earlier Wednesday, Goto's mother appealed publicly to Japan's premier to save her son. Junko Ishido, read to reporters her plea to Prime Minister Shinzo Abe, which she said she sent after both Abe and Japan's main government spokesman declined to meet with her.
"Please save Kenji's life," Ishido said, begging Abe to work with the Jordanian government until the very end to try to save Goto.
"Kenji has only a little time left," she said.
Meanwhile, the Jordanian government is under growing pressure at home to win the release of the pilot, with his father, Safi al-Kaseasbeh, pleading with Jordan "to meet the demands" of the Islamic State group.
"All people must know, from the head of the regime to everybody else, that the safety of Mu'ath means the stability of Jordan, and the death of Mu'ath means chaos in Jordan," he told The Associated Press.
Al-Kaseasbeh has repeatedly criticized the Jordanian government's handling of the crisis, saying more must be done to bring his son home.
"The government needs to work seriously, the way one would do to free a son, like the Japanese government does," the father said.
Al-Kaseasbeh, 26, was seized after his Jordanian F-16 crashed in December near the Islamic State's de facto capital of Raqqa, in Syria. He is the first foreign military pilot they have captured since a U.S.-led coalition that includes Jordan began an aerial campaign against the Islamic State in August.
Goto is a freelance journalist who was captured in Syria late last year, after reportedly traveling there to try to help Haruna Yukawa, a private soldier who had gone earlier to fight and was captured. Yukawa is believed to have been beheaded after Japan refused to pay the ransom.
The developments come as debate rages in Washington over whether the U.S. government has effectively opened the door to negotiating with terror groups. Asked Wednesday about the Jordanian position, State Department spokeswoman Jen Psaki said every country "has the ability and the right to make decisions," but reiterated the U.S. position that "we don't make concessions to terrorists."
Still, the U.S. last year traded five Guantanamo prisoners to a Taliban-aligned network to secure Sgt. Bowe Bergdahl's freedom. Reports have emerged that Qatar also proposed a trade last year for an Al Qaeda operative held in a U.S. prison, though the administration insists no such trade was considered.
White House spokesman Eric Schultz, while also saying U.S. policy is "that we don't pay ransom, we don't give concessions to terrorist organizations," sought Wednesday to distinguish the current proposed trade from the Taliban-Bergdahl swap.
He described that as part of an "end of conflict interaction," as part of the wind-down of the Afghanistan war. Further, he said the Taliban are an "armed insurgency," while ISIS is a "terrorist group."
The Associated Press contributed to this report.