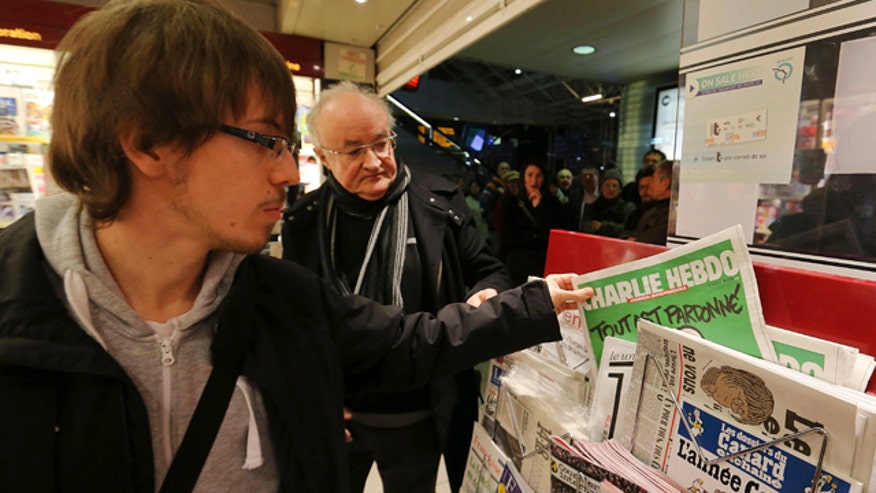 Newsstand sales are through the roof, donations are pouring in and "Je Suis Charlie" has become the world's most popular mantra, as support continues to mount for Charlie Hebdo, the satirical tabloid that became a symbol of free speech and tolerance after its Paris headquarters was attacked by terrorists last week.
In the wake of last week's deadly Islamist attack on the headquarters of the irreverent publication, media groups and private donors have pledged hundreds of thousands of dollars to ensure that its remaining staff carries on. But the most obvious sign of support has come in the form of demand for the latest edition, which hit newsstands on Wednesday, one week after the massacre left 12 dead. The paper's usual print run of 60,000 was increased to 5 million after it was announced it would feature a caricature of the Prophet Muhammad, the perceived offense believed to have prompted the attack.
Copies were selling for as much as $500 on eBay, and the number being printed is an all-time record for any French newspaper, proving unprecedented public support for the paper. But Charlie Hebdo is also reaping a fortune in donations, with Google pledging $300,000 and a group of French media companies ponying up a similar amount.
"Freedom of expression is a right," reads a pop-up window on Charlie Hebdo's website. "Weekly Charlie needs you to survive. Support Charlie Hebdo by making a donation!"
It was last Wednesday when Al Qaeda-linked jihadist brothers Said and Cherif Kouachi stormed into the offices of Charlie Hebdo and killed nine of the magazine's staffers, including four cartoonists; a woman visiting and two police officers. The publication had long been a target of Muslim extremist anger because of its penchant for poking fun at Islam, which it did along with jabbing other faiths. In the days that followed, cartoonists all over the world paid tribute, and the phrase "Je Suis Charlie" appeared on signs, T-shirts and social media postings throughout the world.
Wednesday's sellout, which saw Parisians lined up for blocks to buy Charlie Hebdo, led publisher Michel Salion to announce on his Twitter page a series of increases in the number of copies being printed. He said 5 million copies will be distributed over the next seven days.
BREAKING #CharlieHebdo a décidé de passer à 5 millions d'exemplaires imprimés - distribués dans les 7 prochains jours #toutlemondeseraservi

— Michel Salion (@michelsalion) January 14, 2015
Salion also claimed that an estimated 1 million copies will be sold by the end of Wednesday.
Americans who want a copy will be hard-pressed to find one. Only 300 copies will be available for sale in the United States.
According to reports, many retailers like Barnes and Noble and Hudson Group say they will not likely have copies to sell as they do not normally carry Charlie Hebdo.
The New York Post reports that only 300 copies (in French) will be available for sale in the United States and only sold in major markets.
"I've asked for a lot more," Martin McEwen, executive vice president of LMPI, the title's exclusive distributor in Canada and the U.S., told told the newspaper, adding that he is still unsure how many copies from the second printing will arrive.