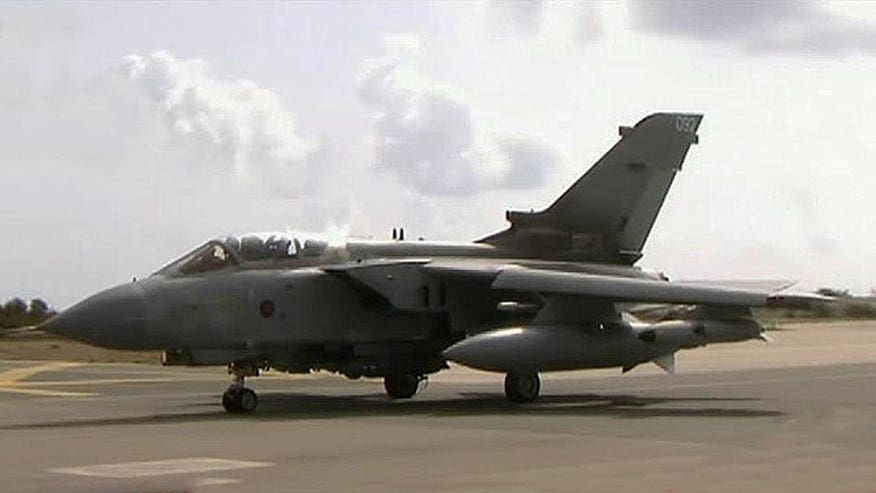 Britain's Ministry of Defense says warplanes have taken off for their first combat mission over Iraq since Parliament approved airstrikes targeting the Islamic state group.
The Tornado GR4 aircraft took off from RAF Akrotiri on Cyprus on Saturday, hours after Britain joined the U.S.-led coalition of nations that are launching airstrikes against the extremists.
The Ministry of Defense says that the Tornados "are now ready to be used in an attack role as and when appropriate targets are identified."
There were six Tornado jets stationed on Cyprus that have been used previously to fly reconnaissance flights, The Independent reported.
Prime Minister David Cameron has described U.K. involvement as critical to security on home soil, arguing that facing down terrorists has become a matter of urgency. He says the hallmarks of the campaign would be "patience and persistence, not shock and awe."
Meanwhile, activists say the American-led coalition attacking a jihadi group in Syria has launched airstrikes on its positions including wheat silos in the country's east.
The Britain-based Syrian Observatory for Human Rights says the strikes targeted compounds for the Islamic State group in the central province of Homs and the northern region of Raqqa.
The Local Coordination Committees, another activist group, said the Saturday strikes hit the eastern province of Deir el-Zour as well as Raqqa.
VIDEO: ALLEN WEST SAYS GROUND FORCES NEEDED IN ISIS FIGHT
The LCC also said the coalition targeted wheat silos west of the eastern city of Deir el-Zour.
The coalition, which began its aerial campaign against Islamic State fighters in Syria early Tuesday, aims to roll back and ultimately crush the extremist group, which has created a proto-state spanning the Syria-Iraq border.
Britain did not approve airstrikes in Syria.