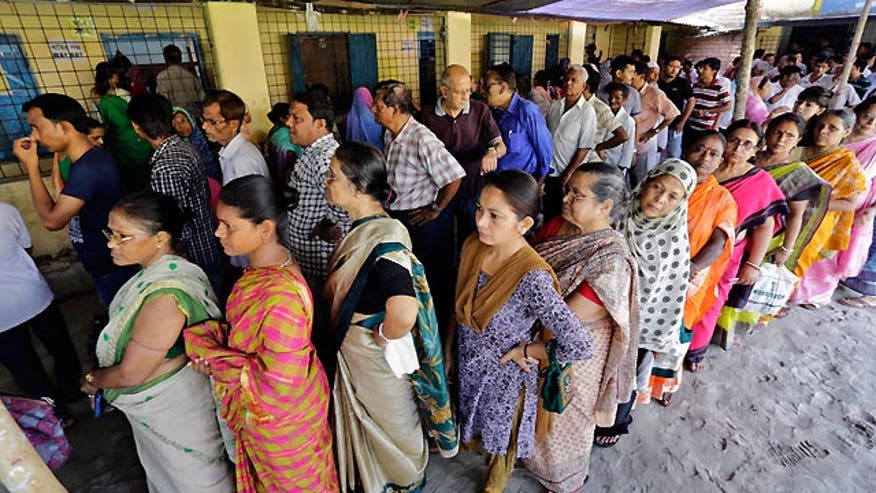 The construction of the Pyramids at Giza, the defeat of European fascism in World War II, the hordes of Baby Boomers who attended Woodstock and are now overburdening the Social Security system: All of these were mass events, shaped by the expended energies of whole populations – and none of them holds a candle, in terms of sheer participation, to the elections that wrapped up in India this week.
With the outcome due Friday, Indian election officials estimate that upwards of 500 million people will have cast ballots at some 900,000 polling sites across the South Asian nation, making this the largest election in human history, and the highest turnout rate in Indian history.
"The national voter's turnout in this election," declared Akshay Rout, director general for the Indian Election Commission, "is 66.38 percent…The previous high was in 1984 when it was 64 percent."
Most analysts are predicting a handy victory for the Bharatiya Junata Party (BJP), the opposition party led by Narendra Modi, the technocrat governor of the Western state of Gujarat. Modi is seen riding a wave of disaffection with the Indian economy, which averaged 7 percent annual growth from 1997 to 2011 but which has shrunk in recent years, falling to 4.7 percent in 2013.
Rahul Gandhi, leader of the ruling Indian National Congress party, has failed to inspire the enormous electorate, despite his impressive pedigree: He is the scion of the Nehru-Gandhi family that has loomed large in Indian politics for seven decades.
"There is a sense of anti-incumbency," said Tanvia Madan, director of the India Project at the Brookings Institution," a sense that there needs to be change. There's some frustration with the current government, especially on economic issues, in terms of high inflation, a sense that there is not enough jobs…but also slowing growth in general."
The U.S. and India conduct nearly $100 billion in annual trade and represent, respectively, the world's largest and third-largest economies. They are also the world's two largest democracies. Each bears nuclear arms and regards the other as a critical partner in counter-terrorism efforts aimed at combating groups based in neighboring Pakistan.
The State Department on Monday congratulated India for concluding what were generally seen as free, fair and peaceful elections, and pledged to work constructively with the winners. "The United States, like so many others around the world, has great admiration and respect for the vibrancy, diversity, and resilience of India's democracy," said spokesperson Jen Psaki. "India continues to play a critical role in advancing prosperity, democracy and stability across the Indo-Pacific region."
Asked if India could serve as a counterweight to the rising regional influence of China, Psaki demurred, saying only that the relationship is "vitally important for economic, strategic reasons."
Foreign policy analysts also warned that there are limits to how deeply Delhi will align itself with any nation.
"India is rising, its economy is growing. It would like to be on a faster growth track," said Alyssa Ayres, a senior fellow at the Council on Foreign Relations who served under Secretaries of State Hillary Clinton and John Kerry as the deputy assistant secretary of state for South Central Asia.
"India is embarking on a military modernization [program]. Does that mean that India wants to ally with other countries to serve as a counterweight with China? Not necessarily….India is very fiercely independent in the way it goes about its own foreign policy strategy, and India has its own foreign policy that it's pursuing with China."
James Rosen joined Fox News Channel (FNC) in 1999. He currently serves as the chief Washington correspondent and hosts the online show "The Foxhole." His latest book is "A Torch Kept Lit: Great Lives of the Twentieth Century" (Crown Forum, October 4, 2016).