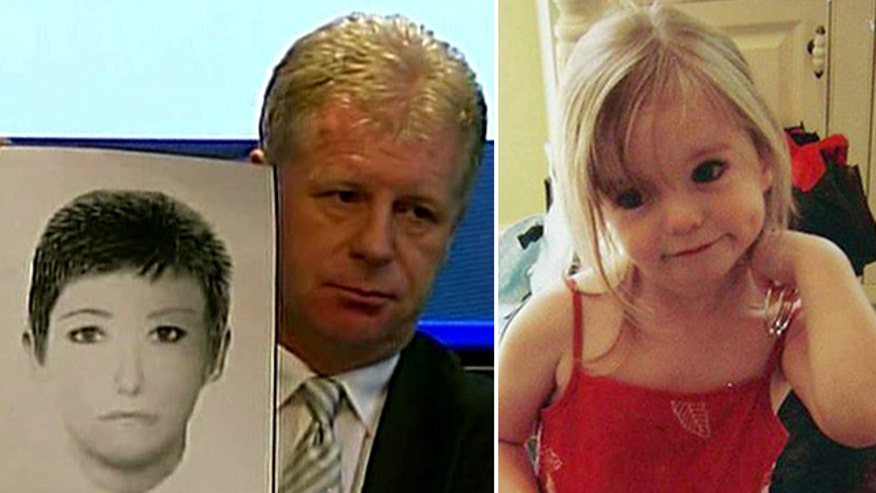 British authorities probing the disappearance of Madeleine McCann are searching for a man they say sexually assaulted at least five British girls while they were vacationing with their families in Portugal around the time McCann vanished nearly seven years ago.
McCann was 3 when she was last seen sleeping with her two younger siblings in a vacation villa in the Portuguese resort town of Praia da Luz in May 2007. The international search for the missing toddler has yielded thousands of leads over the last seven years, but the case remains unsolved.
London's Metropolitan Police announced Wednesday that investigators are looking for a male intruder who allegedly sexually assaulted five girls -- ages 7 to 10 -- while the children were in their beds in vacation villas occupied by British families in the Western Algarve region of Portugal.
The unknown man is suspected of gaining access into a total of 12 villas occupied by British families between 2004 and 2010 in the area. In four cases, which occurred between 2004 and 2006, he sexually assaulted girls while they were in their beds, police said. In once instance, he attacked two girls staying in the same villa.
The alleged break-ins and assaults occurred mostly during "low season" in the popular resort area of Portugal, according to British police.
Of the twelve break-ins, two occurred in Praia da Luz -- the same resort town where McCann, of Leicestershire, England, was vacationing with her parents, Kate and Gerry McCann, and her two younger siblings in 2007.
The toddler's parents left her sleeping in a room with her younger brother and sister, while they dined at a restaurant with other couples about 150 feet away. The McCanns checked on their three children periodically throughout the evening. When Kate McCann arrived at the ground-floor villa at around 9 p.m., she discovered Madeleine missing from her bed.
"Whilst not identical, there are many similar aspects to each of the incidents in that in most cases there were no signs of forced entry to the property, nothing was taken, and the intruder appeared in the early hours of the morning," between 2 and 5 a.m., British police said in a statement released Wednesday.
"The suspect may have been in the villa or looking round the villa for some time before committing the offenses or being disturbed either by a parent coming in, or the child waking up. He remained calm, even when disturbed," the statement read.
Police said the man in question is described as having tanned skin and short, dark, unkempt hair. Witnesses reported that he spoke in English with a foreign accent -- his voice sometimes slow, possibly slurred. During some of the encounters, he was bare chested, police said, and had a "noticeable odor."
FoxNews.com's Cristina Corbin contributed to this report.