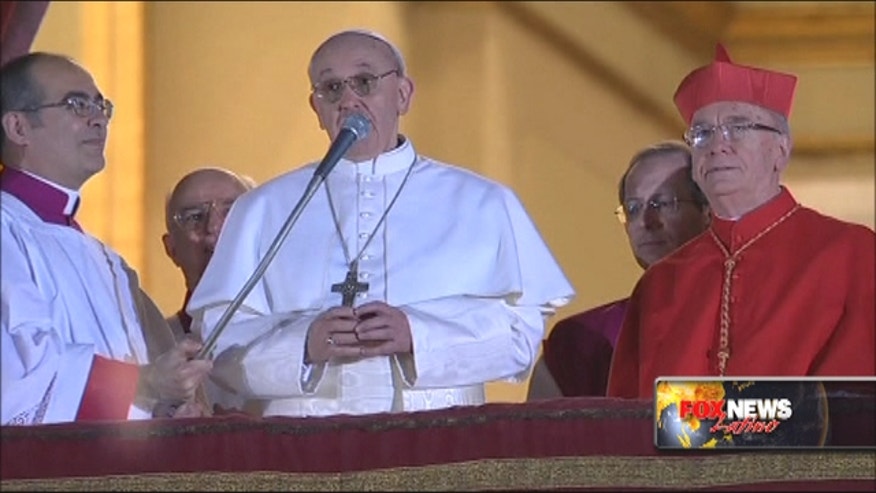 Pope Francis was named Time Magazine's Person of the Year, he was on the cover of Rolling Stone, and he has more than 3 million followers on Twitter.
Oh, and by the way, he's famously humble, insisting he is no 'Super-Pope.'
It's been an unbelievable first year for the world's most powerful Latino, but here are the 'Top 10 Moments' of his first year in office – a year which some say he has renewed the world's faith in humanity.
1.

Habemus Papam! (We Have a Pope)

Pope Francis was one of 115 cardinals who arrived at Vatican City a year ago for the election of a new Pope, and since then, the former Jorge Mario Bergoglio has yet to leave. On March 13, 2013, the Argentinean cardinal became the first Pope from Latin America, the first non-European pope in more than 1,200 years and the first Jesuit to lead the church. The 76-year-old former archbishop of Buenos Aires appeared to the world from the balcony of St. Peter's Basilica asking the world and its 1.2 billion Catholics to 'pray for him.' It was the first time a Pope had ever been named Francis. But little did the world know the man who asked to be named after Saint Francis of Assisi, in honor of his love for the poor, would rock the world in his first year with his message of humility and compassion.

2.

'Who Am I To Judge?'

Pope Francis dropped the now famous line in a press conference onboard his flight from Brazil to the Vatican on July 29, 2013. Answering a question from a reporter about gay men serving in the clergy of the Catholic Church, the pope said, "If someone is gay and he searches for the Lord and has good will, who am I to judge?" The fact that the leader of the Catholic Church refused to judge gay priests was heralded as groundbreaking and even revolutionary. He also made clear that women should have expanded roles in the Catholic Church.

3.

Washing Feet

In one of his first actions as leader of the Catholic Church, Pope Francis knelt on the ground and washed and kissed the feet of a dozen inmates, at the Casal del Marmo juvenile detention center in Rome, including two young women on Holy Thursday. "This is a symbol, it is a sign — washing your feet means I am at your service," Francis told the youngsters. The ritual is traditionally, by church rules, restricted only for men and the Pope's decision to wash and kiss the feet of two women outraged traditionalists. Others saw it as a sign Pope Francis might be more inclusive toward women in the church. Previous popes would do the foot-washing ceremony at a basilica and the 12 people would always be priests, representing the 12 disciples.

4.

Embraces Felt Around The World

Thousands wave and cheer when Pope Francis routinely addresses and meets with crowds in Saint Peter's Square in Vatican City. But two particular encounters left the world teary eyed. In one photo, the Pope embraced 53-year-old Vinicio Riva, who since the age of 15 has suffered from neurofibromatosis, a genetic condition causing painful growths and tumors throughout the body. "When he embraced me, I quivered. I felt a great warmth," said Riva, who also said he felt "stronger and happier" after the Pope's hug and kiss. Then there was the Pope's embracing Dominic Gondreau, an 8-year-old American who has cerebral palsy. After celebrating his first Easter Mass in St. Peter's Square, Pope Francis held Dominic as his father, mother, and four other children watched on in tears. In an interview with The Blaze, Dominic's father put it best: "Why has this image moved the entire world? For me, it confirms that, deep down, there really is a sense of humanity underneath most of us."

5.

3 Million People Greet The Pope In Rio

Pope Francis drew an estimated 3 million people for a prayer vigil on the final night of World Youth Day in Rio De Janeiro, Brazil. The July 2013 trip was the first visit to Latin America by the first Pope from the Americas, and his first international trip. The Pope even visited, by foot, one of Rio's most violent slums and chatted with residents. He and his Popemobile were mobbed by thousands trying to catch a glimpse of Pope Francis throughout his week-long visit. His visit to the world's largest Roman Catholic country was seen as a huge success.

6.

The First 'Papal Selfie' (And Coolest)

Pope Francis was declared winner of the Internet in 2013. The head of 1.2 billion Catholics has more than 3 million Twitter followers and was the most talked about person on the Internet during the past year. Part of the reason why is because Pope Francis knows technology and social media as evidenced by this photo taken, with a smartphone by kids from the Italian Diocese of Piacenza and Bobbio inside St. Peter's Basilica. Around 500 teenagers traveled from the Diocese for a pilgrimage and a private audience with the pope. The teens had just presented the pope with a wooden framed painting of Jesus wearing a crown of thorns.

7.

'Boy in Yellow' Crashes Pope's Speech

An adorable little boy wearing a yellow striped shirt and rocking a buzz cut crashed one of Pope Francis' big speeches in October in St. Peter's Square. The kid climbed onto the stage and refused to leave, even when other cardinals tried to persuade the child to return to his seat. Then, when the pontiff began to address the tens of thousands in St. Peter's Square, the boy even began clinging to the pontiff's leg as the pope spoke about family life. The pope kept his cool and showed off his remarkable patience. He hugged the boy and then sat him on his chair on the stage while he continued his speech.

8.

Pope Puts Humble In 'Humblebrag'

Pope Francis was known for taking the subway, mingling with the poor and kissing the feet of AIDS patients in Buenos Aires, Argentina, while he was archbishop. Barely 12 hours after becoming Pope Francis, he picked up his luggage at a Vatican hotel, personally thanked the staff and paid his own bill. His humble ways were also evident in his wardrobe. Rather than wear gold, Francis came out with a simple crucifix from his days as a bishop. He also turned down the red velvet cape. Francis chooses to travel in a $16,000 Ford Focus, a stark contrast to his predecessor Pope Benedict XVI, who traveled around town in a Mercedes and a custom-made Renault.

9.

Pope Invites Homeless To His Birthday Party

He could have invited anyone he wanted, but for his 77th birthday Pope Francis gave a grand invitation to four homeless men. The men joined the pope as he gave his morning mass and then ate breakfast with him. According to The Vatican paper, L'Osservatore Romano, the four men were sleeping outside the Vatican's press center when they were approached by an archbishop, on a cold December night, who asked if they'd like to come to Pope Francis' birthday party. The men were in their 40's and for at least one night, enjoyed the warmth of a Pope's embrace and a good meal.

10.

Pope Francis Confesses: He Stole Rosary Cross From Casket

Pope Francis admitted he stole the rosary cross of his late confessor from the dead man's casket and still wears it in a pouch under his cassock. Yes, this actually happened. The pope was telling a story of the 'great confessor' of Buenos Aires, who had heard confessions from the likes of Pope John Paul II. But when the priest died, Francis went to pray at the 'great confessor's' casket and was shocked there were no flowers. So he bought a bouquet of roses and as he was arranging them, he noticed the priest had a rosary in his hand. So he did what any of us would do: "I took the cross and with just a bit of force I removed it," he said. "And in that moment I looked at him and I said 'Give me half your mercy."'

Bryan Llenas currently serves as a New York-based correspondent for Fox News Channel (FNC). Click here for more information on Bryan Llenas. Follow him on Twitter @BryanLlenas.