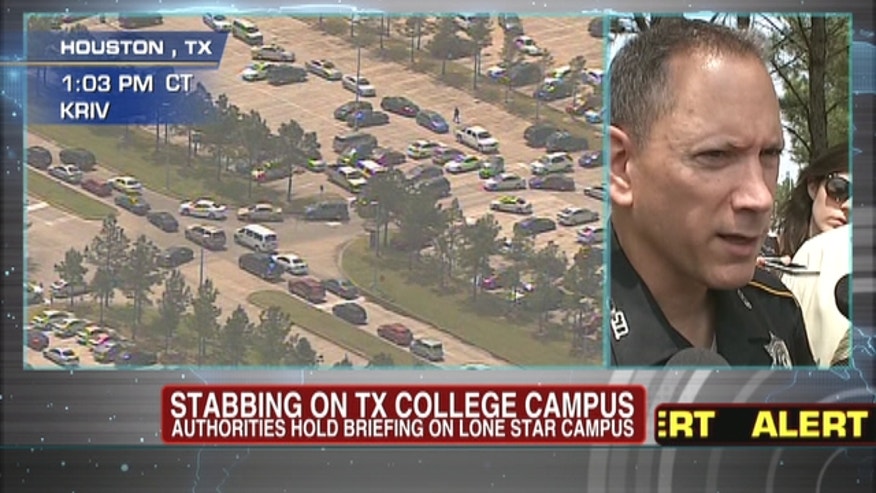 A sheriff's official says one person has been arrested in a suspected stabbing attack at a Houston-area community college campus.
Fox News reports that 14 people were stabbed. Four victims were taken to local hospitals with serious injuries and two refused aid in the Tuesday attack on the Lone Star community college's campus in Cypress, Texas.
Multiple people could be seen being loaded into medical helicopters.
Alan Bernstein of the Harris County Sheriff's Office says authorities have one suspect in custody.
Initially it was reported there were two suspects but the sheriff's office notified media it was actually the one apprehended suspect who was moving "building to building."
'We have the suspect, the situation has been detained," said Thomas Gilliland also of the Harris County Sheriff's Office.
He added: "The attack was at random."
The stabbings took place in the Life Science Center. A student apparently wrestled the alleged stabber to the ground.
Lone Star posted an alert on its website just before 12 p.m. warning students of two armed suspects and saying one person remains at large. The alert warned people to seek shelter in a secure location.
A different Lone Star system campus was the site of a January shooting. Two people were wounded, and a 22-year-old man was charged with aggravated assault.
The campus is on lock down as authorities continue with their investigation.
In January a shooting was reported at Lone Star's North Harris Campus, three were wounded.
Based on reporting by the Associated Press.
Follow us on twitter.com/foxnewslatino

Like us at facebook.com/foxnewslatino