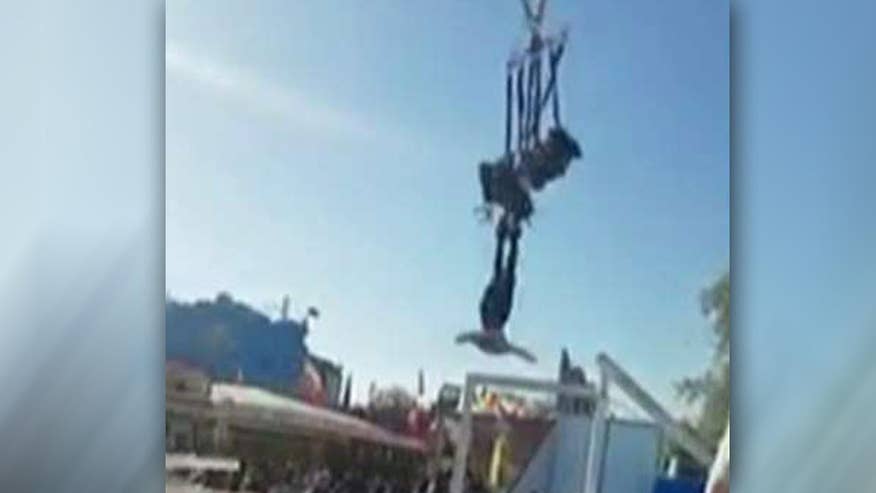 A terrifying malfunction at a French amusement park gave one thrill-seeker the scare of a lifetime, but not in the way she was expecting.
On Sunday at the annual Foire du Trone fair in Paris, France, a young woman slipped from the harness of a large swinging thrill-ride and ended up dangling by her feet as she continued to hurtle through the air.
Footage from the incident shows the exact moment the woman's harness came undone, at which point dozens of onlookers began screaming in terror. The ride's operators could only watch as the woman flew by, her head coming dangerously close to the ground with each pass of the swing. But eventually, two men stepped in to try and grab the woman as the ride slowed to a stop.
NEW THRILL RIDE CHANGES SPEED BASED ON HOW TERRIFIED YOU ARE
The young woman was not injured, reports French news outlet BMF TV.
A communications official for the fair blames the incident on human error, though he isn't yet clear who is at fault.
"An investigation is under way to determine whether the fault is that of the fairground staff managing the (ride) or that of the girl," the spokesman said.
The city of Paris is also conducting its own investigation to determine the cause of the incident. In a preliminary statement, however, city officials say that the ride appears to meet all safety standards.
FOLLOW US ON FACEBOOK FOR MORE FOX LIFESTYLE NEWS
"It supports the thesis of a human error, but this will have to be confirmed by the police investigation," they concluded, reports the International Business Times.
The ride, known as "L'Adrenaline," has since been shut down by city officials as a "precautionary measure" and will not be in operation for the rest of season, BMF reports.