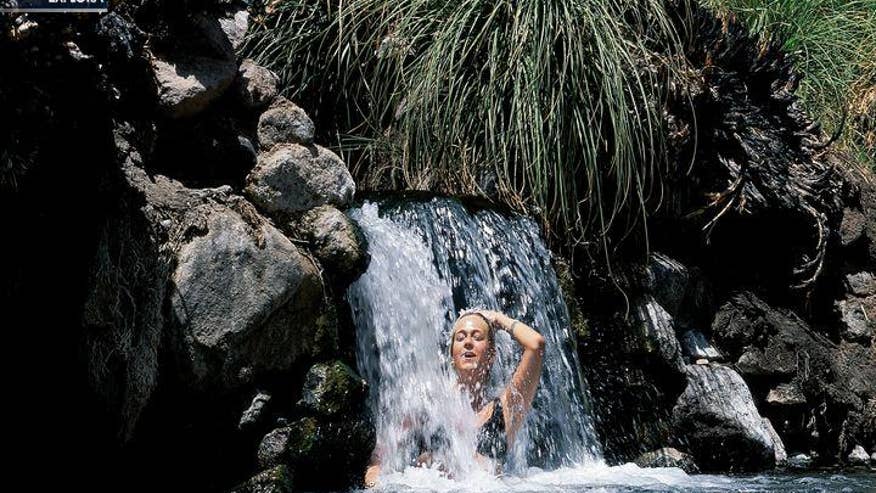 Sexy is in the eye of the beholder—whether you're beholding a person or a vacation destination.
Gravitate toward the all-natural look? Chile's Atacama Desert is just your type. Or maybe you want something deliberately seductive? Check out Kyoto's historic geisha districts—especially now, in all their cherry blossom-blinged glory. Whatever your tastes, there's a spring break spot you probably wouldn't have considered—but should.
Here, a whole sampler platter of sexy surprises from my new National Geographic book, "The World's Most Romantic Destinations."
1. Kyoto
Why now? Two words: Cherry blossoms. For the next couple of weeks (give or take) you can experience the pink fairy dust that casts a next-level spell over this magical city of gardens, temples and shrines. Don't despair if you happen to miss the peak blossom moment. Some varieties are literal late bloomers, and even if you miss those, you'll find several gorgeous day or weekend trips to the north of the city, where cherry blossom season often runs through late April.
What's sexy: If cherry blossoms represent the innocent side of Kyoto's springtime romance, the lantern-lit alleys of the city's most famous geisha district, Gion, are a walk on the sultry side. Wander this ancient maze at night, ideally with a guide. Otherwise, you'll never know which of the neighborhood's gated entries lead to its most fabled tea houses, where geikos (the preferred local term for geishas) dazzle guests at elaborate, ceremonial soirees. Not that you can't just show up to these parties. Part of the allure is how difficult they are to get into. Have your concierge or a tour agency try to score an invite, but even if you don't manage one, you'll love touring the geikos' turf, and catching the occasional glimpse of them as they flit from one engagement to the next.
Stay: The riverside, cherry blossom-blessed Surian, whose historic central structure once belonged to the Kawasaki family.
2. Atacama to Uyuni: The otherworldly stretch between Chile and Bolivia
Why now: Though the heaviest of Bolivia's rainy season downpours will likely have passed by now, making road travel easier and safer, there should still be enough moisture on the surface of the famed Salar de Uyuni that you'll understand why people call this salt flat "the world's largest mirror."
What's sexy: This place is all about going primal-- and primordial. It's a part of the world where the earth bubbles and steams, where oases full of thermal pools hide in secluded ravines, and where the landscape alternates between lunar and Martian. On the Chilean side of the border, don't miss el Tatio, a geyser-fest you should visit at sunrise, when the whole spewing, vaporous spectacle is most dramatic. Also be sure to hike or horseback ride through the aptly named Valley of the Moon. Once you start making your way to Bolivia, a whole palette's worth of lagoons will forever redefine "watercolors" in your mind. Eventually, you'll arrive at the aforementioned salt flat/sky mirror, where—if you find reflective remnants of the rains—you'll have the otherworldly illusion of walking on air.
Stay: Explora en Atacama, where all local day trips are arranged for you and included in your stay at this desert-chic spread, comes complete with onsite observatory and an amazing pool and hot-tub spread. (Explora also runs trips to Uyuni.)
3. London
Why now: London offers a sea of spring blossoms to lose yourself in, as you'll find throughout the city's Royal Parks. Also, going now means you'll beat the summer crowds while still having a decent chance of sunny days.
What's sexy: Fairly or unfairly, London has a rep for being bit…buttoned up. (See Barristers' wigs, arcane tea etiquette and a signature fortress that's protected by fellas in top hats.) But this is a city with a serious flipside: For all the guarded public grandeur, there are lots of intimate, private retreats—all occupying the same basic turf. Take Dukes Bar: Hidden in plain sight among several royal residences, this velvet-draped martini mecca is the legendary birthplace of one of the sexiest lines ever: "Shaken, not stirred." (James Bond author Ian Fleming was a regular.)
And right on the Thames, near a whole string of mega-monuments, you can book your own personal capsule on the London Eye, where you'll sip Pommery Brut Royal and pop champagne truffles as you gaze on the Houses of Parliament, Saint Paul's Cathedral and Tower Bridge, among others. And a sexy spot for sustenance? Kitty Fisher's, a small, underground, candle-lit restaurant named for an 18th-century courtesy so celebrated that her portrait hangs in the National Portrait Gallery.
Stay: The Langham London, which—despite being known as Europe's first Grand Hotel—harbors its own sexy hideaways. Case in point: the leather loveseats at Artesian, a World's Best Bar winner, where you should cozy up with a couple of the gin-based Cocoon cocktails.
4. Swedish Lapland
Why now: Because you're in the Arctic Circle, you can still get the classic winter wonderland experience—even in early spring. And in 2017, for the first time ever, the Icehotel is going to be open year-round thanks to a new wing that's powered by solar air conditioning. Bonus: The Northern Lights may still be making appearances in the first part of April.
What's sexy: It's all cuddling all the time here. Especially if you spend a night on a luxury slab of ice—with reindeer skins for a mattress pad and larger-than-life ice sculptures for in-room décor—at the Icehotel. For the sexiest adventures in the area—think reindeer-drawn sleigh rides into the dreamy local forest for champagne-fueled aurora hunts—book through the Lapland insiders at Off the Map Travel. And for everyone who finds working with your hands to be sexy: Note that you can also take classes in ice sculpting—or fire building in the Lapish woods.
Stay: Clearly, you'll want to stay at the Icehotel, where you'll receive all the gear you'll need (down to your polar-grade, double-wide sleeping bag, if you're traveling as a couple) to sleep significantly better than you think you will on ice. Still, when the hot lingonberry juice shows up with your wakeup call, you'll feel like toasting to having gotten through the night. The hotel actually issues a certificate to anyone who completes an overnight in an ice room.
5. Australia's Red Center
Why now: Don't forget that the seasons here are the reverse of the Northern Hemisphere's, so you'll be catching a temperate period between the rains and the chilly winter nights. And so much the better: The recently extended Field of Light installation at the region's most revered sight is best experienced on a balmy evening.
What's sexy: Wandering through the aforementioned Field of Light in the dark. The sky is a level of inky that you experience only in the middle of nowhere, but there's dreamy illumination overhead (constellations galore) and underfoot since much of the art installation looks like neon ground cover. What else is sexy: landing in such an isolated and starkly beautiful place with the person you most want to be stranded with. You'll be surrounded by red earth, iconic rock formations (see: Uluru) and not a whole lot more. Hike through as much of the area as possible, and don't overlook the "many-headed" Kata Tjuta rocks—where you'll find the most sublime seclusion inside the towering russet walls of the Walpa Gorge.
Also consider enrolling in an Aboriginal artist-led dot-painting workshop. Even if it's not the kind of thing you'd normally do, the artists are amazing, and you can pick up a few key symbols quickly. Once you do, you'll have fun telling your love story (or any other you'd like) on the canvas.
Stay: Longitude 131, where you can replicate the experience of camping out together, but in the poshest possible context. This series of tented luxury suites, all of which have unimpeded views of Uluru, come with outdoor day beds that the staff convert to "Sleeping Under the Stars" beds on certain nights, when you'll find a roaring outdoor fireplace, a trio of nightcap liqueurs, and the cushiest, custom-made swag.