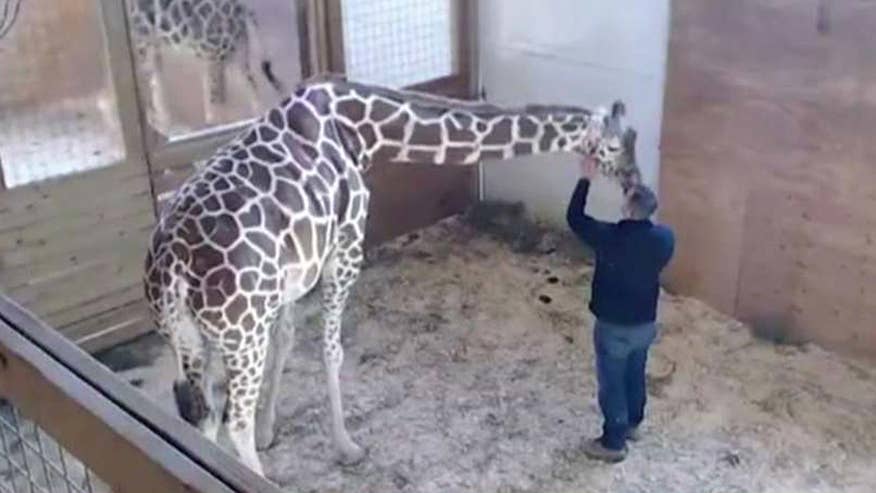 Will April-- the pregnant giraffe that's taken the Internet by storm--wait to give birth until her namesake month rolls around?
Friday could finally be the day that the beloved animal gives birth to her calf. Zookeepers at Animal Adventure Park say April's pregnancy is moving along and "we could be hours away" from welcoming a new giraffe to the property.
"All observations, behavior, and predictions suggest a calf today, tonight - we would be shocked to get through the weekend without our newest addition," zookeepers posted Friday on the official Animal Adventure Park Facebook page.
FOLLOW US ON FACEBOOK FOR MORE FOX LIFESTYLE NEWS
The Animal Adventure Park began live streaming from April's enclosure on Feb. 23 in anticipation of the new calf's birth. The feed has since drawn worldwide attention with thousands tuning in an commenting excitedly.
The animal park posts two daily updates on their Facebook page, once in the morning and once in the evening to keep eager fans informed. Each post garners thousands of shares, likes and comments.
This will be April's fourth calf but it will be the first for her mate Oliver.
As of Friday morning, over 244,600 people were watching the live stream. Many eagerly commented on Twitter as they watched April walk around.
my aunt has been talking about that April giraffe thing for 45 minutes and she's getting emotional about it

— katie (@katie_huh) March 31, 2017
What if April the Giraffe is waiting for us to stop watching so she can have some privacy?

— Amy Lupold Bair (@ResourcefulMom) March 31, 2017
I go in my bosses office & she has her feet up on her desk and she's watching the live stream of April the giraffe

— Brinaaaa (@bigbootybrinaaa) March 31, 2017
Some fans, however excited, aren't quite sure if they're ready to witness such a large mammal giving birth.
I read with horror that April the Giraffe will be live streamed giving birth. Can't a lady have some privacy?

— John T Kemper (@kemperjohnt) March 31, 2017
April has even become so popular that some are wondering if the whole pregnancy is giant park conspiracy-- especially given her timely name.
@ToysRUs Waste hundreds of people's time for months pretending a giraffe named April was pregnant but really it was an April Fools joke. 👍

— Kevin McCollick™ (@kevinmccollick) March 31, 2017
Is April the giraffe still pregnant?: We are all beginning to wonder if this is all part of a well-planned April Fools Day joke. pic.twitter.com/axp58njdoz

— ChristiansenJeffry (@ChristiansenJe3) March 31, 2017
Supposedly April the Giraffe is supposed to give birth in the next 24 hours. Which is April fools day so who's the real fool? All of us

— Prö Angler Mike (@The_MichaelT) March 31, 2017
In a Facebook post Wednesday evening, park veterinarian Dr. Tim reported, "Ok Gang... if you have been watching today, you should start getting excited... we are seeing almost all the signs of birth happening within the coming days... of course, my schedule is crazy for the next few days so naturally, we will pick the worst time possible. Hah. In an effort to speed things along I am launching "Operation Taco Induction"... let's see what happens. (Not in Labor...) yet. - disclaimer - she didn't actually get a taco. I'm not ridiculous."
Animal Adventure Park is located Harpursville, N.Y. is scheduled to reopen for the summer season May 13-- at which point loyal fans will undoubtedly be flocking to see April and her new calf.