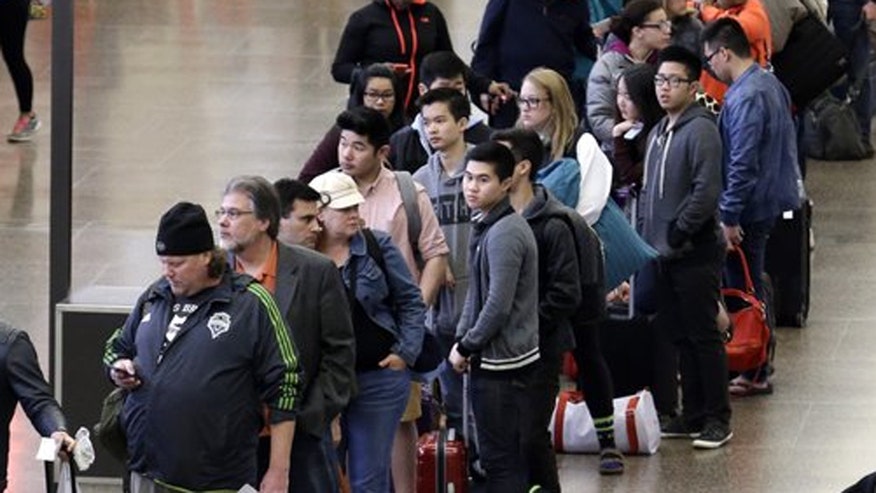 The U.S. Customs and Border Protections processing systems were back online late Monday after experiencing an outage that lasted about four hours across various airports creating widespread delays and frustrated travelers.
The agency said it took immediate action to address the issue and officers were still processing international travelers using alternate procedures at airports experiencing problems.
"Travelers at some ports of entry experienced longer than usual wait times as CBP officers processed travelers as quickly as possible while maintaining the highest levels of security," the agency said in a statement.
Officers still had access to national security databases and all travelers were screened according to security standards during the outage, the CBP said. The outage didn't appear to be malicious, the agency said.
In Atlanta, CBP public affairs officer Robert Brisley said the outage at the city's airport lasted about an hour from late afternoon into early evening. He said that officers were working to recover quickly afterward but even short outages can lead to backups at the airport, one of the world's busiest.
He said the agency apologizes to travelers who were delayed getting into the country after long flights.
Significant delays were also seen in South Florida and Boston.
@AmericanAir feeling a warm welcome here in Miami. Standstill at the passport control, and we've barely moved for half an hour. Please help! pic.twitter.com/gmKqPdWCDU

— Carlos Rico (@carlosrico011) January 2, 2017
PLEASE SHARE: Boston Logan airport total gridlock. ICE computers down since 5pm. Huge lines, no movement. @annafifield @motokorich pic.twitter.com/KWwhtC1fpH

— Theodore Gilman (@TheodoreGilman) January 2, 2017
Fox News' Matthew Dean and the Associated Press contributed to this report.