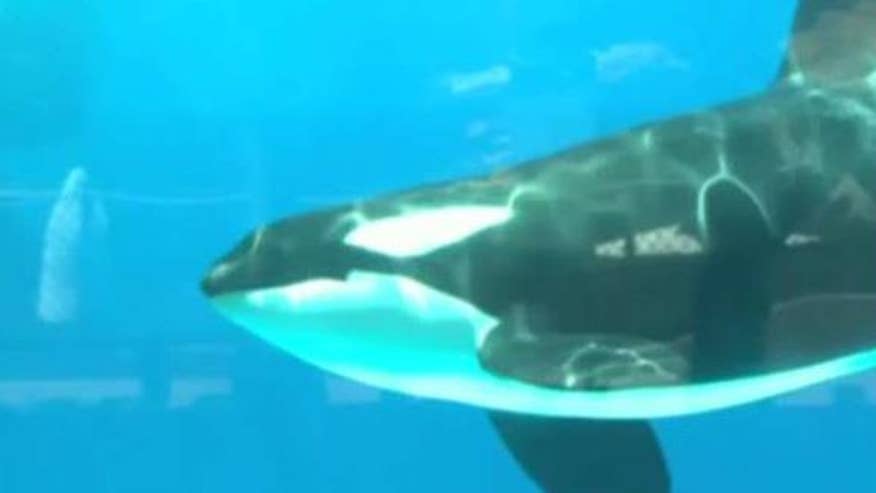 After years of fending off criticism amid declining park attendance, SeaWorld announced Thursday it will immediately stop breeding orcas in captivity.
The announcement marks a dramatic shift away from the park's signature attraction-- its once popular trained animal shows featuring splashing and jumping killer whales.
After the release of 2013's documentary "Blackfish", which highlighted the park's alleged mistreatment of captive animals, SeaWorld has faced mounting protests from animal activists and the general public. Last summer, the park said attendance continued to drop after the release of the film and the company's stock has fallen 50 percent over the last two years.
Last fall, the park announced its phase out of traditional trained Shamu show in favor of more "natural" orca encounters that allow guests to see whales interacting in a more true-to-the-ocean environment.
But today's announcement means that, within a few decades, SeaWorld visitors will no longer be able to see any live whales at its parks-- once the major attraction of its brand.
On a press call Thursday, SeaWorld CEO Joel Manby told reporters that the decision to end the breeding program was not taken lightly, but given the mounting criticism online and changing social attitudes, he views the move as an important step to keep the brand in line with current world views.
"It was a very difficult decision for us," said Manby. But "society's attitudes towards these very large and majestic animals have shifted. It was clear to me we needed to remove this barrier." After testing the natural orca encounter with select audiences, Manby said it became obvious that the public no longer wanted or needed to see whales doing back flips to be entertained.
SeaWorld currently has 29 whales in captivity throughout four parks, including one pregnant female Takara who is due to give birth later this year. SeaWorld has not taken a whale from the wild in 40 years and remained adamant that its current whale population will live out the rest of their lives in captivity. In order to halt its current breeding program, captive whales will be given birth control, in line with standard zoological industry practices, says SeaWorld.
The SeaWorld parks in San Diego, Orlando, San Antonio will likely have whales for the next 30 years but what happens after the last "Shamu" passes on?
Manby says the company has a lot to learn in the coming months.
"In general strategically, our most well rounded parks are our Busch parks." Busch Gardens Williamsburg and Tampa both feature diverse attractions including thrill rides for all ages, live broadway-style mini shows and live animals. Manby said constantly bombarding guests with a heavy conservation message can get a little tedious so the brand will look to incorporate more rides throughout its SeaWorld properties.
He cited the new Mako hyper coaster, which, when it opens this summer will be the longest and tallest in Orlando. In addition to providing a "thrilling" experience, Manby hammered home that the ride will also feature plenty of educational opportunities for guests, including information on shark finning where fish are hunted for their fins and their carcasses are discarded. Fundraising will also be baked into the experience where, for example, a portion of proceeds from gift shop souvenirs will go toward saving the animal in the wild.
As SeaWorld makes the transition, Manby does not anticipate any disruptions for guests or long term park closures. And the parks will continue to push whale-loving visitors to plan trips over the next few years to experience the natural habitat attractions while they can.
In addition to ending its breeding program, SeaWorld also announced a partnership with one of its most vocal critics, the Humane Society of the United States (HSUS), to help strengthen conservation efforts for wild whales, seals, and other marine creatures. The park has pledged $50 million to future rescue efforts.
HSUS president Wayne Pacelle praised the theme park company's decision but said the move is helping SeaWorld keep pace with industry standards when it comes to live animals.
"Overall the trend is moving away from using wild animals for entertainment," said Pacelle, citing examples like Ringling's decision to end its elephant circus performances, the rising popularity of Cirque du Soleil's human acts, and the use of animal computer generated imagery in the film industry.
For now, the fate of SeaWorld's other animals in captivity, which include penguins, dolphins, sea lions and otters, remains unknown. But Manby says the company will be using the whale phase out to guide its other zoo programs.
"We know young people love animals and we know the generation coming up is more conservation minded so we look forward welcoming them with a new message," said the CEO.