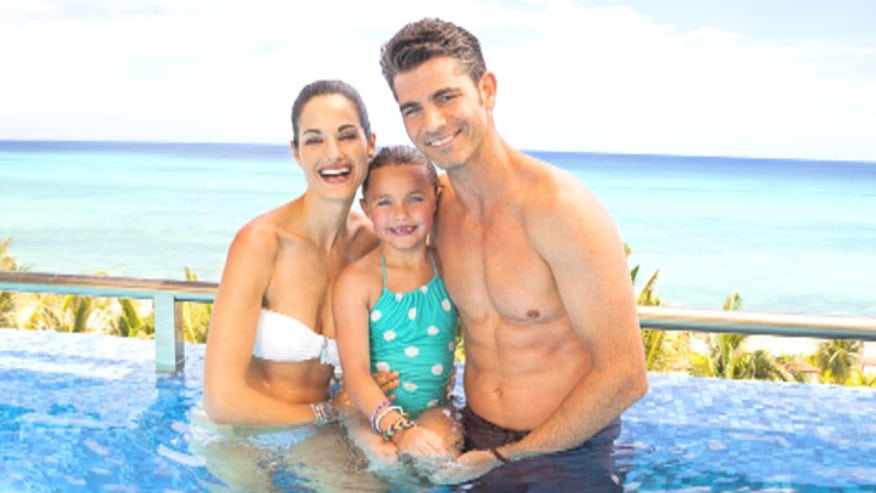 If you're heading to a family reunion this summer, you've got lots of company.
More than 40 percent of grandparents who say they're travelers have vacationed with their grandchildren in the last year, according to research from MMGY Global's respected Portrait of the American Travelers. More than half of leisure vacationers surveyed say they've taken a vacation to celebrate something just in the last three years.
I saw several of those family groups recently at the Now Amber Resort in Puerto Vallarta where they had gathered for weddings---it seemed there was at least one a day.
If not a wedding, maybe it's a 35th or 50th anniversary, a 75th birthday or just a trip with family. Whatever the reason, you'll see lots of family reunions aboard cruise ships, at Disney World, Mexico and Caribbean all inclusive resorts, dude ranches, resorts like Sun River Resort in Oregon and the YMCA of the Rockies in Colorado.
My husband's big family—more than 100 scattered across the country and abroad—has gathered several times at the YMCA of the Rockies just outside Rocky Mountain National Park. We met families of every stripe—The YMCA of the Rockies in Estes Park and Snow Mountain Ranch host some 700 reunions every year and have a 10-person staff dedicated to make them run smoothly and even some eight-bedroom cabins. Some reunions were big, like ours but others, like some of the 50 or so that Sunriver Resort in Oregon hosts every year, might just be parents, grandparents and grandkids.
Resorts are taking notice of these groups traveling together and are choreographing experiences to help them build memories.
Karisma's Generations Riviera Maya is designed for multigenerational groups features 144 oversized oceanfront suites—some three-bedroom on a secluded Mexican Caribbean beach with unlimited butler service, 24-hour room service and all the amenities of an all-inclusive resort—including kids' clubs .
Club Med has launched a special Family Reunion Package with discounts and special amenities like a private cocktail party or sports event. Head to their Punta Cana resort for special memory building. Thanks to a new partnership with Cirque du Soleil, your family can learn Cirque techniques and tricks from Cirque du Soleil trained instructors. Ready to fly on a trapeze?
If you'd rather stay on the ground, Sun River has just revamped its pool area to include a giant zero-entry pool, nature area, lakeside trails and more. Adventure companies tout private departures for family groups.
We've gathered extended family for a week of fishing and waterskiing at the family-run Ludlow's Island Resort in Minnesota—where multigenerational groups return every year—and at Colorado ski resorts, which incidentally can be a great place to gather in the summer when you can find really affordable digs. Some families opt to rent a big house or several condos on a beach or a lake.
Big or small, wrangling a family group to the same place at the same time takes significant planning, effort and patience. Here are a few tips:
Rule #1: Don't discipline anyone else's kids.
Rule #2: Don't criticize anyone's parenting or cooking.
Rule #3: Don't argue politics.
Plan as far in advance as you can. Families book at the YMCA of the Rockies two years out.
Know that there's someone who is going to have a schedule conflict. Don't worry about it. Just give everyone plenty of notice.
Designate a chief reunion planner. Design a webpage or Facebook page where all of the reunion information can easily be found.
Consider everyone's budget. That's why a place like the YMCA of the Rockies is such a good bet. (Lodge rooms start at just $79 a night. The two-bedroom cabins we preferred $149). Remember, unless you are prepared to foot the entire bill, this won't be your dream vacation. It's a vehicle to get everyone in the family together.
On cruise ships or even many resorts, people can opt for different-priced lodging. Make sure everyone has plenty of space. There's nothing worse than too many relatives sharing bathrooms.
Be clear about what is expected of everyone. If you are gathering at a house, make a chart designating who is responsible for shopping, cooking and entertaining the kids.
Another tip: Let each family unit take one of the dinners.
Plan some activities for the entire gang--a soft ball tournament, hike, scavenger hunt. Be clear if everyone is expected at a particular event. But also allow everyone to go their separate ways. There is nothing worse than being forced to be in lock step the entire time.
Arrange some just-the-adults time to catch up—dinner, a spa afternoon for the gals, fishing for the guys. It's easy at an all-inclusive resort or on a cruise ship with organized kids' programs. But you might be able to entice the oldest teens to watch the younger ones.
Just don't expect perfection. We're talking about family, after all.
Eileen Ogintz is the creator of the syndicated column and website Taking the Kids. She is also the author of the ten-book Kid's Guide series to major American cities and the Great Smoky Mountains. The third-edition of the Kid's Guide to NYC has just been released.