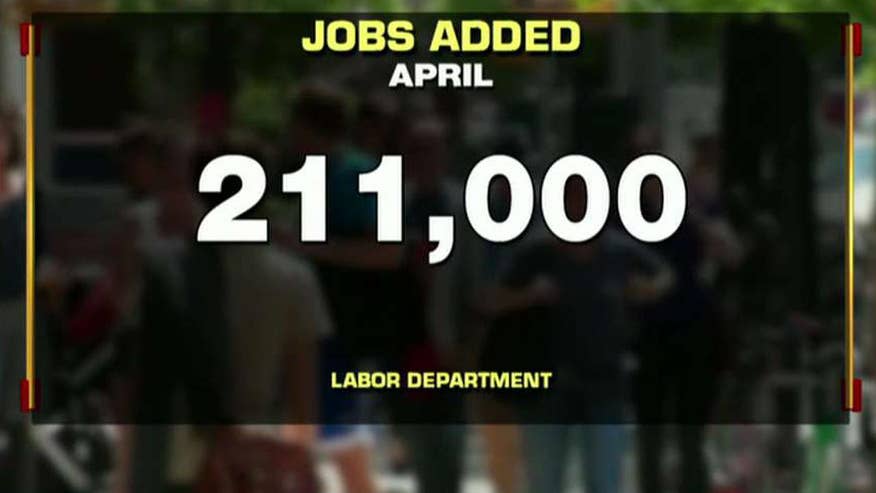 DISCLAIMER: THE FOLLOWING "Cost of Freedom Recap" CONTAINS STRONG OPINIONS WHICH ARE NOT A REFLECTION OF THE OPINIONS OF FOX NEWS AND SHOULD NOT BE RELIED UPON AS INVESTMENT ADVICE WHEN MAKING PERSONAL INVESTMENT DECISIONS. IT IS FOX NEWS' POLICY THAT CONTRIBUTORS DISCLOSE POSITIONS THEY HOLD IN STOCKS THEY DISCUSS, THOUGH POSITIONS MAY CHANGE. READERS OF "Cost of Freedom Recap" MUST TAKE RESPONSIBILITY FOR THEIR OWN INVESTMENT DECISIONS.
NEW LOOK AT PRESIDENT TRUMP'S TAX CUT PLAN AMID MIXED NEWS ON ECONOMY
Steve Forbes: Absolutely, the economy is stuck in second gear. We know a better economy. The more you cut the more the economy prospers. What are we waiting for?
Bruce Japsen: I don't know if that's a trend yet. But the problem is that, you know, Donald has not got any near term fixes here. There were people on the program who said he should have gone after the tax cuts and there's even some bipartisan efforts and speaker Pelosi for lower corporate rates or a lower payroll tax going to the middle class.
Elizabeth MacDonald: What the president is facing is the swamp and he wanted to drain the swamp, the battle is the swamp winning? Will he start looking like his nemesis Arnold Schwarzenegger who had epic battles with Sacramento. Donald Trump is up against the D.C. elite and establish PT there. Can he get it done? Will tax reform happen or at minimum tax cuts.
John Tamny: The index whether the economy is growing is irrelevant. The better point to make, the Americans have their work personalized too much and investments penalized too much and their death penalized tomorrow. Cuts to stimulus is obvious, whether we're booming or slow, taxes are too high.
Mike Ozanian: It's been a weak recovery for a number of years, David. The key thing about the tax plan, it cuts marginal rates so for each additional dollar that you earn, you get penalized less and less. That's key. Because where we've been suffering is in capital investment by businesses. Either new business startups or companies investing in expansion. And that's where you get growth from and that's where the tax cuts would help.
Rich Karlgaard: We're in a boom for sure. The five most valuable in the world, two in Seattle and the country desperately needs tax cuts and regulatory reform to get on a higher plane of growth. There isn't an economy that gets better with this growth. Oz is right.
DEMOCRATS CONTINUING TO BLAME FBI DIRECTOR JAMES COMEY FOR HILLARY CLINTON'S LOSS
Sabrina Schaeffer: Working class Americans and goes beyond that, it goes on connecting on a human level. Lawmakers on the left and right forget that politics is personal and a challenge for Hillary Clinton was showing people that she connected with them. There was a lot of talk about Hillary as the first potential female president. There wasn't a lot of talk how do I connect with you on a human level. She didn't bother to visit a lot of the states where some of these people are really hurting. And I think that that hurt Democrats. It traditionally hurt Republicans and now it's on the left.
Bruce Japsen: You know, I do believe he does have a point. I think the election was lost in, well, first of all, in any other republic she would have won by three million votes, let's put that aside. She did well, but didn't do well enough and I think the fact. Matter is, her message didn't get through because it was talking about, you know, emails and who Donald was grabbing in elevators or whatever. And so, I think that the Democrats do need to focus on issues and I think they need to focus and get the campaign on the issues.
Elizabeth MacDonald: The rest of the country was saying, hey, wait a second, the Democrats should have seen what was happening out in the country long before Hillary Clinton. State legislatures starting moving to the Republicans because they had the vision, the growth plan, the jobs plan, voters were saying essentially when it came to the trustworthiness of Hillary Clinton and the Democrats, we trust sushi sold by a gas station more than your economy and your jobs, you don't have anything and don't have a plan.
Rich Karlgaard: Yeah, well it's been a multi-decade parting from the blue collar workers because not all about teachers, professors, the mainstream media and snowflakes on college campuses and Hillary herself, what a horrible symbol. This is a woman whether she was in the governor's office in little rock or the first lady, the way she treated people on staff on air force one, the way she treated secret service people, yelling at them, you know, blue collar people are really sensitive to that kind of stuff because they get that kind of crap every day of their lives.
Steve Forbes: The Democrats have gone a long way downwards from the days of John f. Kennedy where you could appeal to strong national defense and a vibrant economy. They're down just appealing to precincts in California, New York City, Cambridge, Massachusetts and that's it. And it's showing all around the country. They don't have a message; Hillary Clinton never had a message in that campaign other than she wanted the job. It was hers.
Bill Baldwin: The Democrats lost to workers and want to blame anybody, but that failing. A lot of them think the Russians stole the election by hacking into Republican computers and then failing to leak it to the New York Times.
REPORT: AMERICAN AIRLINES TO CUT MORE LEGROOM ON SOME ECONOMY CLASS SEATS
Steve Forbes: There certainly is, too much on finance and not enough on customer satisfaction and they're considering putting a fine for making you pay extra if you want an aisle seat or a window seat instead of a middle seat and the bathrooms on the small planes are so small, i think they're eventually going to get a lawsuit from those who didn't get in and out.
John Tamny: No, what the customers are saying, as much as they'd like leg rooms and bigger bathrooms, what they prefer are lower priced tickets and that's where we're headed.
Bill Baldwin: Solution travel sites should rank flights on quality adjusted fares. The airline with the cramped seat or the $5 charge every time you use the restroom would float to the bottom.
Mike Ozanian: I tend to agree with John, the profit picture will force them to adjust, they're behind the curve and technology is going to change exactly how revealing their service is and I think that will put some pressure on.
Rich Karlgaard: Look, capitalism is running experience in the marketplace and America has the right to run this experiment. It's either going to work for them or not and let the marketplace decide.
Sabrina Schaeffer: I'm only 5'3 and I would gladly take a cheaper ticket for less leg room. I think there's a bit of a tone deaf problem, but the court of public opinion was pretty rigorous on United and I think if other airlines continue to have problems where they're physically abusing passengers or harassing them, the marketplace will take care of that.
STOCK PICKS
EMAC: CNDT
Bill Baldwin: TAP