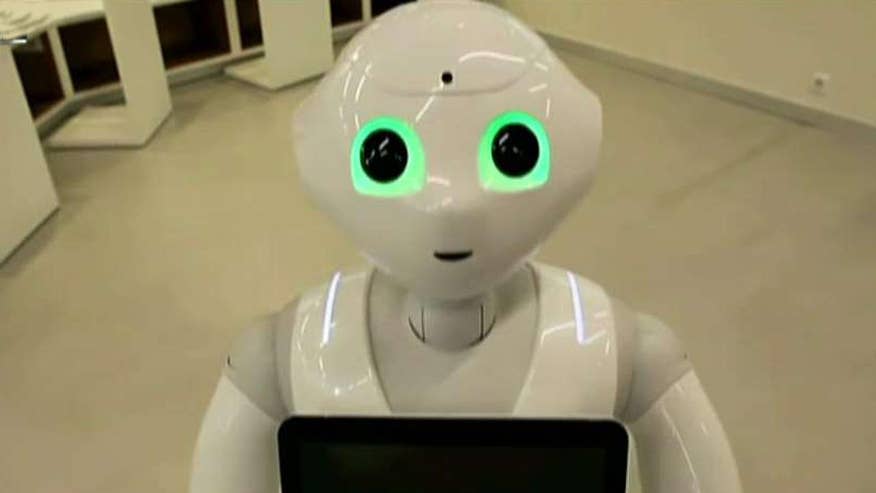 DISCLAIMER: THE FOLLOWING "Cost of Freedom Recap" CONTAINS STRONG OPINIONS WHICH ARE NOT A REFLECTION OF THE OPINIONS OF FOX NEWS AND SHOULD NOT BE RELIED UPON AS INVESTMENT ADVICE WHEN MAKING PERSONAL INVESTMENT DECISIONS. IT IS FOX NEWS' POLICY THAT CONTRIBUTORS DISCLOSE POSITIONS THEY HOLD IN STOCKS THEY DISCUSS, THOUGH POSITIONS MAY CHANGE. READERS OF "Cost of Freedom Recap" MUST TAKE RESPONSIBILITY FOR THEIR OWN INVESTMENT DECISIONS.
NEW LOOK AT PROFITS BEING MADE FROM 'CLIMATE CHANGE' AGENDA
Mercedes Schlapp: I think that Al Gore has become the ultimate salesman in this climate change hysteria. You know, I think for Al Gore, obviously, he left the vice-presidency with $2 million in his pocket and now he's cashing in about $100 million worth of assets. He's been focused on becoming an investor in these clean energy companies, but I've got to hand it to Al Gore, he's been able to find a niche. He's been able to capitalize on it and make millions of dollars in the process. While at the same time, flying across the country, and flying around the world, costing millions of dollars in terms of burning up fossil fuels, which of course, goes against his argument altogether.
Rachel Campos-Duffy: I don't believe for a second that Al Gore or even Barack Obama believe this stuff. If they did they wouldn't fly around in those jets, his and her jets by the way for Barack Obama. And Al Gore wouldn't live in the carbon guzzling mansions. They don't care how these regulations affect people's lives. For Barack Obama, it's about control. Al gore, it's about money. For the American people, these regulations killed their jobs and livelihood and for people like me it's made my life for difficult.
Richard Fowler: There's absolutely fact behind what he's claiming. Take a city like Jakarta, for example, in Indonesia, where 30 percent of the residents in the city live below sea level and have to pump the water out of the water table so the city doesn't sink. These are the real impacts of climate change. We actually know that climate change is having an impact globally. 2014 Was the hottest year ever recorded in global history. You have super-storm sandy.
MARK CUBAN ON ARTIFICIAL INTELLIGENCE AND ITS IMPACT ON JOBS AND THE ECONOMY
Mark Cuban: We're going through a greater technological change over the next four to five years than we've seen over the last 30. We're seeing an acceleration in the ability to create specialty chip sets that improve the processing power to degrees that we've never seen before and that's allowing AI and its derivatives, machine learning, deep learning, neural networks, etc., to take on processes and do things we've never been able to do before and that's going to change our work force, that's going to change the nature of work and that's going to lead to a significant disruption in our work force.
Regardless of what the minimum wage is, whether it's a penny or a million dollars an hour, technology march is on. Entrepreneurs like myself we don't look at the new technology and new opportunities and say, should we use it or not use it. We find ways to apply it and find ways to create new industries, that's the fun of being an entrepreneur. So, things are going to change whether we like it or not.
STEPHEN COLBERT MOCKS CONGRESS FOR REPEALING INTERNET PRIVACY PROTECTIONS
Rachel Campos-Duffy: When you have Colbert and Bolling agreeing and when you have Rachel Campos-Duffy and Richard Fowler agreeing, you know you have a real stink bomb bill here. I know that the White House said they'll support this bill. I think the smartest thing that Donald Trump could do, being the new populist president, is listen to the people and veto this bill, save the republicans from this bad vote, and help the American people retain their privacy.
Richard Fowler: This is the impact of telecommunications lobbyists doling out the dough on Capitol Hill. The cable bill is already too darn high, and now, not only do we have to pay the cable bill, they get to sell our information? This is ridiculous, but Donald Trump will sign it and it will be become law. But at least we can agree that Barack Obama did something good making sure our privacy wasn't up for sale.
Mercedes Schlapp: The large companies are already telling your information, let's be real, this is already happening, this is what Google does and a lot of these big internet providers do. I think it's understanding the technicality of the bill, which is the fact you have the FCC that basically stripped the authority from the federal trade commission, but companies right now, they have binding and enforcing policies in place to prevent consumers' privacy. I think at this point this was a step in the right direction.