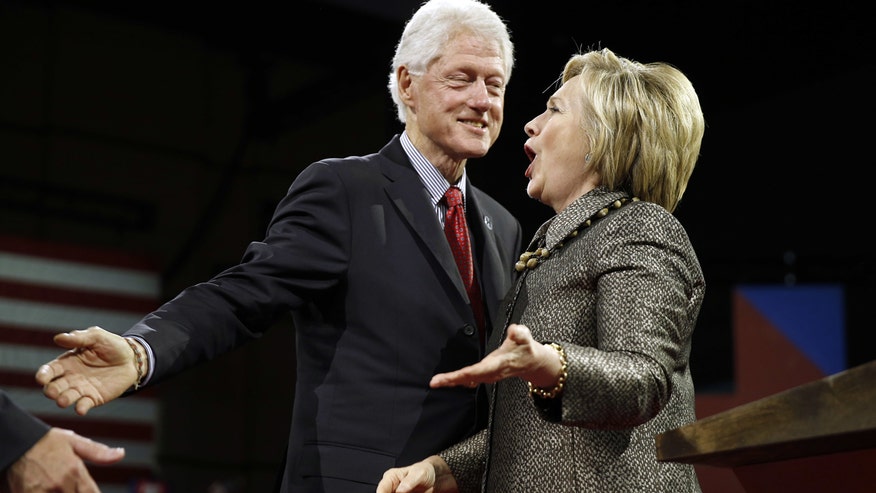 DISCLAIMER: THE FOLLOWING "Cost of Freedom Recap" CONTAINS STRONG OPINIONS WHICH ARE NOT A REFLECTION OF THE OPINIONS OF FOX NEWS AND SHOULD NOT BE RELIED UPON AS INVESTMENT ADVICE WHEN MAKING PERSONAL INVESTMENT DECISIONS. IT IS FOX NEWS' POLICY THAT CONTRIBUTORS DISCLOSE POSITIONS THEY HOLD IN STOCKS THEY DISCUSS, THOUGH POSITIONS MAY CHANGE. READERS OF "Cost of Freedom Recap" MUST TAKE RESPONSIBILITY FOR THEIR OWN INVESTMENT DECISIONS.
REPORT: CLINTON FOUNDATION WORKER ASKED STATE DEPT FOR DIPLOMATIC PASSPORTS
Sabrina Schaeffer: You know, it's so interesting, David, when you look at some of the deeper numbers, like Pew Research is found out more than 50 percent said they actually know a lot about Hillary's policies. What people are uncomfortable with is sort of her untrustworthiness and her honesty. There's so much for the time in office, the Clinton Foundation, $2 billion operation and their business deals, that is what is getting voters uncomfortable.
Bruce Japsen: The thing is, in paragraph three of all of these stories about the e-mails and Clinton Foundation, they say they did nothing illegal and so forth. I realize that you're going to get investigations and all of this other stuff. But the Clinton Foundation has done billions of dollars of good. As a matter of fact, it did good for Trump, because he gave them $100,000. One of the reasons is why he did charitable work --
Rich Karlgaard: Yeah, viewers should know that the fund this where talking about were started in the 1950s to keep ex-presidents out of poverty. Harry Truman was living pretty close to the financial edge and specifically to avoid presidents doing unseemly things. Bill Clinton has used this a lot. Far more than any ex-president. Ten people are dipping into this. Ten staffers are getting funded to money that was supposed to go to Bill Clinton. And even IT equipment like servers. Is it technically illegal. I guess we'll find out but it sure reeks of the Clintons having this entitlement that's beyond any ex-president.
Mike Ozanian : There isn't any doubt, David, that the Clinton Foundation is about pay for play. Not in my mind, but as far as Hillary Clinton's election goes, the worst thing i think she can do at this point is remove herself and her daughter and husband from it.
Bill Baldwin: Well, i found out that 44 percent of the Americans don't follow the news. I don't think the Clintons should sever ties to the foundation. That would give an aura of legitimacy to it. Far better left as over it is pay for play. What the white house says making bedrooms –
IRS FAILS TO INFORM 1.1M AMERICANS THEIR ID'S WERE STOLEN SOME OF THEM BY ILEGAL WORKERS
Rich Karlgaard: Well if you ran a publicly traded company or if you didn't dispose an act like this, you would have federal lawsuits all over the place. This just proves in addition to the IRS being the bullying incompetent organization it has always been, it is now corrupt in a way that is just find mind-boggling to targeting political enemies and now this.
Bill Bladwin: I suppose the IRS, here's why, ten immigrants get jobs by using social security numbers. At that point, the IRS assigns the ten social security numbers, rich, how are you harmed?
Mike Ozanian: I think what is basically happening here, the IRS is spending more and more taxpayer money on trying tax these identity thefts. In 2014, they paid out $5.8 Billion in fraudulent tax returns through identity theft. I think what goes a long way, they stopped use refunds with pre-paid deb the accounts.
Bruce Japsen: Well, I mean, i read this report and they said they'll be notifying people in January. I understand that's not prompt. One of the residences they did not go after people right away, they want to make sure they get these folks who are trying to avoid taxes to pay taxes. And I think this could be solved with a comprehensive immigration bill to give these people some kind of an ID so they're paying taxes.
Sabrina Schaeffer: Six months away. Since Steve isn't here today, I'm going to throw it out maybe one solution is having a flat tax, getting rid of the IRS and simplifying things. I think the IRS does need to notify people. If somebody is using your social security number to get a job is the least of your problems if have you identity theft. It can't wait till January.
WSJ:CIA'S VENTURE CAPITALISM FIRM OPERATES 'IN THE SHADOWS'
Mike Ozanian : All that is investing into this fund is crony capitalism. And anybody who doesn't think that haven't even the Jason Bourne movies.
Rich Karlgaard: Look, I wouldn't want to be a limited partner in that venture fund because they have a different purpose than the research project agencies. I think it's a way to tap all the talents out there. China has millions of people working on spy ware. We need the best and brightest in this country, too.
Sabrina Schaeffer : Yeah, I'm a little bit on the fence here, David. I like the government thinking a little bit more, a private industry and being creative. At the same time, there's no real competition here. It seems there's too many potential conflicts of interest, once again.
Bruce Japsen: What I want to know is what kind of financial return is the taxpayer get on this?
Bill Baldwin : I don't think it's good for the government to invest in that.
STOCK PICKS
Bill Bladwin: (CBS)
Mike Ozanian: (CHCO)