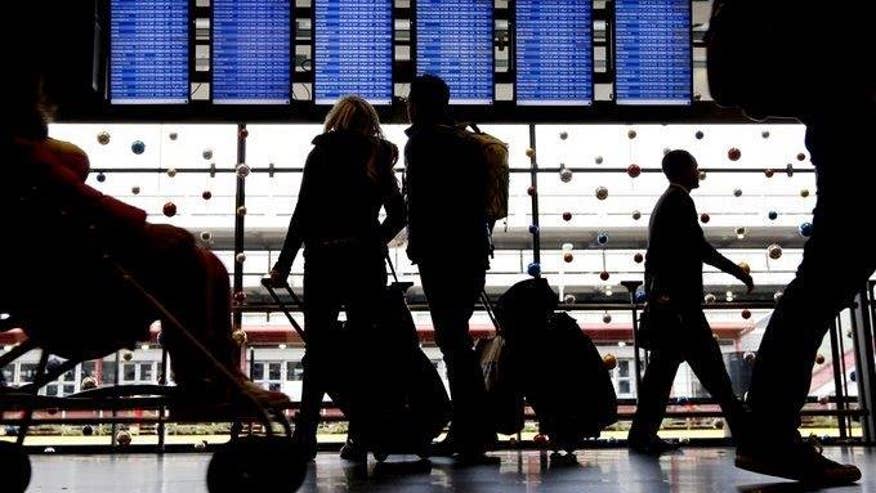 DISCLAIMER: THE FOLLOWING "Cost of Freedom Recap" CONTAINS STRONG OPINIONS WHICH ARE NOT A REFLECTION OF THE OPINIONS OF FOX NEWS AND SHOULD NOT BE RELIED UPON AS INVESTMENT ADVICE WHEN MAKING PERSONAL INVESTMENT DECISIONS. IT IS FOX NEWS' POLICY THAT CONTRIBUTORS DISCLOSE POSITIONS THEY HOLD IN STOCKS THEY DISCUSS, THOUGH POSITIONS MAY CHANGE. READERS OF "Cost of Freedom Recap" MUST TAKE RESPONSIBILITY FOR THEIR OWN INVESTMENT DECISIONS.
Travelers Facing Long TSA Lines as Summer Travel Season Kicks Off
Charles Payne: This really is no surprise. The larger these entities get the more bureaucracy becomes interwoven. The longer lines become. The longer waits become. And even when you bring a private sector guy in, you know, like they did with the VA, you are if inside a maze like this mazes and people above you aren't accepting a free market principle, they get worse.
Lee Carter: I think way too late too late. And to make that analogy is preposterous. People are going into a private place for fun. You know lines are part of it.
Charlie Gasparino: The Democratic Party, at least under Bill Clinton did embrace to some extent privatization. That was mayors like Ed Rendell in Philly. And there was a consensus in this country about privatization until Obama administration. Listen, I think there are some things that shouldn't be privatized. But adding that incentive in there. Maybe there should be some combination. Often spurs more inflation.
Ben Stein: I think they need to spend more money. I hate to say it but in a way the TSA is like the armed forces. A way of defending American security. I would not trust it to be privatized. But they have to have more lines. They have to have more men and women at those lines checking people out. And I'm sorry to say it is a big, big enterprise checking out millions of pangs. You probably don't believe this but there are things called airports where people fly commercial.
Adam Lashinsky: In the case of the TSA first of all I love that every opportunity I get to remind you that I'm the Reagan optimist on this show. You complain a little bit too much. So I will just remind you that the TSA people for all of their faults.
Disturbing Scenes Out of Venezuela Sparking Debate About Socialism
Charles Payne: And when you take away from them. The natural instincts to achieve, the natural instincts to compete. When you replace government with the individual's ability to do for themselves. But do you know what? This would be lucky if this is where it ends. To your point socialism running at the last chapter of socialism often ends with massive slaughter of human beings. I wouldn't be surprised the army's gotten major raises in Venezuela the last few years. The government could be toppled. It could happen and I think it might.
Lee Carter: The question and people are look at the socialist candidate in our country and thinking how great it can be. Right now look over there and how tragic, it is devastating, it is horrible what's happening. How do we help people understand this is the path you can go down when government taking over private companies people can't get food. The grocery stores there are lined with vinegar. There is nothing to eat.
Ben Stein: Van Hayek said we as a society replace individual initiative with public welfare we are going to get disastrous results. They are getting that in Venezuela. I hate to say this because I would like to be the Reagan optimist on this show too. But I see people diving in dumpsters for food out here in the desert. And there are dumpsters behind our house in Beverly Hills and I see people in there so this is not a problem unique to socialist countries. This is a problem of poor people. And it is a heartbreaking scene but how do we solve it? If we give people more free things they lose their initiative. They don't know how to solve this problem.
Adam Lashinsky: What I would point out is that the other "ism" is populism. Someone like Chavez who tells people i can do anything you want. So yes socialism is a terrible threat. So is populism.
Charlie Gasparino: When I see some of the video of the Venezuelan protests without the sound on in the elevator or whatever. I keep thinking those are the protesters at the trump rallies. So what we have right now is literally is the left of this country mainly revolting and demanding more free stuff. And doing it just like that does in other countries. And listen; say what you want about Donald Trump. Donald trump is not calling for massive tax increases. He's calling for lowering rates. He's calling for giving money back to businesses.
New Study: Millennials Now More Likely to Live With Parents Than Spouses
Charlie Gasparino: I will say this. Here's what gets me. They can get their rear ends out of their homes and room with somebody and by the way, it's not all Millennials. That's what I did. I rented a room in some woman's house and I paid a few bucks and used her kitchen. She was an old lady, married.
Lee Carter: It's a symbol of something wrong with the economy or something wrong with this generation. It is really tough economy. You talk to some of these young people, they say, well, I can't afford to live in the type of apartment -- well, I didn't get to live in the apartment I wanted to. I didn't want get granite countertops and stainless, for shoe, you have to work your way up. You have to get to the place that you want to be.
Ben Stein: I think it's a psychological phenomenon. I think they're little babies and they want to live with their mommies. There are plenty of jobs out there. There's tremendous amount of unfilled jobs.
Adam Lashinsky: I think this says more about the parents who are willing to enable their adult children to delay being grownups.
Charles Payne: There are some economic elements. High school dropouts, 40% live at home. You don't have the skills and don't get out there; you might be stuck at home.
Stock Picks
Charles Payne: (CYBR) Cyber Ark
Adam Lashinsky: (IVW) iShares
Ben Stein: (SPY) SPDR