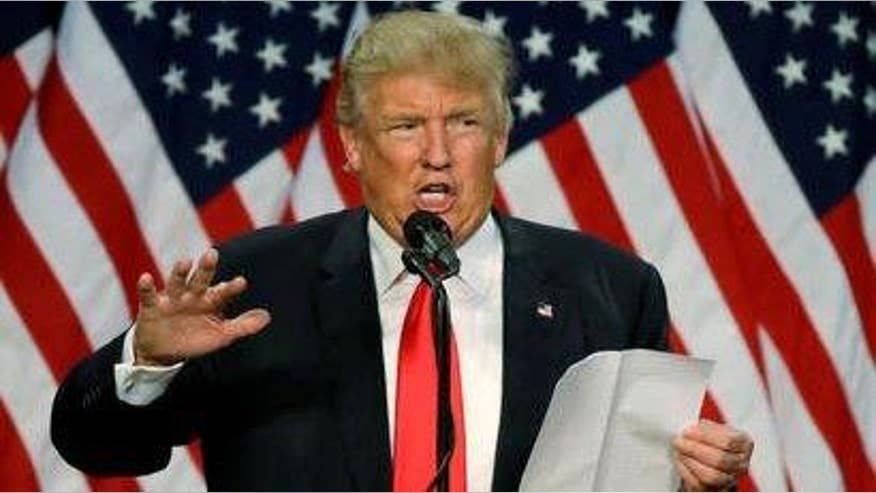 DISCLAIMER: THE FOLLOWING "Cost of Freedom Recap" CONTAINS STRONG OPINIONS WHICH ARE NOT A REFLECTION OF THE OPINIONS OF FOX NEWS AND SHOULD NOT BE RELIED UPON AS INVESTMENT ADVICE WHEN MAKING PERSONAL INVESTMENT DECISIONS. IT IS FOX NEWS' POLICY THAT CONTRIBUTORS DISCLOSE POSITIONS THEY HOLD IN STOCKS THEY DISCUSS, THOUGH POSITIONS MAY CHANGE. READERS OF "Cost of Freedom Recap" MUST TAKE RESPONSIBILITY FOR THEIR OWN INVESTMENT DECISIONS.
TRUMP SAYS HE WILL NOT SELF-FUND THE GENERAL ELECTION CAMPAIGN
Steve Forbes: Not the natural thing for donors to think you need the money, especially after Trump said he wouldn't take it, but it's not really going to hurt his image. That image of a maverick is not going to suffer, but he has to do both. He is going to have to write big checks for himself and raise large sums of money right now because the Democrats are starting to trash Adam and he must not let happen to him what happened to Romney four years ago where the Democrats defamed him.
Bruce Japsen: Well, what I do know, and, Charles Koch is like me in the fact he's taking a look at Trump's website and said how big policy positions are, not written in crayon, and let's face it, Trump's policies are so vague
John Tamny: I don't believe it and I think we're seeing now how he wasn't truthful about his net worth because he can't self-fund, but I'm not worrying about him not raising money. What he's got going for him is that Republican voters very much dislike Hillary Clinton, at the same time, Democratic voters dislike Donald Trump. Each candidate is a major gift to the fund raising efforts of both parties.
Mike Ozanian: David, it's not going to matter a hoot. Donald Trump is so popular right now, he's going to have so much free time on TV. The people care about what he says. They care about what he thinks. They don't trust Hillary Clinton. They don't want another four year of Barack Obama. There's an uprising in this country and trump has the wind in his sails.
Elizabeth MacDonald: That's Trump – I guess, right, I don't think he can and the thing is, he needs to get the GOP establishment behind him. But he's served up so many knuckle sandwiches to these guys that think don't like him. The Bush family isn't coming out for him. Paul Ryan, Lindsey Graham. This is a GOP establishment that Donald Trump needs behind him. It feels like they have to apply Novocain to their nerve endings before they embrace him.
Sabrina Schaffer.: I think that's the fundraising is really essential to sort of building his legitimacy. Yes, there's a lot of people who have supported him, but there are a lot who have not and who are still very reluctant to do so, so I think it's important he comes out not as a self-funded manful there have been some fails campaigns that started out this way, like a Meg Whitman or Linda McHahon, spent more than 100 million per vote. They didn't really have that buy in from the voters. Fundraising is very important.
Bruce Japsen: The idea that trump has been self-funding to this point is not really true, but given his history as a troubled developer, he will try to play with other people's money on this, but i don't think he's going to be successful because when you're a presidential candidate, you have to raise money for the party and senate and congressional races and he's got so many people running for him.
REPORT: SOME HEALTHCARE EXCHANGE INSURERS WILL REVEAL BIG PREMIUM HIKES ON NOVEMBER 1
Sabrina Schaeffer: Absolutely, David. Nothing tells people that you know, politics is personal more than rising premiums. When I think about my health care cost, it makes me swallow hard. This is when politics and Obama care really become real for people. Not just people yelling at each other about policy on television. This is going to hit the pocketbook and that's something that motivates voters.
Bruce Japsen: Yeah, well i think with the people buying the ObamaCare policies, i think you are having growing pains, no doubt about it. But I think the folks who the costs are going up is because you had unmet need. I think the people buying the policies are people who couldn't get health care coverage before because of preexisting conditions.
John Tamny: This could be a huge campaign issue assuming Trump knows how to exploit it. Face it, if it were about health insurance, we would have it in abundance because you're ensuring against the catastrophic that's easy to get and easy to keep. What ObamaCare was about providing all sorts of health care without regard to preexisting conditions, so that's going to be expensive. This is a big deal, but does trump understand it?
Elizabeth MacDonald : I've been looking into that. The senior Democrats are big voting blocks. They come out at election time. They are seeing their social security and retirement checks getting eaten up by ObamaCare double digit hikes and premiums and so, they're not like k that. ObamaCare's becoming the third rail for senior citizens and even big sides of the political aisle and you're right, the teamsters for Trump movement is now in force. Jimmy Hoffa is yet to endorse Hillary Clinton. That's why Hillary Clinton is saying no to the Cadillac tax, so even she is dialing back on her support ObamaCare.
Steve Forbes: She can't get around the fact that this is a third Obama term and on health care, it's ObamaCare on steroids. Her plan was even worse than ObamaCare. If that can be believed. So, for her to dial back, just not believable.
Mike Ozanian: No doubt about it, David. Obama had lie to the American people to get ObamaCare passed. Hillary Clinton's health care meetings were deemed illegal because they were closed; they've both been not above board in the whole health care debate. Obama's push federal government Obama care is about the redistribution of wealth. If you wanted better care for lower price, you move towards a free market. Things not covered by insurance have gone way down.
CRITICS CHALLENGE ELLEN DEGENERES OVER HER SCHOLARSHIPS TO A FOR-PROFIT COLLEGE
Steve Forbes: Because she's enabling that woman to improve her lot in life. Which shows that some on the left don't really care about people. They care about government control. Even though research shows when you compare apples to apples, the for-profits do a better job than the non-profits. This is about politics and control. Not about helping somebody in need.
Bruce Japsen: Well, I think what this is a promotional ad campaign and I hope this lady is able to finish her degree and get some education. That would be great. But what the critics are pointing out, they want to shine a little light on this University of Phoenix is under investigation and this was largely an editorial here. So I hope she's able to finish her degree because one of the allegations is people are not getting what they're told.
Elizabeth MacDonald: Leave Ellen alone. Our university business model should be under investigation. A trillion dollars of student debt because of these fat cat academics gouging middle class families. I think she's doing a great thing here.
Sabrina Schaeffer: Absolutely, David. Look, when our tax rate here is 39 percent and Ireland is 12 percent, it's a no-brainer why companies go abroad. Perhaps the bigger solution, though, is lowering the tax rate for individuals, families, for corporations so we can all apply our resources where they are best fit
Mike Ozanian: Anytime someone provides to others without reaching into our pocket, we should cheer them on vociferously.
John Tamny: Anytime someone provides to others without reaching into our pocket, we should cheer them on vociferously.
Sabrina Schaeffer: Democrats should be ashamed of their treatment of for profit colleges. They're competitive with higher education.
STOCK PICKS
Mike Ozanian: SPRD (GLD)
Elizabeth MAcdonald: Fidelity (FSDAX)