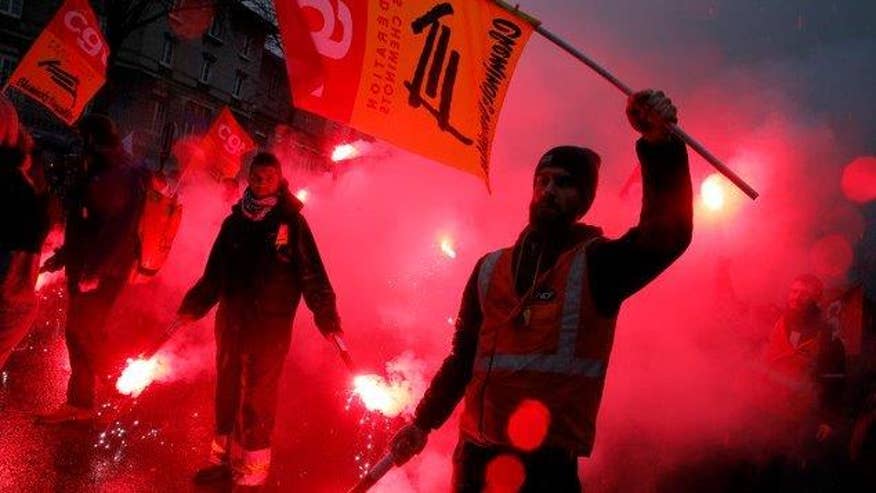 DISCLAIMER: THE FOLLOWING "Cost of Freedom Recap" CONTAINS STRONG OPINIONS WHICH ARE NOT A REFLECTION OF THE OPINIONS OF FOX NEWS AND SHOULD NOT BE RELIED UPON AS INVESTMENT ADVICE WHEN MAKING PERSONAL INVESTMENT DECISIONS. IT IS FOX NEWS' POLICY THAT CONTRIBUTORS DISCLOSE POSITIONS THEY HOLD IN STOCKS THEY DISCUSS, THOUGH POSITIONS MAY CHANGE. READERS OF "Cost of Freedom Recap" MUST TAKE RESPONSIBILITY FOR THEIR OWN INVESTMENT DECISIONS.
BERNIE SANDERS' POLICIES IN FOCUS AS HE FIGHTS FOR DEMOCRATIC NOMINATION
Rich Karlgaard: The backbone of Bernie Sanders' support are all of these young people the millennials and unfortunately, they have no idea how bad it can get under socialism. They have no memory of Mao they have no memory of the communist Soviet Union, but what this reminds me of is Great Britain in the late 1970s; the winter of despair in 1979, garbage piling up everywhere, unions shutting down everything. Not until Margaret Thatcher came and cut through decades of socialist growth did things get better.
John Tamny: I appreciate that young comment, but it's definitely not going to happen in the United States. Let's not forget that we're not French. We're not European. We descend from the people who wanted to escape European stateism, so, the idea that we would embrace Bernie Sanders, furthermore, the idea that Bernie Sanders could get his ideas past the house and senate, I don't think that's realistic. We're safe here.
Mike Ozanian: I think what's happening here David, is you're already seeing the revolution. The protesters aren't in the street, but they're voting in the primaries and people who have been left out of getting preferential treatment by expanding government and growing entitlements, that person that they're looking at is Donald Trump, so we're seeing this protest, but not on the street. We're seeing it at the ballot box.
Jessica Tarlov: They're Clintonian socialists that is.
Steve Forbes: It is incompatible. We've seen in recent years, David, even though Republicans get control of Congress, the real rules, the real laws being made by regulatory agencies who are out of control. EPA waging war on coal, oil and gas. The government now talking about putting their claws in our IRAs, telling companies that can't change their address of their headquarters, absolutely unlawless. So, if Bernie ever did get in, which thankfully, he won't, you're going to see more of this kind of socialism from the top. Even if Hillary gets in, it will be more of the same. Hers will be socialism with a frown, but it'll still be far to the left of what we have today.
Elizabeth MacDonald: Yes, it is and by the way, Bernie Sanders' policies have been completely incompatible news flash, with the democrat platform from 1960 through 2004. The Democrats are in an identity crisis and that's the issue. We have these adolescent, juvenile outlook on policies from Bernie Sanders, who's been in office since 1990 and has gotten his big government way every time. Big government does not lead to economic growth. The Democratic Party was against big government. They were for tax cuts, they were for 5 percent growth at one point. They said limit government, help out small businesses.
TAX CREDIT SCAMS LEAVING AMERICAN TAXPAYERS ON THE HOOK FOR BILLIONS
John Tamny: It's terribly offensive and we've got to get rid of the earned income tax credit to rid us of this bad idea. Let's face it, the world's poorest would give anything to live and work in the United States. The idea that we need to subsidize the work of people lucky enough to have been born in the United States is an offense to the nation.
Jessica Tarlov: We have a lot of poor people. There's a fraud component, which is obviously an issue. About people filing that haven't earned anything, but you can't get rid of the earned income tax credit without raising the minimum wage substantially and we are talking about people who are working. These aren't free loaders; these aren't people who are just living off welfare. They're actually out working and there is an incentive within this program to actually keep working, so I don't really understand the argument to abolish it.
Elizabeth MacDonald: So, what you're saying is nearly a fifth of it is fraudulence. This is what happens when you have chardonnay politicians who think that they're doing the right thing by the poor when they get a hold of a program. This is called the earned income tax credit. The problem is, the EITC is given out to people if they don't report income, hello. That is effectively saying to the thieves out there, here's the taxpayer's wallet, we put a bumper sticker on it, steal it. Take it. There's a cottage industry out there, David, where you have these thieving tax preparers filing for children, the elderly, people who haven't worked and they're stealing from taxpayers. That's money right out the door.
Steve Forbes: Well, two things on it. First of all, this is an argument for the flat tax under my flat tax proposal. This would be phased out over five years, but the earned income tax credit was put in to get people out of another abomination of the government, the so-called welfare trap. Where if you were getting benefits from the government, you went out and started to work, you ended up being worse off than before. That's why the thing was brought in. The fact it's badly administrated is no surprise for government, but as a way and a pretty effective way with the 96 welfare reform act of getting people back in the workforce. But let's simplify the code and get a flat tax and all of these credits can go out the window and the fraud with it.
Sabrina Schaeffer: I think it's because as Steve points out, this was an attempt to move from a welfare system to one in which people were working and then rewarded for that work. Unfortunately, it has gone awry. I think the larger story here is less about the EITC and more about the ability to fraud the IRS and to sort of work the system. We don't want to turn our backs on those in need, but what's happening here is that you know what the IRS response is to all of this, well we just need more money in order to stop this fraud. I can think of lots of ways that we can roll back the IRS and we would have plenty of money to weed this out.
Mike Ozanian: The more things they put in to achieve so-called economic justice, you notice the gap between the rich and the poor just keeps growing, getting bigger and bigger and bigger. If Washington would simply get out of the way and let the economy move freely, you'd get a lot less poor people in this country.
IRAN SELLING 2 MILLION BARRELS OF OIL A DAY AS SANCTIONS ARE LIFTED FROM NUCLEAR DEAL
Steve Forbes: Well, this just shows, David, that no deal would have been better than a bad deal. This gives Iran more money for terrorism. The whole idea that they'd use it for infrastructure in kindergarten for happy kiddies is preposterous. They're just stepping up this is a revolutionary regime. They want to dominate the Middle East, dominate the oil and have terror around the world. It's out there. And why Barack Obama goes along with this is one of the most bizarre episodes in diplomatic history.
Jessica Tarlov: Not as bizarre as you do.
Elizabeth MacDonald: Nuclear ICBMs. That's what we're talking about with Iran. They still continue to call the United States wrongfully and unjustly the great Satan. This is demonic behavior on the part of them, sewing mayhem around the world. I wish we could get out of the Middle East. I wish we could have done with it and say, enough we have our own oil. When Iran continues to sew mayhem in various parts of the world and threatens us, it's an issue.
John Tamny: Scrap it not because it would make us safer, but because we shouldn't be legitimizing a regime overseeing an economy that has the size of Philadelphia. The idea that left and right view Iran as a serious threat, I've never understood. That's what's the joke to me.
Sabrina Schaeffer: Well that definitely scares me more than apparently it scares John and I think what's really upsetting here is that they seem to be thumbing their nose at us while we're sort of allowing them to obtain more resources and have greater ability to fund extremists. As far as I can tell, we just help bolster Iran. We made them more financially secure and more militarily prepared. I'm terrified by this.
Rich Karlgaard: That's right and by the way Philadelphia terrorizes any good baseball fan or any good basketball fan but they don't have nuclear weapons. They're not pursuing nuclear weapons and now, Iran, the greatest exporter of terror in the world suddenly has a budget of 20 billion more per year to cause mischief?
PICKS TO RAISE YOUR PAY
Elizabeth MacDonald: Facebook (FB)
Mike Ozanian: Direxion (SPXL)