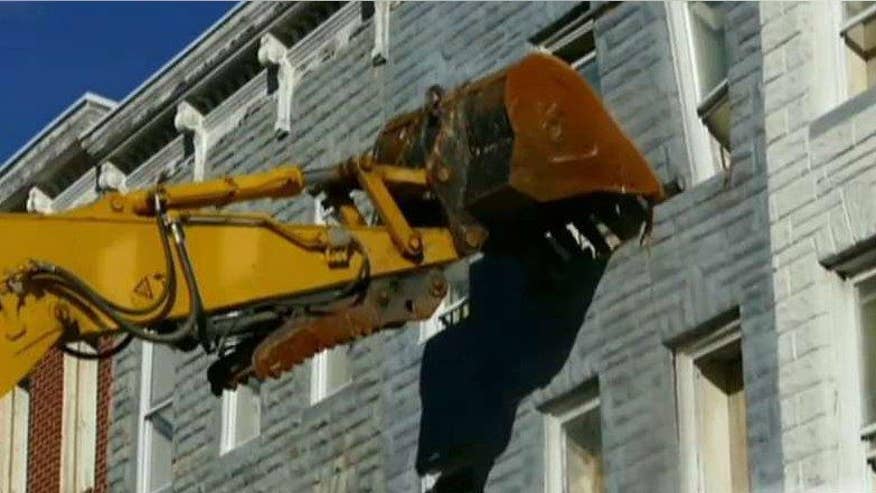 DISCLAIMER: THE FOLLOWING "Cost of Freedom Recap" CONTAINS STRONG OPINIONS WHICH ARE NOT A REFLECTION OF THE OPINIONS OF FOX NEWS AND SHOULD NOT BE RELIED UPON AS INVESTMENT ADVICE WHEN MAKING PERSONAL INVESTMENT DECISIONS. IT IS FOX NEWS' POLICY THAT CONTRIBUTORS DISCLOSE POSITIONS THEY HOLD IN STOCKS THEY DISCUSS, THOUGH POSITIONS MAY CHANGE. READERS OF "Cost of Freedom Recap" MUST TAKE RESPONSIBILITY FOR THEIR OWN INVESTMENT DECISIONS.
DONALD TRUMP DOUBLING DOWN ON HIS SYRIAN REFUGEE STANCE AT FBN DEBATE

Michelle Fields: Look, this isn't cheap to bring in all these refugees. We spend $500 million. Over $500 million a year on refugee resettlement. The cost of screening all of these people is very expensive. Then you have to think about, we provide job training programs for them. We provide them with a stipend when they get here, money for job placement. This is expensive. We don't even have money to take care of the veterans and the homeless. Yet the government thinks we have money to take care of people who are not even American citizens?
Jessica Tarlov: To Michelle's point, costs should always be considered. I know you think Democrats never think about money. We do sometimes. I would say we have the potential security risk here which is why we are talking about tightening the visa waiver program. We are talking about that it takes 18 to 24 months to vet each of these refugees. Basically we have leaders in the areas.
Jonathan Hoenig: If this is a state of war we should first adopt a war policy. That's what makes things like what trump is proposing, a ban on immigration whether it's from those areas of Jihadist activity, or just from Muslim's outright. Take a war posture by actually declaring war on the enemy. Something like that is a temporary measure. It's something that's a byproduct of a military advance to crush militant Islam. What worries me about Trump is that he equates Mexican immigrants trying to work and be part of the American dream with jihadi killers coming here to bring down America.
MARYLAND GOVERNMENT PLANNING TO SPEND $75M TO TEAR DOWN RUNDOWN BUILDINGS IN BALTIMORE

Jonathan Hoenig: Don't spend it, sell it. Just sell it to the highest bidder, not one of the charitable things where they sell to the next door neighbor for $100 a lot. We should want the villages to come down here. We want the Disney to open celebration crab cake style or something in Baltimore. You want to bring investment dollars with a low tax, low regulation environment. There is no reason why Baltimore could not be Macao or couldn't be the Singapore of America.
Jessica Tarlov: Developers might be interested in having a park. There are benefits to green spaces and Maryland will be working with public-private partnerships. So the private sector will be involved and that's great. The real issue is that they are not building affordable housing. It had 16,000 units and now they will have none which got the residents of the surrounding areas who said they would stay there if they could but there won't be anywhere they can afford.
Michelle Fields: Well, look, I think this is stupid to waste this money to tear down these places. There is no strategy of what happens next. They don't know. They said they may turn it into parks. That's silly. Sell it to private companies. If no private company wants to come and buy that property, demolish it and build something else, there is a reason. Maybe it's because Baltimore has really bad policies.
PENN STATE ASKING STUDENTS TO REPORT 'MICROAGGRESSIONS' TO ADMINISTRATORS; WISCONSIN STUDENTS SAY 'USA, USA' CHANTS, OTHER PHRASES NOW BANNED AT SPORTING EVENTS
Michelle Fields: It's sad that so many people go into debt in order to go to an institution that teaches these kinds of things. The Wisconsin thing is the most is ridiculous. You can't chant "USA, USA"? Donald Trump keep talking about people he wants to deport. I think he needs to deport whoever came up with this policy. It's ridiculous.
Jessica Tarlov: As the resident wuss, none of this really bothers me. I don't know why some rivalry fun at the game is a problem. The Penn State thing is interesting. I read the letter from the dean. It seems like they are trying to get students to report really intolerance and hate speech.
Jonathan Hoenig: That hate speech needs to be protected. It's unpopular speech that needs protecting, especially on college campuses. Micro aggression is when you hold up a knife or threaten to hurt them. Speech is different. Your rights haven't been violated just because you are offended or had a bad day.