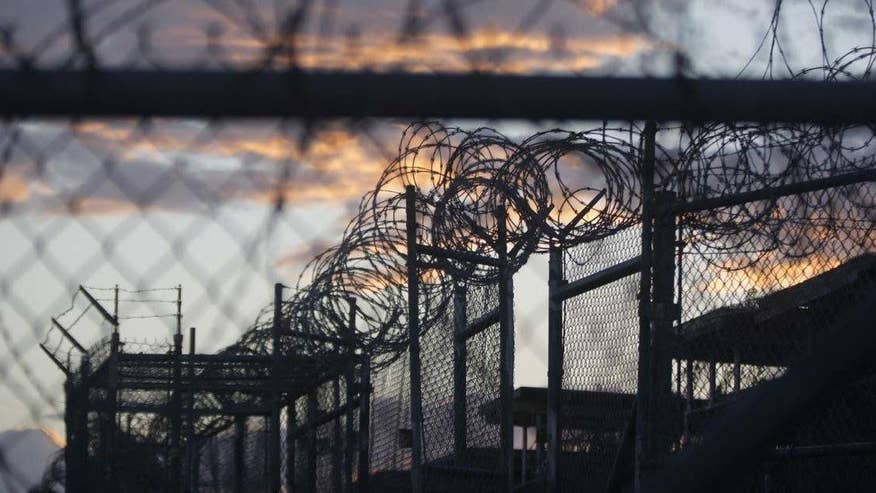 DISCLAIMER: THE FOLLOWING "Cost of Freedom Recap" CONTAINS STRONG OPINIONS WHICH ARE NOT A REFLECTION OF THE OPINIONS OF FOX NEWS AND SHOULD NOT BE RELIED UPON AS INVESTMENT ADVICE WHEN MAKING PERSONAL INVESTMENT DECISIONS. IT IS FOX NEWS' POLICY THAT CONTRIBUTORS DISCLOSE POSITIONS THEY HOLD IN STOCKS THEY DISCUSS, THOUGH POSITIONS MAY CHANGE. READERS OF "Cost of Freedom Recap" MUST TAKE RESPONSIBILITY FOR THEIR OWN INVESTMENT DECISIONS.
Trump at FBN Debate: 'Totally Open' to Taxing Goods From China
Charlie Gasparino: What matters is that he delivers a couple messages. Number one, we're going to get tough with China and they manipulate their currency and we're going to make them stop to do that. They're going to go against the biggest power in the world the United States but its leadership isn't using. Neil, you guys think that this is all about oxford debating point. You say that and I say this. You write that down and say who made the better point. This is about sound bites. With that said, that conveyed the message and the message of the base better which is they are.
Dagen McDowell: Especially down south people are still raw about the massive loss of jobs in the textile industry and furniture industry. Those are not distant memories. It happened over a period of decades, and they're angry about that and playing into that. He is also playing into china and us playing by their rules when companies go to do business there and we allow china to come in here and do business. We have been as a nation playing by other nation's rules. I don't think that this is a quick fix. These countries are linked as we have seen in the massive market selloff lately. Are their step toss take to make us less vulnerable?
Gary Kaltbaum: Well, look by definition tariffs are terrible and it distorts prices and screws the consumer. I don't think that this is about tariffs. This is a message saying we're not going sit back and let you dictate anymore. We're in United States of America, and we're going dictate policy, and our message to you is you better get to the table with us and I don't mind the redirect, I do mind if we do have tariffs. Nothing good is going to come of it and we're going to have a price and go back and forth. Nobody is going win at the end of the day. It will affect the market in a very big way.
Adam Lashinsky: Well with the part that I focused on and they have been a couple of comments about Donald Trump communicating last week with the Chinese. He was not communicating, and he was just playing to frightened Americans. He does not know what he is talking about. They're terrible ideas.
GOP Presidential Candidates Slam White House Over Failure to Call Out Radical Islam at FBN Debate
Dagen McDowell: With the current presidency, it's been, if we don't go after these people, if we don't talk about it, they're going to leave us alone. I truly believe the liberal, democrats, and the current administration believe that we brought 9/11 on ourselves and that we bring the terror to the shores. I do not buy that for a second. Instead of addressing it and calling it for what it is, we have created a vacuum and gave rise to more extremism.
Charlie Gasparino: Donald and Ted Cruz were particularly eloquent on their talking about just how the administration reacted to and how Iran took advantage of a mistake and a couple of guys on a boat and going wondering into the waters and basically had their hands on the back and guns pointed to their heads. What was the response from this administration? We're sorry. Do you realize that we had Iranian guards with guns to our people's heads? Now, I heard some people say -- maybe it was Montel Williams it was standard military procedure. No, it's not. You draw guns on our guys, get ready for war.
Gary Kaltbaum: More importantly it's in conceivable that we can go on Google map and see the headquarters of ISIS and they're standing around and ISIS is walking in the hallways. They can parade in plain sight in the middle of the day in streets and we do nothing about it. These are people that want to destroy us, murder us and everybody else. We sit back and don't talk about it.
Adam Lashinsky: I think that you're right. These are people that are run in a primary and saying things and filling the goal. Neil, you know that I often think that you're right. I have to be the person that I feel like nobody -- no one heard what president Obama said the other night. The objection is that he did not talk about radicalism. He couldn't have been more clear about going after ISIS.
New Debate Over Cost of Closing Gitmo As White House Releases 10 More Detainees
Dagen McDowell: Dangerous regardless of how you look at it. Whether you shut Gitmo down and move the detainees here, people don't want them on American soil. Let's release them back overseas. You have seen these individuals re-radicalized, if you will. Usama Bin Laden's former cook is running a division of Al Qaeda in another country.
Charlie Gasparino: Obama doesn't release them back to the U.S. He is releasing them back to the battlefields so they can fight us and cause terror.
Gary Kaltbaum: The president mentioned in a speech this week again about getting Usama bin Laden. Yet he's now going to release some of the bodyguards of Usama bin Laden and our Department of Defense even says that they are a worry. We are releasing them to where? The Middle East? We have no control where they go, what they are going to do. We have already facts that past people that were released are back on the battlefield, coming to kill us. This makes no sense whatsoever.
Adam Lashinsky: I think the cost is a red herring. I don't think that's the problem. The problem is we are a nation of laws. This is where you started with it. We don't have a good legal structure. He's wanted to shut it down all along. That's what he's trying to do.
Stock Picks
Gary Kaltbaum: (TLT)
Adam Lashinsky: (XLK)