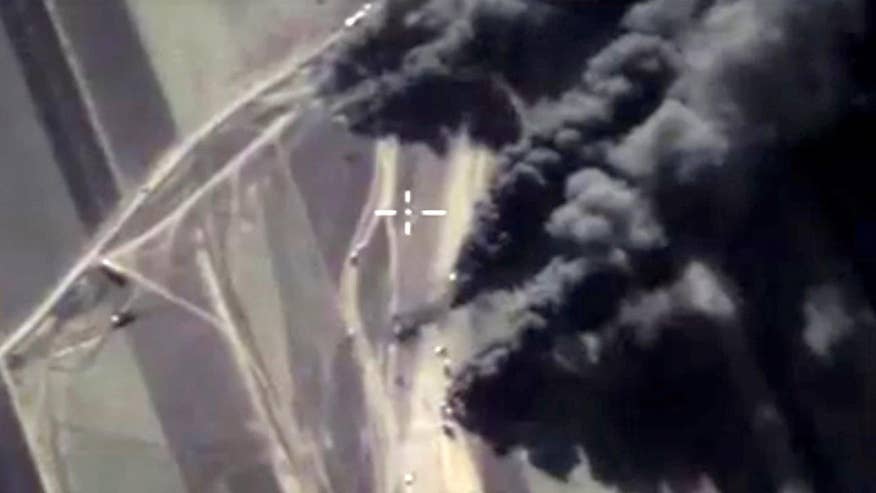 DISCLAIMER: THE FOLLOWING "Cost of Freedom Recap" CONTAINS STRONG OPINIONS WHICH ARE NOT A REFLECTION OF THE OPINIONS OF FOX NEWS AND SHOULD NOT BE RELIED UPON AS INVESTMENT ADVICE WHEN MAKING PERSONAL INVESTMENT DECISIONS. IT IS FOX NEWS' POLICY THAT CONTRIBUTORS DISCLOSE POSITIONS THEY HOLD IN STOCKS THEY DISCUSS, THOUGH POSITIONS MAY CHANGE. READERS OF "Cost of Freedom Recap" MUST TAKE RESPONSIBILITY FOR THEIR OWN INVESTMENT DECISIONS.
State Department Touts Bringing Peace to Syria as 2015 Win
Charles Payne: It's absurd. We know it's absurd. It's shocking that they would even say that. The place is a killing field and it seems to be getting worse and not better but certainly its news to Americans that somehow peace has broken out in Syria.
Gerri Willis: They backtracked on this to be sure. They're not saying it anymore. But 21,000 people died this year. 1800 This month alone and the government has killed 15,000 of those. So this is far, far from settled. Far, far from peaceful.
Ben Stein: I'm no doctor but I don't think John Kerry is in his right mind and for this to go out under the signature of the Secretary of State is a disgrace. It's an insult to the people that suffered terribly there and insult to their families and everyone.
Julie Roginsky: You can't defend it. There's no way to defend it. Syria is a mess.
2016 President Race in Focus as Dow Posts First Pre-Election-Year Loss Since 1939
Gerri Willis: 10.4 percent is the average the stock market is up in the year before the presidential election. That's what everybody is looking at right now but let me tell you if the stock market is a proxy for how Americans feel about their money it isn't good. It's also wages and the jobs market. All of this stuff is bad news for Democrats that have been in charge.
Charles Payne: I think the average person out there is not looking at the market as a proxy but their wages that are down. They're looking at the fact that when they do look at jobs they're all part time jobs. But so many of them have become part time jobs. No, it's not that I'm a Hilary hater. I would like to love whoever the next president is but I want them to bring back real prosperity. I want to get rid of this welfare utopia that's destroying the country because I don't know how many more chances we have.
Julie Roginsky: Let's go back to the last time we had an open election. The markets are up and everybody was feeling positive and then something else was happening and the worst economic since the depression. What matters is exactly how people feel in the fall of next year.
Ben Stein: No, I do not. The economy was very strong in terms of jobs. They administration has been horrible in other areas like foreign affairs but our economy is still strong.
New Questions for Job Market as Wave of New Minimum Wage Hikes Kick In
Ben Stein: Because it's a simple matter of arithmetic. If the jobs will be twice as expensive per hour there will be fewer jobs. That's the way it is. Not apple manufacturing which makes $600,000 per employee but at Burger King, Taco Bell or Del Taco there will be fewer employees. It's arithmetic. I would like for retail and salespeople to be paid more per hour. I would cough up to pay more but it won't happen. It will cost jobs. It has to. It's math.
Gerri Willis: If you raise prices people buy less of it. Raise labor prices, people hire fewer people. 3 percent of folks out there make minimum wage. It's not a big deal. The thing we should focus on is median income, not minimum wage.
Julie Roginsky: First of all, a hike in the minimum wage affects all wages, lifts all tides. The advantage is if you hike minimum wage they have more disposable income so they will spend it at Burger King and McDonald's.
Charles Payne: We haven't talked about the average poor household may have two or three people with these jobs. When one person loses a job because of the hike the other two get, they have to pay extra as well. If you lowered the minimum wage got more people into the work force and let it work out.
Charles Payne's 2016 Stock Picks
Avago (AVGO)
Auto Zone (AZO)
Signet (SIG)