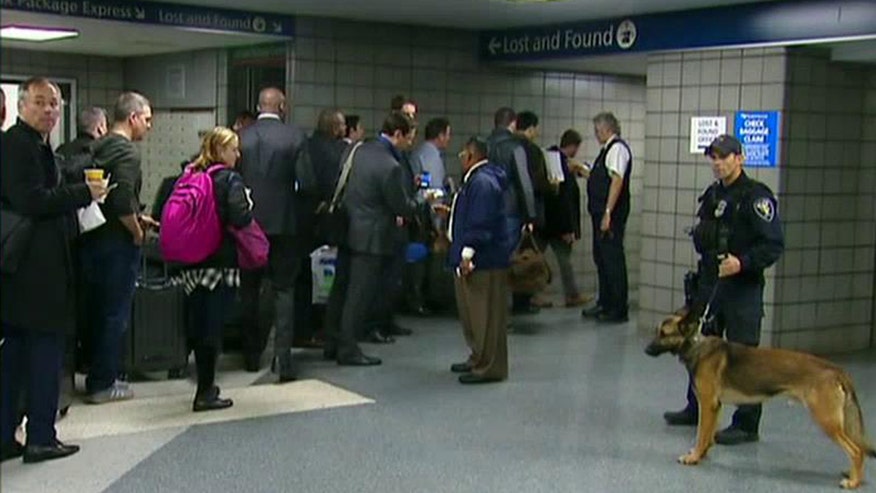 DISCLAIMER: THE FOLLOWING "Cost of Freedom Recap" CONTAINS STRONG OPINIONS WHICH ARE NOT A REFLECTION OF THE OPINIONS OF FOX NEWS AND SHOULD NOT BE RELIED UPON AS INVESTMENT ADVICE WHEN MAKING PERSONAL INVESTMENT DECISIONS. IT IS FOX NEWS' POLICY THAT CONTRIBUTORS DISCLOSE POSITIONS THEY HOLD IN STOCKS THEY DISCUSS, THOUGH POSITIONS MAY CHANGE. READERS OF "Cost of Freedom Recap" MUST TAKE RESPONSIBILITY FOR THEIR OWN INVESTMENT DECISIONS.
FRENCH AMBASSADOR: BLAME TERROR ON 'RADICAL ISLAM,' NOT UNEMPLOYMENT
Steve Forbes: It is radical Islam. In this case religious extremism combined with Marxism. Lenin preached violence and terror, so did Adolf Hitler. These extremists are doing the same thing today. They recruit among people who have hard times. Hitler did in the depths of the Depression. Lenin did after the First World War. The leaders are often from very good backgrounds. They are very well educated, they're ideological, that's the impetus.
Bruce Japsen: I think joblessness leads to hopelessness and despair. I think that these types of people, whether they be terrorists, a Charles Manson or a Jim Jones, they prey on vulnerable people. Often times these people don't have jobs and they don't have other things to do. So they are preyed upon.
Mike Ozanian: A study done by a former CIA operative looked at 172 Al Qaeda terrorists and two thirds of them came from middle income or upper income families. This is a war against people of Judeo-Christian beliefs. There is a genocide going on and this whole fallacy that income somehow is a cause of it. That's just something that Obama has thrown out there to get everybody's eye off the ball in terms of what's really going on.
John Tamny: You certainly can't say it's economic. When you look at the 9/11 attackers, you look at Usama bin Laden, very rich backgrounds. I'm skeptical about the religious element also. Let's face it, India is full of Muslims, so is Indonesia but yet they are not all murderers. Thankfully it is a very microscopic percentage of the religion that wants to hideously attack people. We have to look elsewhere and stop letting them off so easily as though they are driven by religion.
Sabrina Schaeffer: I think this is P.C. gone awry. I agree that the root cause is radical Islam. You may be able to recruit people who are preyed upon because they are vulnerable, they don't have jobs, they come from broken homes, but that's not the root cause. We have lots of countries that are impoverished that are not a sources of terrorism. A much better data point, a better correlation is the freer a country the much less likely they are to produce terrorist activity. That's something that we want to keep an eye on. We want to be working with countries to make sure they are growing democracies. That will keep us all much safer.
Rich Karlgaard: This is a vicious cycle. The business world, the entrepreneurial world, the science world runs on Western values. If you hate Western values, you're going to make yourself unemployed and poor. The two work hand in hand. A third of the world is going down a very bad path.
TERRORISM VS. GLOBAL WARMING: UPCOMING CLIMATE SUMMIT SPARKS DEBATE ON BIGGEST THREAT
Steve Forbes: I think Paris would be willing over the next hundred years to take one more degree temperature in Fahrenheit than to continue to have the kind of terrorist attacks they had a few days ago. This kind of willful oblivion to the real threat to the world is absolutely astonishing. People are going to look back and say what were these people thinking?
Bruce Japsen: I think if global warming and climate change leads to a scarcity of resources, which people think it will, then that's going to go back to what we were talking about earlier where it will contribute to a poor economy, joblessness and make people vulnerable to joining some of these groups.
Sabrina Schaeffer: I'm shocked that Paris hasn't cancelled this gathering. When I'm in Washington D.C., the first thing I think of each morning, is this bridge I'm driving over secure from terrorist attacks? Can I bring my kids down to the national monuments and show them Washington? I'm not thinking every day about how we can get together and fix climate change because we have a market that demands a clean environment. It's already pushing us towards cleaner technologies. We do not need an international summit for this. We need to figure out how to deal with our terrorist problems.
Rich Karlgaard: The economic recovery we have had is a very fragile one and it's fragile throughout the world. To make it even worse by driving up energy prices would probably create more terrorism than any little climate change that we are talking about.
John Tamny: Some of the richest, most expensive cities on earth are coastal cities. If in fact climate or global warming were a problem you would see rent and housing prices falling in these rich cities. Instead they're rising which is a powerful market signal that global warming is one of the biggest hoaxes ever foisted on mankind.
Bill Baldwin: Let's get our priorities. The biggest threats to America in descending order are terrorism and rouge state nukes, then epidemics and then climate change. If you want to tackle number three, the right way to do it is something that I'm afraid, unfortunately, Steve Forbes doesn't like nor does the president like, which is a carbon tax.
REPORT: NEW LAW WILL ALLOW GOVERNMENT TO SEIZE YOUR PASSPORT IF YOU OWE TAXES
Mike Ozanian: This is a terrible idea. We should be reducing the power of the IRS, not expanding it. We just went through the whole abuse of the IRS by the Obama administration, when he used it to go after his political rivals. This is the last thing we should be doing.
Bill Baldwin: It's a lovely idea. If some deadbeat doesn't pay his taxes I have to pay more. Yes, the IRS is a vindictive agency, but we've got to collect those taxes.
Rich Karlgaard: It's a terrible idea. What about the delinquent taxpayer who is going abroad to trying to raise money or sell his company to pay his taxes? How is the IRS supposed to figure that out?
Bruce Japsen: If these people have money to go on a trip with their passport, then they should be paying their taxes. There should be a penalty for these folks.
Sabrina Schaeffer: It's Un-American. Our Founding Fathers enumerated very specific powers for the federal government. Taking away people's ability to travel freely was not one of them.
Steve Forbes: This is a good reason why people are so disgusted and contemptuous of the political establishment today. It is estimated this thing will raise about 400 million dollars over ten years. So for a few million a year they are authorizing a massive assault on our civil liberties. The IRS which went after conservative agencies, which illegally seized assets of hundreds of people, you're going to trust them with a passport authority? This is insane.
STOCK UP!
Mike Ozanian: Air Products and Chemicals, Inc. (APD)
Bill Baldwin: L Brands, Inc (LB)