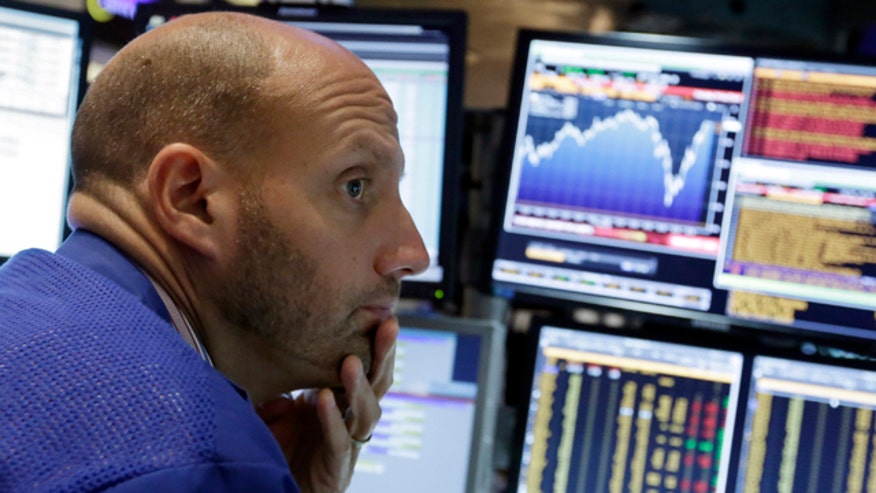 DISCLAIMER: THE FOLLOWING "Cost of Freedom Recap" CONTAINS STRONG OPINIONS WHICH ARE NOT A REFLECTION OF THE OPINIONS OF FOX NEWS AND SHOULD NOT BE RELIED UPON AS INVESTMENT ADVICE WHEN MAKING PERSONAL INVESTMENT DECISIONS. IT IS FOX NEWS' POLICY THAT CONTRIBUTORS DISCLOSE POSITIONS THEY HOLD IN STOCKS THEY DISCUSS, THOUGH POSITIONS MAY CHANGE. READERS OF "Cost of Freedom Recap" MUST TAKE RESPONSIBILITY FOR THEIR OWN INVESTMENT DECISIONS.
DEMOCRATS BASHING WALL STREET AMID RECENT MARKET TURMOIL
Gary B. Smith: If you look at the root cause going back to the financial crisis that we had it was the fed flooding the markets with the easy money. Now, did banks and mortgage companies do some unscrupulous things? Of course. But why could they do it? You had all this money flowing like water through the markets. People don't point back at the fed and the government for creating the situation of this, quote, unquote, greed, and they really should.
Emily Tisch Sussman: I think Bernie Sanders has tapped into something, and people are feeling like for the last couple years they understand intellectually that the recession is over. But it really has been two recoveries, right? Wall Street has recovered; big corporations have recovered with their corporate profits. People do not feel it in their pockets. People are thinking is this a stock bubble? Over the past week people are thinking maybe it has been.
John Layfield: I don't think people are saying this is a stock market bubble. China is going from 7 percent growth to 5 percent growth, a 30 percent haircut of the GDP of the world's second biggest economy. That has most to do with it. Bernie Sanders is striking a chord. To blame Wall Street is absolutely insane. It's a populist message, let's blame the rich guys on Wall Street for doing this when the government created this scenario that caused the entire housing bubble, the Fed through low interest rates -- look, we've divided our currency for years. You talk about seniors and 401(k)s. There's no yield right now because the Fed has interest rates at zero. That's why the rich are getting richer and the poor are getting poorer. It's been going on since about 2000 and is just continuing.
Gary Kaltbaum: On September 8th, 1941, Bernie Sanders was born. The DOW was at 127 that day. During the time up to today, it went up to 18,300 before this latest nausea. During that time, Wall Street and the markets have created trillions of dollars of wealth, tens of millions of jobs, taken people out of poverty into the middle class and from the middle class into the wealth class. Bernie Sanders has not created one dime of wealth while the markets have done the job.
Jonas Max Ferris: Well, it is greed. Bernie made some points that are sort of in a weird way to a certain audience. Rich people caused the crash Monday, okay? It's not poor people. You have to have stocks to sell. It was an excess of sell orders that tanked the market. Other rich people came in later in the week and bought back. Bernie doesn't want to end Wall Street. Socialists have their own stock indexes and have investment bankers. They know that Wall Street's a golden goose that makes the whole country ride. If you put it out of its misery like communist regimes do, that's where you have a problem where everybody gets poor. If he wants to play socialist, that's fine, but he's talking communists, which is what happened in Cuba and communist Russia.
NEW QUESTIONS FOR JOB MARKET IN WAKE OF CONTROVERSIAL LABOR BOARD RULING
John Layfield: The NLRB decided to deal with franchises that you could unionize on that level and go to the corporate headquarters. I'm not a fan of either party, but the unions support Democrats so Democrats support unions. This was a 100 percent partisan vote at the NLRB so, if I own a franchise in Sweetwater, Texas, a Kentucky Fried Chicken, my employees can go to the headquarters of KFC and demand -- they unionize --and demand a wage increase. Despite the fact headquarters has no idea about my market, it's my mom and pop, they dictate to me the wages. In converse, you can also be held responsible for your franchisees, which the headquarters have no control over. These aren't your CEOs trying to buy a third home. These are your mom and pop stores now that are going to be pushed back to the Corporate Headquarters. It's all a union grab.
Emily Tisch Sussman: I think it's simpler than that. I think these are large corporations that to their franchises, they dictate qualifications for hiring, they dictate shift schedules, they dictate how they input all of that information, and now the employee can start to about like the corporate is their employer. They've been acting like their employer. Now the employee can start to deal with them like they are employer.
Gary B. Smith: When you start to become unionized, what happens? The wages go up, so what happens to the employment? We've seen in Seattle in the restaurant industry, when their wages went to $11 an hour starting in April they saw the largest decrease in restaurant employment since the recession. Look for an industry where unionization has increased jobs. You can't. I can only point to a lot where it's decreased jobs -- steel, auto, textile, airlines.
Jonas Max Ferris: This is why a higher federal minimum wage is the option to raise the wage base for workers than have unions negotiate. That is a lousier output thing. Companies take advantage of temp agencies. That is why they've been growing for 30 years in this country to avoid rules put on them when insurance have to provide wages, etc. It would be great in theory, everyone would get a higher wage, it will be like the batteries that are recycled in America. They go to Mexico because the rules are strict now, there are no rules in Mexico and until this recycling case, they will move that to Mexico and the world will get more polluted than if it was done here. They need to raise the level of all workers in the world not just here because they're pushing the jobs to worse places.
Gary Kaltbaum: Here's the problem. You are trying to change something that has been working for years, and that is the independence of franchises. And it is not true that it's so coordinated to headquarters. Ask any franchise out there that has five stores or five restaurants. They have their own way of doing things, their own hours, a different amount of employees because different locations make different things that are needed. So that's crazy that they're doing this. It continues to be government taking a bat and bashing business over the head for I don't know what reason.
FACEBOOK, TWITTER SHUT DOWN VIRGINIA GUNMAN'S ACCOUNTS MINUTES AFTER HIS POSTINGS
Gary Kaltbaum: No doubt that the bad guys are proliferating on the internet as well as social media, recruiting and growing. If I was President of this country, the first thing I'm doing is calling Zuckerberg and whoever's running Twitter and these other social media companies, bringing them in and asking how can you help me and this country, because they can get the job done. They see it on a daily basis.
Gary B. Smith: For the same exact reason it gives government a lot of power to start to decide what's good and what's bad for us. Let's stipulate that this is vile, the video should not have been up there, but it's not for Twitter or Facebook or any of those people to decide or that can decide. But they shouldn't be forced to decide. They should do what is best for the company and best for their consumers. If Twitter has 20 million users and 17 million don't like it, they should do it. But don't put them in a position of having to be the government and monitor what's going on.
Emily Tisch Sussman: If you decide you're going to make a rule about what comes down immediately, then something's get judged as good and some get judged as bad. There has to be a hard line and they have to make that decision. It's a very hard decision for government to be involved with. I think it's more of a cultural problem that so many looking to post acts of violent, go to social media. It's revolting.
John Layfield: I think there's a medium here. This was a horrible event. This should have been taken down. You see something done by ISIS, obviously that should be taken down. I don't want a social media company deciding my morality. But in the hard cases like this, I think it's simple. Take this stuff down.
Jonas Max Ferris: The graphic stuff should be removed or censored. I will say broadly for regular media, we have to stop turning people into celebrities. I think that plays a role in all this. Social media gives everybody a chance to be a celebrity. There has to be a way to remove their names and images somehow from the internet. I know it's difficult to do, but it needs to be done.
PREDICTIONS
Gary B Smith: STAY CONNECTED. (VZ) RETURNS A 20 PERCENT GAIN BY 2016
John Layfield: GO LONG! (WBA) RINGS UP A 20 PERCENT PROFIT IN 1 YEARR
Jonas Max Ferris: DON'T WORRY ABOUT CHOLESTEROL. (KKD) SWEETENS 15 PERCENT IN 1 YEAR