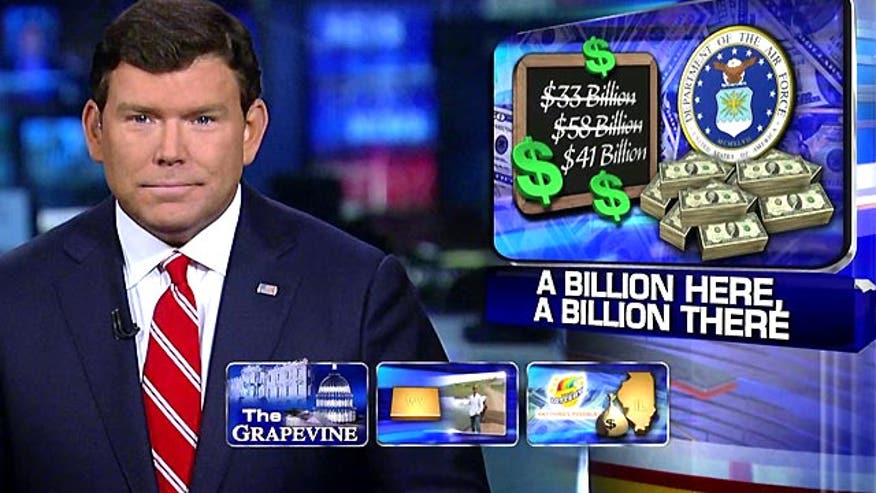 And now some fresh pickings from the Political Grapevine…
A billion here, A billion there
What is a few billion dollars between friends?
Last year -- the decade-long development of the long-range strike bomber was estimated to cost $33 billion.
The Fiscal Times reports the new number the service projected was $58 billion.
The explanation was quite simple -- for the $25 billion difference.
Air Force Secretary Deborah Lee James says--
"It was a mistake. It was a regrettable mistake. It occurred in part because of human error and in part because of process error."
Turns out both numbers were incorrect -- with the actual estimate being $41 billion -- but who's counting?
The Air Force says the numbers have been corrected with Congress -- and those responsible have been counseled.
Anything's Possible
The lottery is supposed to supplement a state's budget -right?
Well, there is a problem in Illinois.
Still no budget two months into the fiscal year.
So folks who win more than $25,000 in the lotto -- are getting IOU's from the state.
One winner told the Chicago Tribune -- patience would not be the government's way -- if the situation were reversed.
The state would -- quote -- "come take it and they don't care whether we have a roof over our head."
A Lottery spokesman says the agency is obviously affected by the budget situation.
Making Waves
Finally -- a Wyoming farmer is fighting back against the EPA.
Andy Johnson built a stock pond for his horses and cattle in his back yard in 2012.
In January 20-14 -- the EPA ordered him to remove it -- or face a fine of $37,500-dollars – per day -- meaning the current bill is more than $16 million.
Johnson and his lawyers are fighting -- what they call an over-reach.
"The EPA is out to expand its power -- and I'm a test case. We're going to fight them all the way."
The lawsuit also notes -- water coming out of the pond is three times cleaner than when it entered.
An EPA spokeswoman says no final determination regarding penalties has been made.