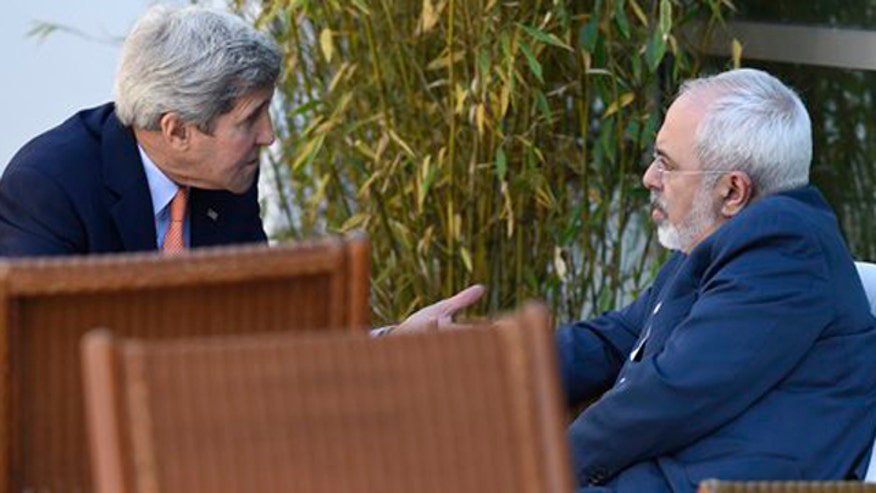 DISCLAIMER: THE FOLLOWING "Cost of Freedom Recap" CONTAINS STRONG OPINIONS WHICH ARE NOT A REFLECTION OF THE OPINIONS OF FOX NEWS AND SHOULD NOT BE RELIED UPON AS INVESTMENT ADVICE WHEN MAKING PERSONAL INVESTMENT DECISIONS. IT IS FOX NEWS' POLICY THAT CONTRIBUTORS DISCLOSE POSITIONS THEY HOLD IN STOCKS THEY DISCUSS, THOUGH POSITIONS MAY CHANGE. READERS OF "Cost of Freedom Recap" MUST TAKE RESPONSIBILITY FOR THEIR OWN INVESTMENT DECISIONS.
IRAN NUCLEAR DEAL
STEVE FORBES: It should be a deal breaker if it wasn't for misplaced party loyalty. This would be like animal house doing their own sobriety test. Even if the deal is adhered to Iran is still going to be a nuclear power. This is another element of a diplomatic disaster.
BRUCE JAPSEN: Setting aside the AP story—there is a multinational coalition that is going to be policing the accord. The site involved here has been dormant for a decade. We are looking forward here.
CARRIE SHEFFIELD: This is like asking a 3-year-old did you eat that last cookie and trusting them to answer correctly. It's impossible to take them seriously. We know they are murderous and funding terrorism throughout the Middle East. We have no reason to trust them.
MIKE OZANIAN: No, because I watched a lot of Kerry's testimony .The bottom line of this treaty is that Obama is outsourcing the safety of the U.S. to all the terrorists in the U.N. Look at his overall strategy of defense for the country.
JOHN TAMNY: Why would we negotiate with irrelevant nations like Iran? It diminishes us and elevates a corrupt regime. They are going to cheat and it's going to diminish us.
FAMILY MAKING $500K A YEAR IS LIVING IN PUBLIC HOUSING IN NYC
STEVE FORBES: They should be evicted since they broke the rules. The only exception to public housing is the White House.
BRUCE JAPSEN: I'm not sure if I would evict them, that sounds kind of harsh for people with families. I think that perhaps there should be new regulations that does this. A lot of this is administered by the states and it is kind of confusing. There should be some streamlining.
JOHN TAMNY: They should be evicted. There is no constitutional basis for the government to involve itself in housing.
MIKE OZANIAN: You have to evict them. When you start getting rid of rich people in subsided homes then you increase the supply of homes for the middle class and that is important.
CARRIE SHEFFIELD: I really don't think it's that complicated. What part of 4 and a half million dollars of your income is hard to calculate?
AMAZON CHIEF DENIES REPORTS OF HOSTILE WORKING CONDITIONS AT COMPANY
JOHN TAMNY: Good for them! They are a story of brilliant entrepreneurial genius! The stock is over $500. People aren't put at gunpoint to work there. Leave it to the NYT to find a few disgruntled employees to try to besmirch a great company.
BRUCE JAPSEN: Part of me looked at this- well before I joined with Forbes I worked for newspapers and the editors weren't necessarily nice when they woke you in the middle of the night to cover the fire. I'm surprised Amazon doesn't have the work-life balance like Google or Facebook.
MIKE OZANIAN: What I like about this company is that the executives are backing up what they tell the employees. They put the money where the mouth is with the stock. Sometimes you have to do something you don't enjoy to get ahead.
CARRIE SHEFFIELD: Look people have been lining up to work there. The tech industry is cut throat, they would go bankrupt if they weren't as cutting edge. We don't have enough talent; this is an employee's market people can go wherever they like.
STEVE FORBES: In a free market economy one size doesn't fit all you have all different types of cultures. In a firm you may have to work 80-90 hours a week- you don't have to work there if you don't want to.
STOCKS
MIKE OZANIAN: Charles Schwab ETF
JOHN TAMNY: Nasdaq 100