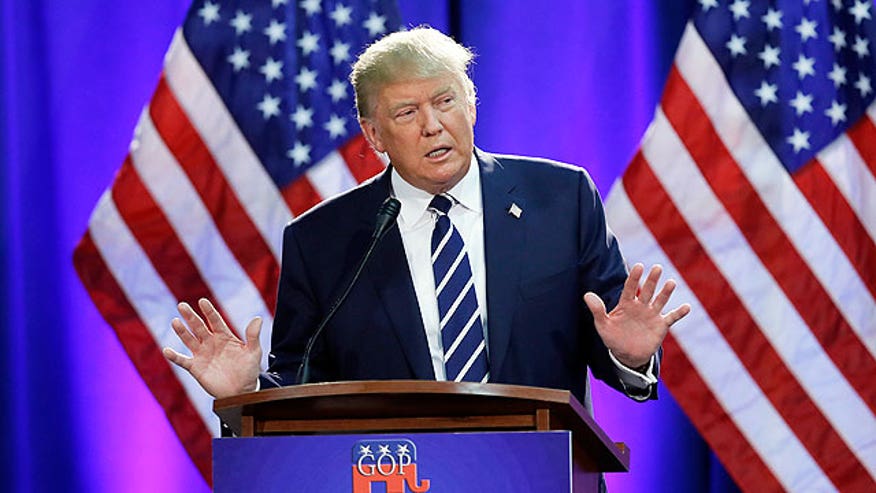 DISCLAIMER: THE FOLLOWING "Cost of Freedom Recap" CONTAINS STRONG OPINIONS WHICH ARE NOT A REFLECTION OF THE OPINIONS OF FOX NEWS AND SHOULD NOT BE RELIED UPON AS INVESTMENT ADVICE WHEN MAKING PERSONAL INVESTMENT DECISIONS. IT IS FOX NEWS' POLICY THAT CONTRIBUTORS DISCLOSE POSITIONS THEY HOLD IN STOCKS THEY DISCUSS, THOUGH POSITIONS MAY CHANGE. READERS OF "Cost of Freedom Recap" MUST TAKE RESPONSIBILITY FOR THEIR OWN INVESTMENT DECISIONS.
Trumping Taxes Trump Says He Would Cut Taxes for Companies and Middle Class
Gary Kaltbaum: It's a darn good start. The middle class has been crushed with taxes, how much they have to spend just to file their taxes, 75,000 pages of tax code. Something's got to be done. There are people in this country that work for the month of July just to pay their first dollar. More money in people's pockets means more savings, more spending and a better economy. Corporations are not competitive because of how much they pay in taxes.
Gerri Willis: 39.1 percent. That's where the money is. If you're going to do anything, cut corporate taxes. There will be more jobs, better paying jobs. We have fewer people working in full-time jobs today than we did at the high point before the recession. That's job one.
Charlie Gasparino But when I listen to Donald trump, who, once again, I really like and admire as a businessman, and I listen to us, I'm wondering why we are being more specific than he is. There is no plan. Especially for the middle class. That's not a plan. A plan is what Paul Ryan says, a very detailed plan, closing loopholes and bringing down rates and things of that nature. This is not a plan. That's one of the problems with Donald's policy that you can kind of drive a Mack truck through
Ben Stein: It might be a winning theme politically although he's already doing incredibly well politically, but we have never seen any clear correlation of lower taxes with higher employment or higher corporate profits. Corporate profits are extremely good, the economy is extremely strong, in many parts of the country there's a labor shortage. I'm not quite sure what this would accomplish except adding to the federal deficit, which is already cruelly and dangerously large. Unless there's a specific in here that we don't know about that would have some magical effect, I don't see it. I can't see where the benefit of it comes in except as a political bribe.
Adam Lashinsky: I actually am going to amplify things that ben and Charlie said. First of all, you have to look at the macro numbers. Unemployment is lower than it's been in years and we're in a multiyear expansion. These are good things.
Defund Debate Planned Parenthood Protests Expected in 48 States Today
Ben Stein: There are an awful lot of American who is believe abortion is murder. It's insanely wrong to take tax money from people who believe that, and I'm one of them, and use it to support Planned Parenthood so they can then shift money to do abortions
Gary Kaltbaum: I say get private dollars. You have $1.5 Billion in assets and are clearing more a year. Enough is enough.
Gerri Willis: My view on this, I think there are ten times the number of community health centers out here and if you talk to anybody on the street here right now, particularly women, they would tell you, get rid of Planned Parenthood, women will never get care. That's just not true. The numbers don't support that.
Charlie Gasparino: I would just say as someone who's pro-choice, I am for defunding them for the simple reason that they're a political arm of the Democratic Party.
Adam Lashinsky: This is a good example of misdirection and misusing language. This is not about defunding. Planned parenthood performs medical procedures and Medicaid pays for them. If we want to have a conversation of should Medicaid stop paying for abortion at every health care institution that provides them, let's have that conversation.
Purdue University Planning to Let Students Pay for College With Their Future Income
Gerri Willis: They've tried this already. It doesn't work. The reason it doesn't work is because investors. This is how it's been tried before where they're asked do you want to invest in kids' earnings after they graduate, and nobody wants to do it. It's not really a viable idea. I think the best consideration here is that you cut tuition, and that's what Mitch Daniels has done at Purdue. Everybody needs to do that. That would be the right solution.
Adam Lashinsky: Well, I like the idea even if you have to run it at a loss because a lot of times these kids aren't paying back their loans anyway.
Gary Kaltbaum: $40 billion. That's a lot of cake. Look, I don't mind this idea. I just don't think it's going to really fly. The idea that the way this is set up is if you come out of college and you make a lot of money, you can pay back your loans easier to the investor versus if you don't have the wherewithal, you can stretch it out a little more. That's okay. It almost privatizes thing. I'm just not so sure it's going to fly.
Charlie Gasparino: You are saying the endowment would fund this thing, right? I just don't quite understand how it works. Listen, it would be nice to privatize student debt, but the private sector, I don't think, will get involved because the endowments have a fiduciary. You're just paying a different piper.
Stock Picks
Gary K: ED
Adam Lashinsky: ACWI
Ben Stein: SDY