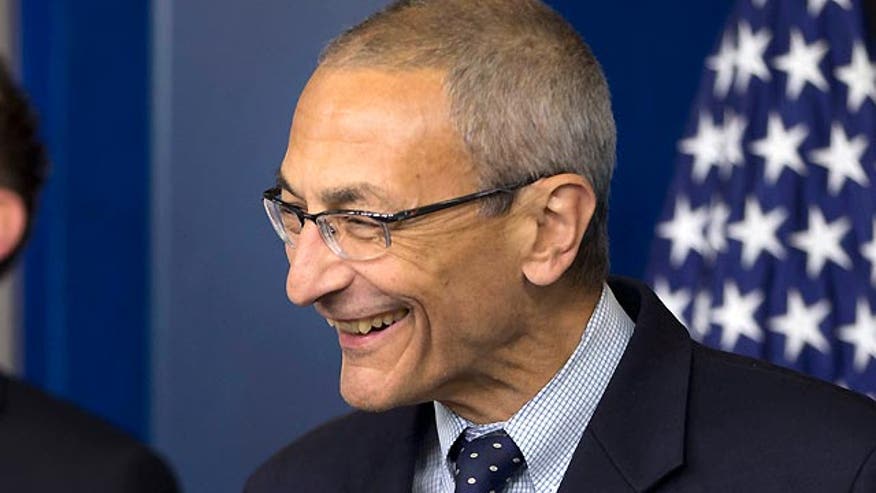 And now some fresh pickings from the Political Grapevine…
Top Ten Moments
Obama Counselor John Podesta decided to channel his inner David Letterman on Friday -- his last day at the White House -- posting a Twitter top-ten list.
He began the light-hearted countdown by with saying it was time to leave because the White House hief of staff beat him in a 12K race.
Podesta listed successes like controlling Big Data --
And acting on climate change with China.
And at number one --
"Finally, my biggest failure of 20-4 -- Once again not securing the disclosure of the UFO files."
#thetruthisstilloutthere -- a reference to the X-files -- a TV Show based on two FBI agents tracking paranormal phenomena.
Podesta is known to be fan of the show and in 2002 called for the release of government documents --
"I think it's time to open the book on questions that have remained in the dark, on the question of government investigations of UFO's. The American people, quite frankly, can handle the truth."
Scandal Free
Another former senior official in the White House -- said something last night at the University of Chicago that caught many critics off guard.
When asked about the president's ban on Washington lobbyists and their influence -- David Axelrod defended the administration's record -- then said something much broader.
(BEGIN VIDEO CLIP)
David Axelrod: I'm proud of the fact that you have an administration that has been in place for 6 years in which there hasn't been a major scandal.
(END VIDEO CLIP)
Critics disagree.
One tweeter offered a concise list for consideration -- including the Fast and Furious gun-running operation -- that eventually led to Attorney General Eric Holder being censured.
Another asked a question --
"What does he call Lois Lerner?"
A third wondered about the former adviser's sleeping habits.
Apparently Axelrod just woke up from a six-year-nap.
Axelrod added -- the administration's record isn't pristine -- but it is light-years ahead of previous administrations.
Crying Uncle
Finally -- Ithaca -- New York is conceding defeat to Old Man Winter.
The City's tourism website admits -- it's downright miserable.
Browsers are greeted by beautiful pictures of a warm beach and a simple message –
"That's it.
We surrender.
Winter, you win.
Due to this ridiculously stupid winter, Ithaca invites you to visit The Florida Keys this week.
Please come back when things thaw out.
Really, it's for the birds here now."
Ithaca -- is looking at a low temperature of five-degrees tonight.