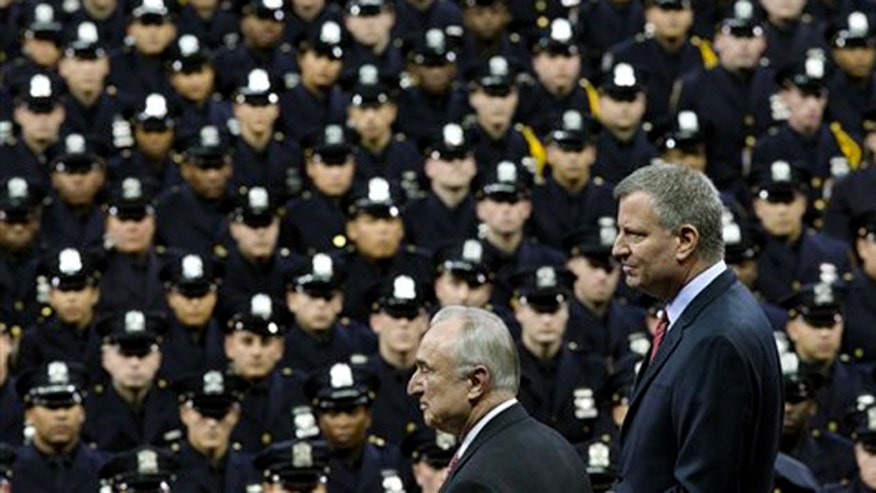 DISCLAIMER: THE FOLLOWING "Cost of Freedom Recap" CONTAINS STRONG OPINIONS WHICH ARE NOT A REFLECTION OF THE OPINIONS OF FOX NEWS AND SHOULD NOT BE RELIED UPON AS INVESTMENT ADVICE WHEN MAKING PERSONAL INVESTMENT DECISIONS. IT IS FOX NEWS' POLICY THAT CONTRIBUTORS DISCLOSE POSITIONS THEY HOLD IN STOCKS THEY DISCUSS, THOUGH POSITIONS MAY CHANGE. READERS OF "Cost of Freedom Recap" MUST TAKE RESPONSIBILITY FOR THEIR OWN INVESTMENT DECISIONS.
NYC MAYOR DE BLASIO'S LEADERSHIP IN FOCUS AS TENSIONS WITH POLICE MOUNT
Larry Glazer: I can't imagine a corporate CEO today turning their back on their own work force and expecting their support like the mayor of New York did against the NYPD. Shareholders would never stand for that.
Dagen McDowell: In the corporate world, a company would have never gotten to a position where the workers turn their back on the CEO. The shareholders would have voted. He would have been gone by now. The shareholders would have voted and the board would have gotten rid of him or given him a talking to in terms of the way the mayor has been running the city, even before this happened.
Ben Stein: An interesting thing here. We have a democrat, working class progressive mayor and the essence of the working class civil servant, the New York City cop saying we don't want any part of you. You are not our kind of working class, you are a progressive snob. We are out there working and risking our lives every day. If you are going to dump on us, we are not going to show respect for you. How Mr. de Blasio thought it was proper behavior is beyond me. He had to play with the base. He's getting paid back for it richly now.
Nomi Konst: The only boss that needs to go is Pat Lynch. He's the head of the union, using the deaths of these officers as a political opportunity to get the contract he wants.
WHITE HOUSE ROLLS OUT NEW RETIREMENT SAVINGS PLAN THAT ONLY INVESTS IN GOVERNMENT DEBT
Dagen McDowell: I don't give a thumbs up to loaning money to Uncle Sam. You invest in America. You invest in a U.S. Company.
Ben Stein: Extremely conservative except the fact that textile advantage of rising prices and inflation. It's a bad vehicle. I don't know why they are doing it. The Federal Reserve is ready to buy all the debt the treasury cares to issue, china stands ready to buy quite a bit. I don't know why they are doing it. The point is a mystery to me.
Larry Glazer: We need to encourage retirement savings. This is not the way to do that. This almost sets up young people for failure by investing in low returning investments rather than appreciating the free market. This is the ObamaCare of private retirement savings, it's what we don't need as a vehicle.
Nomi Konst: I couldn't disagree more. This is not for half the work force. Lower income, young people, Millennials are going to be a part of the major work force. Three quarters of the part time work force without Roth IRAs.
REPORT: NEW EVIDENCE POINTS TO SONY HACK ATTACK AS "INSIDE" JOB
Dagen McDowell: Because you can't screen for crazy, because people put on their best face and you have to be careful about what you ask about. A former employer is when you hire somebody, but you doggone well should protect yourself if somebody gets fired or even if someone leaves. This is Sony with its pants down.
Nomi Konst: It's a serious issue and a national security issue. Some saying Sony was hijacked, the hacker, that might have been the employee, was hijacked.
Ben Stein: It's impossible to say how crazy anyone is who's able to hack into a computer. Your brain has to be so complex, wired so differently, the brains of us media superstars after the star athletes that we cannot even imagine what their brains are like. Seriously, I don't know what's going on inside their heads. I don't -- if the CIA says that it's North Korea, well the CIA's always right. So it's North Korea.
Larry Glazer: Companies don't want us to know how vulnerable our data is. If a company as big as Sony with all the multimillion dollars they can put in the budget so far behind the in cyber security and target hacked, home depot, staples? Is our data really safe anywhere? This will forever change corporate behavior in terms of security. What people put in an e-mail, encrypt, say in the telephone. Probably a good thing.
STOCK PICKS
Ben Stein: Berkshire Hathaway BKR-B
Adam Lashinsky: Exxon Mobil (XOM)