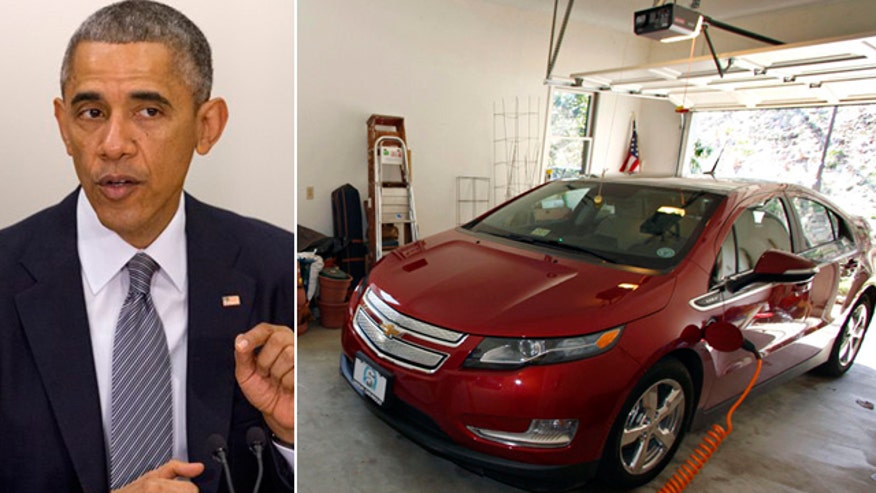 DISCLAIMER: THE FOLLOWING "Cost of Freedom Recap" CONTAINS STRONG OPINIONS WHICH ARE NOT A REFLECTION OF THE OPINIONS OF FOX NEWS AND SHOULD NOT BE RELIED UPON AS INVESTMENT ADVICE WHEN MAKING PERSONAL INVESTMENT DECISIONS. IT IS FOX NEWS' POLICY THAT CONTRIBUTORS DISCLOSE POSITIONS THEY HOLD IN STOCKS THEY DISCUSS, THOUGH POSITIONS MAY CHANGE. READERS OF "Cost of Freedom Recap" MUST TAKE RESPONSIBILITY FOR THEIR OWN INVESTMENT DECISIONS.
REPORT: PRES' GOAL OF PUTTING 1M ELECTRIC CARS ON ROAD BY 2015 IS OFF BY 725,000
STEVE FORBES: It's typical of Washington trying to regulate our behavior outside of a major war is preposterous wrong. It also inhibits the development of technology because government only knows how to do what already exists. Government has no business, let the people decide; it's a democracy isn't it still?
RICK UNGAR: You have to be careful about this. Government has to be brave sometimes to help things get off the ground. We have used tax incentives for some very useful things. I take your point that it didn't work for the electric car, but let's not throw everything out.
RICH KARLGAARD: I think what has been totally missed here and by Washington is the impact of horizontal drilling and fracking technologies which have brought down the price of oil and thus gas and have made electric cars not as competitive as these costal elites thought they would be in 2009.
MIKE OZANIAN: I think it's even worse when the government succeeds in changing consumer habits. Look at the housing crisis in 2007.
JOHN TAMNY: Government shouldn't be creating incentives. If you talk to the best investors in the world, they will acknowledge they are only correct half the time. The idea that there could be knowledge in the Obama White House or any White House about the future buying habits for consumers is just laughable.
GROWING DEBATE OVER GOV'T PLAN TO SPEND $49 BILLION IN NEW FOREIGN AID & OVERSEAS OPERATIONS
JOHN TAMNY: The basic truth is that well run countries do not need foreign aid, but corrupt countries do need the aid. The idea that the American worker should be on the hook for the alleged wellbeing of corrupt countries is a really bad one. We need to think of all the companies and jobs never created because we are wasting money on other countries... that never works.
BILL BALDWIN: I wouldn't totally eliminate foreign aid, but I would be much more selective about who gets the aid. There should be a competition among countries and they will be scored for women's rights, democracy and property rights. They will be scored and there will be one winner and the citizens of that country will get 100 dollar bills. You can be more selective about the foreign aid.
RICH KARLGAARD: I think we should take that 50 billion, or at least some of it and put it into military technology. We are in a dangerous world we have cyber threats, we have China wanting to conquer space. We have to be able to compete in these areas and it takes money.
STEVE FORBES: It's one thing to have aid for diseases like Ebola or military assistance to allies like Israel in fighting ISIS. But 30 billion of the 50 billion goes to economic development which is just in most cases feeds corruption and hurts countries rather than help them.
SABRINA SCHAFFER: There are some good individuals working at places like US aid. I think it's important to realize that as a country we are very charitable, we have lots of NGO's out there helping people. If government takes a step back there are programs like 'Doctors Without Borders' that are helping people around the globe.
REPORT: IRS PAID OUT MORE THAN $6 BILLION IN BOGUS CHILD TAX CREDITS LAST YEAR
SABRINA SCHAFFER: We continue to hear these stories every week, putting the blame on the American people for messing up their taxes when in fact we have a tax system that is so convoluted and so big. This is the ultimate of government hubris.
RICK UNGAR: People make mistakes under taxes, it doesn't make them dumb. If you want to be able to find people who make mistakes and are trying to fraud the government you need audits.
STEVE FORBES: It's the sick government syndrome. This is an agency that should be sharply downsized.
MIKE OZANIAN: As long as we keep giving the government so much taxpayer money it's going to be very hard to reduce the power of the IRS.
BILL BALDWIN: The problem is the complexity of the tax code.
DEBT-FREE STOCKS
MIKE OZANIAN: BEMIS (BMS)
BILL BALDWIN: TOOTSIE ROLLS (TR)