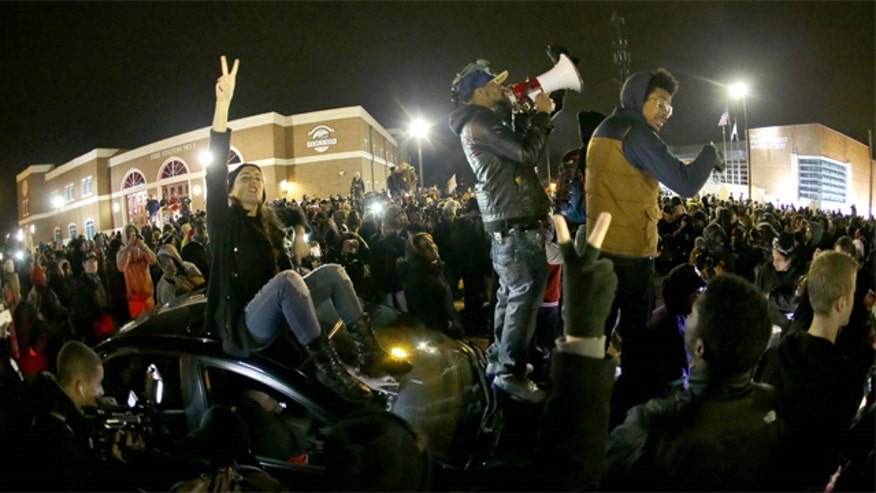 DISCLAIMER: THE FOLLOWING "Cost of Freedom Recap" CONTAINS STRONG OPINIONS WHICH ARE NOT A REFLECTION OF THE OPINIONS OF FOX NEWS AND SHOULD NOT BE RELIED UPON AS INVESTMENT ADVICE WHEN MAKING PERSONAL INVESTMENT DECISIONS. IT IS FOX NEWS' POLICY THAT CONTRIBUTORS DISCLOSE POSITIONS THEY HOLD IN STOCKS THEY DISCUSS, THOUGH POSITIONS MAY CHANGE. READERS OF "Cost of Freedom Recap" MUST TAKE RESPONSIBILITY FOR THEIR OWN INVESTMENT DECISIONS.
SEARCHING FOR UNIFIERS AS FERGUSON PROTESTS THREATEN TO DIVIDE THE NATION
DAVID WEBB: There isn't anyone spreading a message like Polly and that is a problem. In August I talked to some pastors who wanted to spread a similar message about peace, but when I asked them about education in the community (education as you know leads to jobs, and your ability to do your job, to get a job) they weren't talking much about it. It is tragic there isn't a Polly Williams down there.
RICH KARLGAARD: What Ferguson needs most is jobs. To have jobs you need employers. The public school system in poor areas like Ferguson is failing to produce people like that and so we need creative alternative solutions.
JOHN TAMNY: Anyone who is enhancing individual liberty should be cheered, and obviously Polly Wililams is among those. Politicians also make a mistake when they say education is the path to prosperity. The reality is hard work is how we prosper and teachers can't teach us how to be entrepreneurs or how to work hard in the workplace. I almost feel like we set expectations incorrectly saying that if you go to school you are going to succeed- that's not necessarily true.
STEVE FORBES: It's not a matter of money; key thing is having schools that work and leaving the accountability to parents. The real wealth of a society is the human mind. Kids at a young age have to learn how to read, write and discipline. She understood give parents a choice and make the schools accountable.
SABRINA SCHAEFFER: The people to blame here are the Democratic Party and the teachers unions. They are the ones who are standing in the way of real educational freedom. Our government run schools are the most insidious parts of our progressive government bloat. We want to be able to give people equal opportunity to access- and that's something we simply don't have. If we want to get to the root of poverty we have to expand educational options.
TAXPAYERS FOOTING $156 MILLION FOR GOVERNMENT EMPLOYEES TO DO UNION WORK
SABRINA SCHAEFFER: This is truly insane. This is a perfect example of how the media often portrays unions as this small counterweight to big business. They have tremendous muscle. We need to be thinking about the plight of the American taxpayer a lot more.
BRUCE JAPSEN: These contracts were signed off dating back to both Bush and Reagan. This is not union activity in the realm of recruitment it has to do with grievances about work conditions and negotiations.
STEVE FORBES: It shouldn't happen. It's like credit cards, those small charges add up. It's not just the time they spend, it slows down productivity and costs taxpayers more.
MIKE OZANIAN: If these workers have that much time to spend isn't government way to big?
BILL BALDWIN: The bosses get paid time to engage in union busting, so maybe the union should get its paid time to do its unionizing, especially if it's in the contract.
RICH KARLGAARD: Well federal workers get paid in terms of salaries and benefits about 30 percent more than private sector workers. And now we learn that they are about 9 percent less productive because they are spending time on union activities.
REPORT: SCHOOLS IN NYC TOLD TO BRACE FOR NEW SURGE OF ILLEGALS MINORS
STEVE FORBES: This is going to be an incentive for more to cross the border, why wouldn't you cross when you know every couple of years you are going to get amnesty.
BRUCE JAPSEN: Incentives do matter. This is another example of why we need to go back and pass the bipartisan Senate bill that would give us more border security and require the path to citizenship to include paying back taxes.
MIKE OZANIAN: It's going to cost all taxpayers money, since given the income levels of these immigrants they are going to be getting a net check from the government instead of paying taxes.
JOHN TAMNY: Rich countries tend to attract immigrants and that is a good thing but if we are going to talk about incentives- lets open up all the borders and legalize all work. There is a reason these kids are crossing, because their parents are here.
BILL BALDWIN: I would like to see an immigration reform that makes it a lot easier to come into the country legally and a lot harder to come in illegal. I would like to see an immigration reform that makes it easier to come in to work, and harder to come in with your family that will impose costs.
THE GIFTS THAT KEEP ON GIVING
MIKE OZANIAN: URI
BILL BALDWIN: VLY