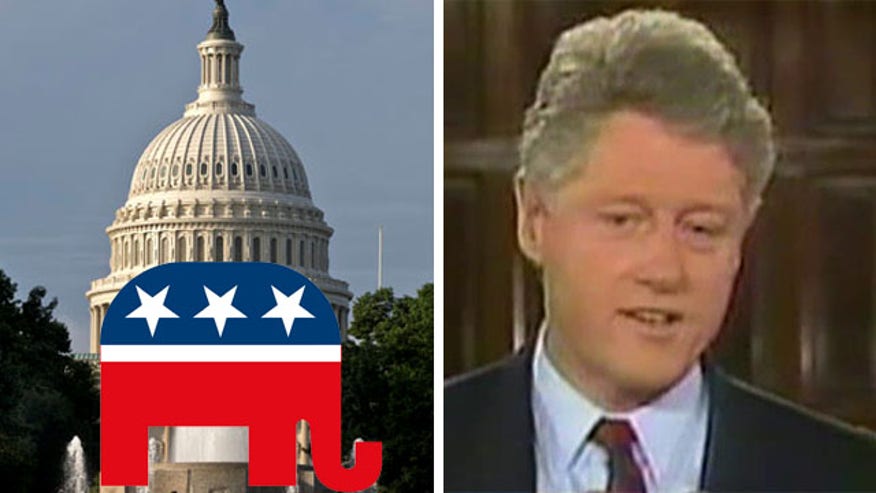 DISCLAIMER: THE FOLLOWING "Cost of Freedom Recap" CONTAINS STRONG OPINIONS WHICH ARE NOT A REFLECTION OF THE OPINIONS OF FOX NEWS AND SHOULD NOT BE RELIED UPON AS INVESTMENT ADVICE WHEN MAKING PERSONAL INVESTMENT DECISIONS. IT IS FOX NEWS' POLICY THAT CONTRIBUTORS DISCLOSE POSITIONS THEY HOLD IN STOCKS THEY DISCUSS, THOUGH POSITIONS MAY CHANGE. READERS OF "Cost of Freedom Recap" MUST TAKE RESPONSIBILITY FOR THEIR OWN INVESTMENT DECISIONS.
PRESIDENT, GOP SIGNALING FIGHTS TO COME ON KEY ISSUES AFTER GOP WINS SENATE
CHARLES PAYNE: The contrast was striking. What you didn't get is that President Obama overwhelmingly won the two-thirds who didn't vote. That's the part you missed. Bill Clinton set the template for how it should be done. You would think that if the President does care about his legacy just half as much as Michael Jordan talking smack about his golf game, you would get something on taxes, you would get something on Keystone; you would think and hope. We don't know.
DAGEN MCDOWELL: There's no reason to think in the next two years that he, the administration is going to be different than the last six highly partisan pushing liberal policies. No reason. He's going to have to work with other people, accept something less than everything he wants and share responsibility for something, if it goes right or wrong. Not going to happen.
CHARLES GASPARINO: The smart thing would be for him to compromise on a few basic parts of ObamaCare, Dodd-Frank, maybe some targeted tax cuts. The economy would grow, I think, fairly significantly. One of the problems with the jobs numbers is wage growth is still pretty crumby. We would be better. You know what? He'd probably elect Hillary Clinton president, but he won't do it.
BEN STEIN: Well, I think it's quite fascinating to me. Mr. Clinton showed himself to be more pragmatic when things turned against him. Mr. Obama is showing himself to be more ideologically rigid. He's such an amiable guy and so friendly and outgoing in his persona, but his politics so rigid. I don't think he has program for the next two years. I don't think he had a program after ObamaCare except to disarm America and make us weak in the eyes of our enemies. I don't think he knows what to do except what you say, as Charlie said, channel it from beyond the grave.
ADAM LASHINSKY: It's sort of obvious that Bill Clinton is a far superior politician than Barrack Obama. That show, the clip you played, it's important to show, Neil, that Bill Clinton was in his first term, midterm elections, and wanted to get elected president again. President Obama isn't going to be elected again.
EXPECTED WH PLAN FOR ILLEGALS SPARKS DEBATE OVER POTENTIAL IMPACT ON JOBS
CHARLES PAYNE: He's not going to use executive action. We are talking 11 million. He's going for the whole shebang on this thing. We know about the wages. We know about the morale. Think about President Obama or his wing in a party, if you will, talking income inequality and higher minimum wage-but we're going to open up the door for people that will work for peanuts. People who work in this country have no chance. It's nuts!
BEN STEIN: This is why Charles Payne should be president. That's a brilliant point that I've never heard anyone else make. This is a great, great, point. The point I want to make is we have a tremendous problem. We have an immense labor shortage, especially in agriculture. The illegals do a lot of work in that area. We do not consider ourselves a nation if we don't have real borders. We're not a country if we don't have real borders.
DAGEN MCDOWELL: If the administration, if the President, takes action unilaterally to keep more illegal workers here, then absolutely it will poison the well. I tell you how they can do it. This is 2-year-old program. We talk about on this program-- it's the "deferred action for childhood arrivals". About 700,000 people have applied for it. They are here illegally; came here under the age of 16. They basically aren't deported temporarily and they get work permits. A lot of liberals are talking about expanding the program, bringing in parents. You could, in theory, keep millions of people here, who are here illegally and keep them indefinitely.
CHARLES GASPARINO: I think this will destroy the Democratic Party if he does it. I think there's a good chance he will do it. What he was saying during most of his remarks post the Tuesday night drubbing, it was -- this was the one thing he was clear on. It makes no economic sense, if you look at the unemployment numbers, they are getting better. Wages are still low. We have a real problem in this country with wage growth on the low end, bringing people in that work for peanuts, as Charles said makes it worse. The Demographic strategy of the Democratic Party was put to the test the other night and they lost. I wonder if they go this far, will they be able to win again in two years?
ADAM LASHINSKY: Charlie, I think you're wrong on every count. First of all, business-all business wants immigration reform for the reason that Ben talked about, which is that we have a labor shortage.
RETAILERS LOOKING TO LURE SHOPPERS WITH EARLIER HOURS ON THANKSGIVING DAY
DAGEN MCDOWELL: Anti-American? This is pure American. Let me give you a list. I know where you're going with this. Toys "R" Us is going to be open, Sears, Kohl's and Macy's opening at 6 p.m. and it will save families. Guess what? People don't want to be at your house. Your food sucks and they want to be out shopping and about 8 somebody gets stabbed in the hand.
CHARLES PAYNE: Part of it's true. A lot of these companies, outside of Macy's, are all in trouble.
CHARLES GASPARINO: There's no way I would ever go shopping, but who cares? Live and let live. What's wrong if you want to get away from your brother, not see your brother like I do all the time? Get away from my wife?
BEN STEIN: You know I was going to come on and say it was sacrilegious but I think, beautiful, wonderful, brilliant incredibly smart Dagen convinced me. Get away from our families. What the heck? What do they mean to us compared to saving 10 cents on a sweater?
ADAM LASHINKY: I'm dumbstruck; I don't know what to think about it. I would say it's not very kind to their employees to ask them to come in on Thanksgiving afternoon. It won't make a difference in their sales either.
MORE FOR YOUR MONEY
CHARLES PAYNE: Deckers Outdoor Corp. (DECK); Parker Hannifin Corp. (PH); Sketchers (SKX)