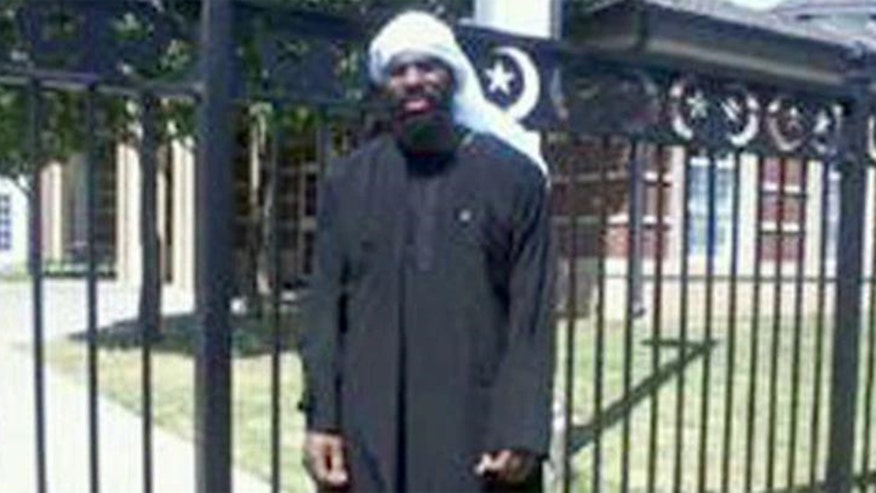 DISCLAIMER: THE FOLLOWING "Cost of Freedom Recap" CONTAINS STRONG OPINIONS WHICH ARE NOT A REFLECTION OF THE OPINIONS OF FOX NEWS AND SHOULD NOT BE RELIED UPON AS INVESTMENT ADVICE WHEN MAKING PERSONAL INVESTMENT DECISIONS. IT IS FOX NEWS' POLICY THAT CONTRIBUTORS DISCLOSE POSITIONS THEY HOLD IN STOCKS THEY DISCUSS, THOUGH POSITIONS MAY CHANGE. READERS OF "Cost of Freedom Recap" MUST TAKE RESPONSIBILITY FOR THEIR OWN INVESTMENT DECISIONS.
AUTHORITIES TREATING OKLAHOMA BEHEADING AS WORKPLACE VIOLENCE, NOT ACT OF TERROR
STEVE FORBES: This is semantics, David, on steroids. It's very dangerous. Why this administration has its head in the sand on this is absolutely bizarre and murderous. The administration in terms of terrorism is not controlled by central authority. Terrorists know if you operate in small groups, it's hard for authorities to stop it. This guy was a terrorist, pure and simple.
BRUCE JAPSEN: I don't know about the terrorism thing. The guy is being charged with murder. He faces the death penalty. I don't know if Oklahoma we can say is the epitome of political correctness. There was a man in Chicago that sabotaged the FAA station. What is the definition of terrorism? How do we define that?
SABRINA SCHAEFFER: Absolutely. And I think it's really important that the government recognizes his motivations as terrorist motivations, because as Steve recognizes, we had the ft. Hood shooting in 2009. They missed all of the dots. 13 people were killed. Again now we're seeing this. Beheading has been sort of a trademark of Al Qaeda and ISIS. Let's not forget the killing of Daniel Pearl in 2002. We need to take this as a terrorist action.
JOHN TAMNY: I'm not trying to minimize what was a hideous act. In my view, there are terrible people in this world and sometimes they pull things like this off. If anything I think it's more of a copycat act. To call it an act of terrorism seems to me a bit of a reach.
RICH KARLGAARD: Terrorism is a widely dispersed organization built around ideas and if it looks like a duck and quacks like a duck, and if workplace violence is accompanied by jihadism and beheadings, it's terrorism. I'm glad Ft. Hood was mentioned. 13 people died and the government is still reluctant to call it terrorism. This administration would sooner find terrorism in the Ferguson police department than they would with the obvious terrorist act.
ELIZABETH MACDONALD: If you don't name it, you're consciously trying to bury it so it doesn't appear a problem. The writing was on the Facebook wall for this guy. This is dishonest political correctness. This is narcissism; people in the government who care more about their own self-regard than the safety of Americans that work, and how they think about civil rights. There's no more greater violation of civil rights than being beheaded at work. This woman was a grandmother and deserved her safety. Terrorists are copycats. They are copycat killers. That's why we have to focus on the threat here in the United States and wipe it out.
VIOLENT CLASHES BREAK OUT IN HONG LONG AS COUNTER-PROTESTERS STEP IN
BRUCE JAPSEN: China has been stealing out intellectual property for years. I think the U.S. could bring a little heat here and consider some non- tariff barriers to trade or something like that because they are not treating their workers well, and it's a danger to U.S. workers.
RICH KARLGAARD: global trade is really valuable and it should not be screwed around with. So if there is going to be pressure put on, it should be behind the scenes. A big scene shouldn't be made about it because trade wars are bad for the global economy, and they often lead to shooting wars. By the way, a big telecom giant in china spends about $10 billion a year in the U.S. by selling chips and we don't let them compete in the United States.
ELIZABETH MACDONALD: This is the "people's republic of capitalism" we're talking about. Rich makes a good point; we're all for free trade, but we're not in a utopian world right now. It's not a perfect form of capitalism. This is state-sponsored capitalism. When you have a country that can micromanage down to the family level, of course they are going to micromanage businesses. We're seeing surprise rates on companies in China. Even the American Chamber of Commerce did a poll of businesses and found that 60 percent of the businesses feel less welcome in china, and about half feel like they were singled out for attack.
STEVE FORBES: You don't want a trade war, but there are other things you can do. We have the World Trade Organization where you're allowed to file complaints if you think that the Chinese are not behaving. There are other things we can do. For example, how about getting our economic act here at home together, so we're seen as a great power again instead of a shrinking giant, and having a real presence in Asia, not making Asians feel like we're abandoning them to their fate with the growing China. So there are various things that can be done. You don't want a trade war but there are a lot of things we can do that would be very effective.
JOHN TAMNY: That Alibaba went public in the United States was great for U.S. Markets and even better for investment banks. I don't think it's a legitimate function of government to beat the drum for U.S. businesses around the world. The point here is rich countries keep their markets open to foreign goods. That's what the U.S. should do. As the Chinese consumers get rich eventually they will demand the same thing that we do here. Let's not make the same mistakes they are making. If they want to treat us badly, that's fine.
BILL BALDWIN: listen, when china engages in protectionism, our competitive instinct is to say "we've got to retaliate." But that's the wrong instinct. Free trade is good. And if China, in effect, impedes trade by putting rock in its harbor, it doesn't make us better off to put rocks in our harbor.
FCC CONSIDERING PETITION TO BAN "REDSKINS" NAME FROM BROADCASTS
STEVE FORBES: This is political correctness run amuck. The real scandal about the Redskins is why they haven't won a Super Bowl in 20 years. In terms of the real issues in this country, Mike Ditka, the football great, has it right when he says we should be focusing on real issues. This administration wants these side issues to get us off the economy, get us off the Middle East, get us off Russia and these disasters unfolding in Asia.
CARRIE SHEFFIELD: I agree with Steve that we need to focus on bigger issues, but that being said, we all love the First Amendment on this show, but there are limits to it. You can't yell "fire" in a crowded room; you can't expose yourself if you're Janet Jackson. I have Native American ancestry and I think this term is offensive. I don't think that it's something you should broadcast out. You can say whatever you want in your own home, but this is different.
SABRINA SCAEFFER: The FCC has a right to regulate indecent content, but I'll tell you something: I think that the HBO show "Girls" has indecent content on all of the time, but you can be sure that the FCC is not going to come after democratic star Lena Dunham and say that she is doing anything wrong. This is absolutely ridiculous. It is political correctness run awry. It's time that people say enough is enough. There are market forces to determine this.
BILL BALDWIN: I actually think the FCC has no business stomping on an offensive name for a different reason. The reason is the broadcast spectrum should be treated as private property. Listen, when you have a deed to your house, you don't want to have to review it every four years. I think somebody who owns 100 megahertz to 200 megahertz shouldn't have to renew anything.
JOHN TAMNY: We must be a really rick country if this has become a bug national issue. The reality is that the Redskins-that's a reverential nickname that the Native Americans are proud of. if you look at the polling data they don't want the name taken away. This is political correctness run amuck. It's anti-free speech. It's just awful.
FORBES "RICH LIST" STOCKS
BILL BALDWIN: Loews Corporation (L)
ELIZABETH MACDONALD: Flowserve (FLS)