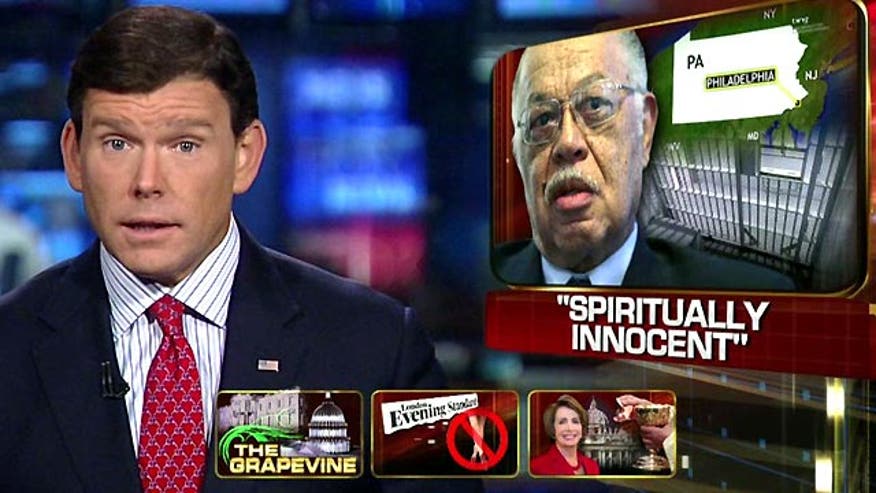 Now some fresh pickings from the Political Grapevine...
"Spiritually Innocent"
The Philadelphia abortion doctor convicted of killing babies born alive says he is spiritually innocent.
Doctor Kermit Gosnell tells Philadelphia Magazine he still believes he was serving the best interests of his community and the women who came to him.
Gosnell says his conviction was motivated by politics and religion.
Gosnell sent the article's author 12 letters, more than 50 e-mails, called him about two dozen times, and also sent several poems he's written.
This is one from April --
Abortion providers
Are labeled killers!
Horrendous, exploitive
Barbaric, inhumane
Not physicians, oathed to heal
Lest we forget,
What chance have those?
Those without the support
Of their parents
Their families
Their communities
Their societies...
So many
Without sufficient support
Stumble into drugs
Into crime
Into mental illness
Into institutions...and...
Languish in jails...
No Catholic Right
House Minority Leader Nancy Pelosi has no Catholic right to be granted Communion.
That's according to the leading cardinal of the highest court at the Vatican.
The Washington Times reports Cardinal Raymond Leo Burke says Pelosi should be denied the Eucharist until she changes her advocacy on abortion.
The cardinal cited Canon 915, of Canon Law, concerning people who persist in grave sin and still profess to be devout Catholic.
Correction of the year?
Finally, Charles Krauthammer has nominated this for correction of the year in Monday's London Evening Standard.
Quote -- "In our diary article 'Museum finally signs its deal to be fine and dandy' we referred to the exhibition of the late Sebastian Horsley's suits at the Museum of London and the Whoresley show, an exhibition of his pictures at the Outsiders Gallery. But by unfortunate error we referred to Rachel Garley -- the late Sebastian Horsley's girlfriend -- Who arranged the exhibitions, as a prostitute. We accept that Ms. Garley is not and has never been a prostitute. We offer our sincere apologies to Ms. Garley for the damage to her reputation and the distress and embarrassment she has suffered as a result."