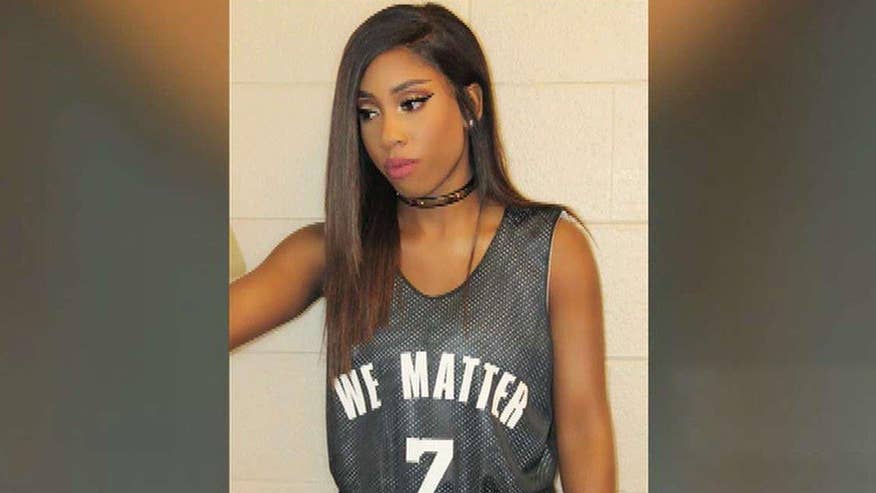 A recording artist who was scheduled to sing the National Anthem before the Philadelphia 76ers' season opener against the Oklahoma City Thunder on Wednesday said that she was pulled last minute because of her outfit.
Sevyn Streeter was wearing a black jersey with the words "We Matter" sprawled across the front.
GOV'T DEMANDS GEORGIA PASTOR'S SERMONS

Was suppose to sing the anthem at @sixers & @okcthunder game but mins b4 @sixers said I couldn't because I was wearing a "We Matter" jersey pic.twitter.com/wjoJN3rq0r

— Sevyn (@sevyn) October 27, 2016
"I'd say two minutes before we were about to walk out ... the organization told me that I could not wear my shirt while singing the national anthem at their game," the R&B singer told the Associated Press. "I was never given any kind of dress code. I was never asked beforehand to show my wardrobe."
Philly #Streetteam who's coming to the @Sixers game tonight? If you are come sit with me courtside! #sixers #MadeInPHILA
See details below! pic.twitter.com/A8bQaiJmxX

— Sevyn (@sevyn) October 26, 2016
The 76ers promoted her appearance before the game offering fans a chance to sit with her courtside during the third quarter.
The franchise issued a statement on the situation, but declined to say why Streeter's performance was canceled.
"The Philadelphia 76ers organization encourages meaningful actions to drive social change. We use our games to bring people together, to build trust and to strengthen our communities. As we move from symbolic gestures to action, we will continue to leverage our platform to positively impact our community."
The Sixers had a member of their dance team sing the anthem.
Streeter has written songs for Chris Brown, Ariana Grande and other stars. In 2013, she had a Top 40 hit with "It Won't Stop," a duet with Brown that reached RIAA gold status.
The singer, born Amber Denise Streeter, said she was very hurt by the NBA team's actions.
"I was angry, extremely, extremely angry and disappointed and honestly brought to tears by all of it. It broke my heart," she said. "Honestly, I was very excited about being able to perform the national anthem. I was really looking forward to that."
The matter comes days after singer Denasia Lawrence knelt while singing the National Anthem before a preseason matchup between the Miami Heat and the 76ers in Miami. Lawrence was also wearing a shirt with the phrase "Black Lives Matter."
The anthem issue has been a major topic in the sports world in recent months, starting with the decision by San Francisco 49ers quarterback Colin Kaepernick to not stand for its playing. Kaepernick cited racial injustice and police brutality among the reasons for his protest, and athletes from many sports — and many levels, from youth all the way to professional — have followed his lead in various ways.
"All I can say is what we've seen in multiple preseason games so far is our players standing for the national anthem," NBA Commissioner Adam Silver said last week at a news conference following the league's board of governors meetings. "It would be my hope that they would continue to stand for the national anthem. I think that is the appropriate thing to do."
The NBA has a rule calling for players and coaches to stand during the anthem.
The Associated Press contributed to this report.