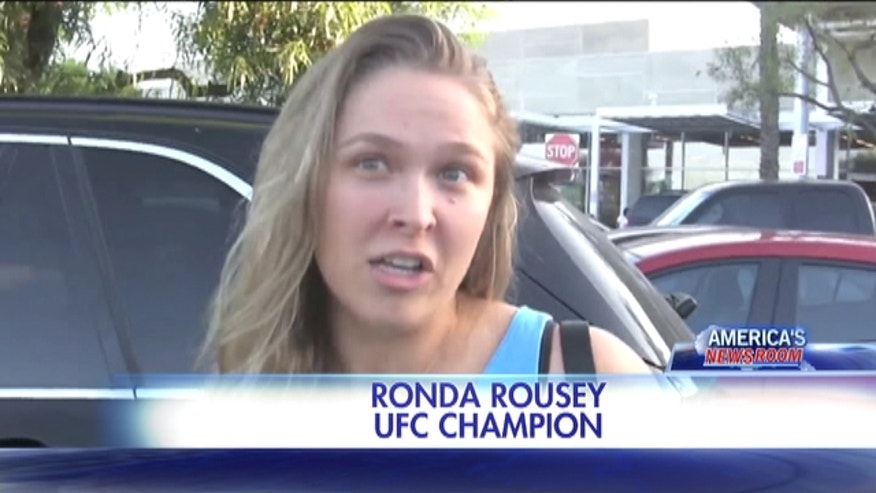 UFC champ Ronda Rousey has accepted an invitation to the Marine Corps Ball in December with a man who called her "his celebrity crush."
The undefeated fighter caught up with TMZ cameras on Tuesday and said she would definitely go with North Carolina Marine Jarrod Haschert after his date invitation went viral last week.
"I would go for sure," Rousey, 28, told the camera. "He's cute. He's got to be a gentleman though. I'm not a 'first date' kind of girl. But, I don't know, we'll see when I meet him."
Haschert invited Rousey in a Facebook video that has amassed more than 5 million views.
"You are my celebrity crush," Haschert proclaimed in the 34-second long video. "I love everything you do, and I think you are a phenomenal person, which is why it would be my honor to take you to the Marine Corps Ball."
Hey guys, I'm trying to take Ronda Rousey to the Marine Corps Ball this year and I need your help to reach out to her and her fans. Please share this post and video. Thank you!!

Posted by Jarrod Hash on Saturday, August 22, 2015
On Tuesday, Rousey explained that initially she was not able to attend the ball, but a fight she had on her calendar that day was rescheduled, freeing her up that evening.
The only little problem is that Rousey doesn't know how to get in touch with him.
"Do I call him?" she asked the cameraman. "Or do I set up a time and place like 'Never Been Kissed' and wait until the clock runs out and be like 'I'm here!'?"
The cameraman insisted that he will do all the work to get the marine in touch with her.
Like us on Facebook
Follow us on Twitter & Instagram