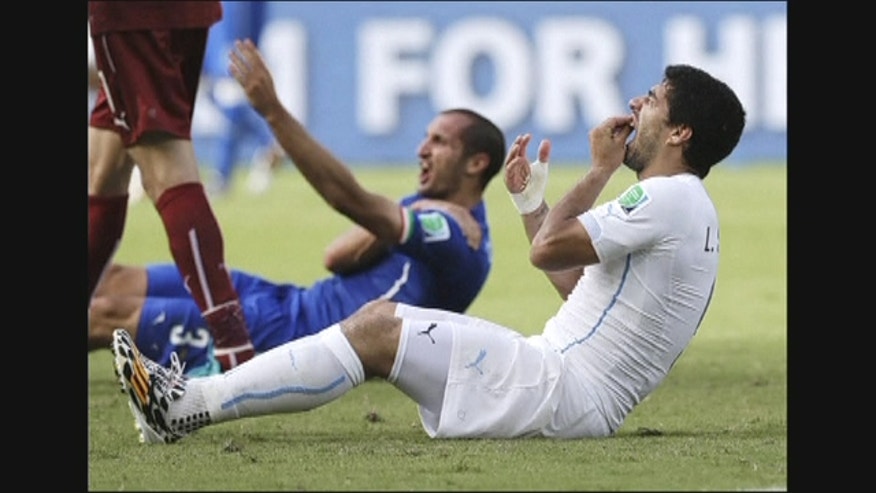 On Thursday, FIFA banned the Uruguayan striker Luís Suárez for the remainder of the World Cup and beyond for having bitten the Italian defender Giorgio Chiellini on the shoulder in the teams' last group stage match.
Suarez was fined for four months for the bite and fined the Liverpool striker 100,000 Swiss francs ($112,000).
The incident took place in the 80th minute of the game. Television replays showed the two jostling for position near the Italian goal, when Suárez brought his head down near Chiellini's left shoulder.
"Such behavior cannot be tolerated on any football pitch and in particular not at a FIFA World Cup, when the eyes of millions of people are on the stars on the field," Claudio Sulser, chairman of the FIFA disciplinary committee, said in a statement.
The Uruguayan soccer federation and its managers have steadfastly defended Suárez. Some have even suggested that the photos of Chiellini's shoulder showing the mark have been retouched.
No foul was called by the game's referee and play resumed with Uruguayan captain Diego Godín scoring the match's only goal about a minute later.
The win qualified the South American team for the Round of 16, setting up a Saturday showdown against Colombia.
For his part, Suárez said, "These situations happen on the field. I had contact with his shoulder, nothing more, things like that happen all the time."
FIFA released a statement explaining, "The FIFA Disciplinary Committee is responsible for sanctioning serious infringements which have escaped the match officials attention."
Suárez and the Uruguayan team were asked to make available any evidence they had in the matter by Wednesday at 4 p.m., Eastern time.
This is not the first time that the talented but troubled striker's mouth has gotten him into trouble.
In 2010, when he played for Ajax in the Dutch Eredvisie. He bit PSV Eindhoven's Ottman Bakkal during a 0-0 draw, earning himself the nickname, "The Cannibal of Ajax." He was given a 7-game suspension by the league.
Two years later, with his current team Liverpool in the Premier League, he was banned for 8 games for making disparaging racial comments to Patrice Evra of Manchester United.
In 2013, he missed 10 Premier League games after biting Chelsea defender Branislav Ivanovic.
Follow us on twitter.com/foxnewslatino
Like us at facebook.com/foxnewslatino