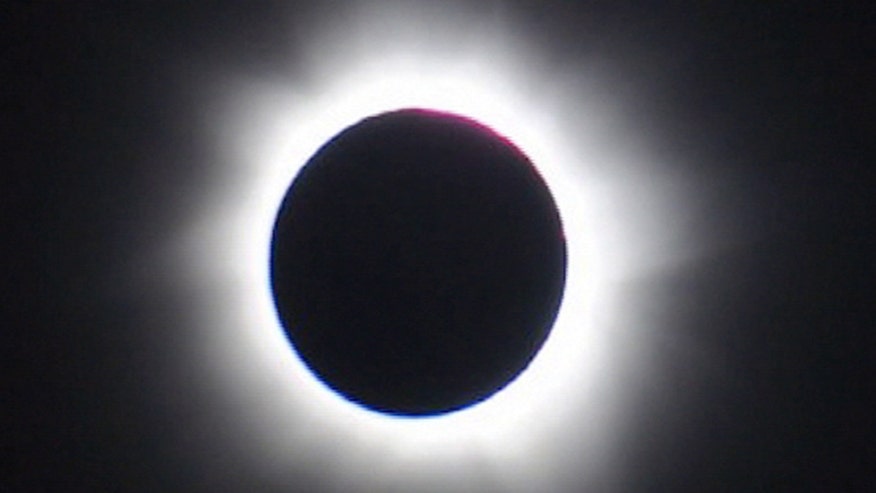 2 minutes and 36 seconds of complete darkness, that's what will have millions flocking to Columbia, South Carolina next year to view the once-in-a-lifetime transcontinental solar eclipse.
"We're very excited to see the solar eclipse," Rachel Johnson and Bethany Benjamin stated while visiting the South Carolina State Museum Observatory. Tamia Devin and her little sister Jade shared the same enthusiasm, "Wow, I never thought this would happen," noting that this would be their first time seeing an eclipse.
Columbia will have the best view on the East coast of the first eclipse to travel from Oregon across the country to South Carolina in over 90 years. Local businesses are already feeling its impact even though it's not until Aug. 21.
COUNTDOWN BEGINS FOR THE 'GREAT AMERICAN ECLIPSE' OF 2017
Tom Falvey is the director of education at the South Carolina State Museum. "We have had calls from people in Europe, South America, and so people will come from all over the world to see this and chase this eclipse," said Falvey. "So we are getting ready to show them this place, show them our wonderful telescopes collection, our observatory, planetarium, the wonderful galleries we have."
Local restaurants and hotels are also jumping on the bandwagon, planning vacation packages for the weekend. David Erbacher, the director of sales for the Hyatt Place hotel in Columbia, says they have also received calls from people around the world. Most of the requests were for reserving rooms for the weekend prior to the eclipse. So far they have already booked over 75 rooms.
"We have 130 guest rooms" Erbacher said. "We're expecting anywhere between two to four guests per room. Which would probably be around 600 guests."
NASA SPACECRAFT CAPTURES RARE DOUBLE ECLIPSE ON VIDEO
Carl Blackstone is the president of the Columbia Chamber of Commerce and he stated a rare event like this can possibly have the same impact of all the sporting events of the area combined.
"Last year in a USC Economic Impact Study, it showed that the Gamecock Athletic Department brings over one million folks to Columbia for athletic events with an overall impact to the Midlands of close to $200 million dollars," Blackstone said. "If the 2017 solar eclipse can bring in a fraction of this, I would think that would be a huge success to the Columbia region and especially the business community."
Organizers from around the state are in charge of coordinating various activities throughout the weekend to entertain the various groups visiting the state's capital city. Events include a midday Columbia Fireflies baseball game, astronomy activities, public art initiatives, a Sunday matinee, and a viewing event on the Lake Murray Dam.
Terace Garnier is a Fox News multimedia reporter based in Columbia, South Carolina. Follow her on twitter: @TeraceGarnier