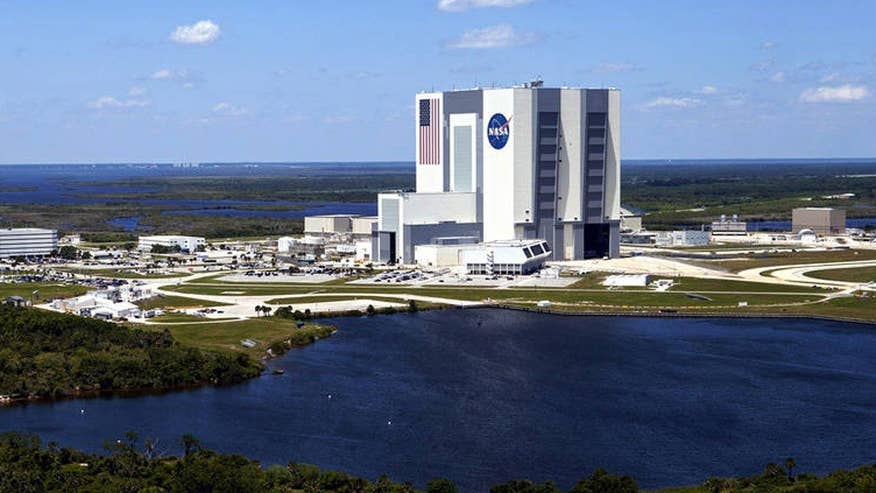 NASA is reporting limited initial damage to Kennedy Space Center from Hurricane Matthew, which brushed Cape Canaveral early Friday.
In a statement at 9:45 a.m. ET, the agency said that the hurricane had passed offshore from Cape Canaveral and was north of Kennedy Space Center. At 8:45 a.m ET NASA had reported that Matthew was passing the space center about 26 miles off the tip of Cape Canaveral with sustained winds of 90 mph and gusts up to 107 mph.
Initially, NASA observed limited roof damage to its facilities and scattered debris, as well as relatively minimal storm surge. It also said that water and electrical services have been disrupted.

In a statement posted at 3:17 p.m. ET NASA said that preliminary damage assessments are under way. "While there is damage to numerous facilities at KSC, it consists largely roof damage, window damage, water intrusion, damage to modular buildings and to building siding," it said. "There does not appear to be damage to flight hardware at this time."
NASA's Damage Assessment and Recovery Team will undertake more detailed assessment and will enter all facilities Saturday.
The looming hurricane had prompted concern for the iconic Florida space facility.
NASA closed Kennedy Space Center for two days starting Thursday, leaving a hurricane "ride out crew" of just 116 staff in place. All facilities at Kennedy Space Center and Cape Canaveral Air Force Station were secured by Thursday, NASA said.
Matthew also sparked fears that the soon-to-be-launched GOES-R weather satellite could be damaged. The satellite, a collaboration between NASA and the National Oceanic and Atmospheric Administration (NOAA) is housed at Astrotech Space Operations in Titusville, Fla., near Cape Canaveral prior to its launch on Nov. 4.
In a Reddit Ask Me Anything (AMA) session Thursday NOAA explained that GOES-R is contained in a building that can withstand category 4 hurricane conditions.
For those wondering about the GOES-R satellite itself as it relates to #Matthew, this was the official answer in today's Reddit AMA. pic.twitter.com/2nBoeMAltv

— Alex Lamers (@AlexJLamers) October 6, 2016
NOAA has not yet responded to a request for comment on this story from FoxNews.com.
This story has been updated with NASA's statement released at 3:17 p.m ET Friday.
Follow James Rogers on Twitter @jamesjrogers