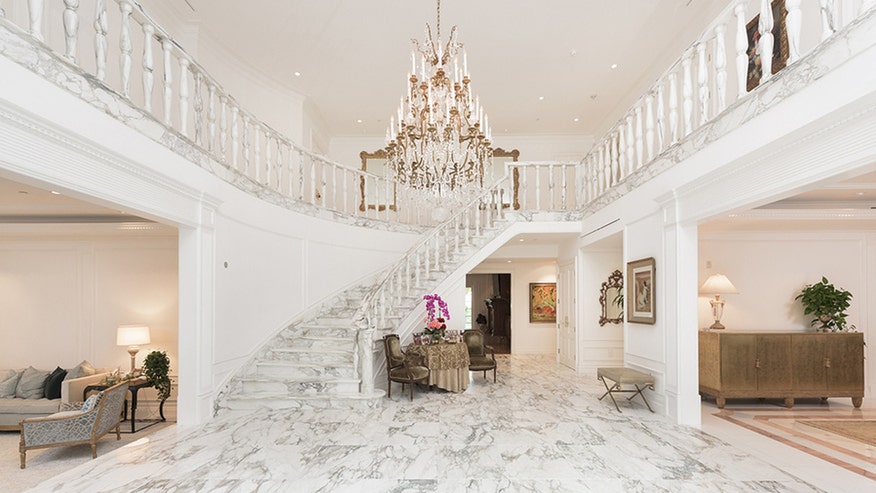 Each week FOXNews.com picks its Top 3 over-the-top luxury listings from Mansion Global.
This week we have one of the many former properties of Republican presidential candidate Donald Trump, a modern masterpiece on the Alabama bayou and the playful family home of a PGA golf champion.
One of Donald Trump's many former homes has just hit the market in Beverly Hills for nearly $30 million.
This Colonial-style stunner belonged to the Republican presidential nominee until 2009, when Trump sold it to the current owner for $12 million.
Since then, the house has been redeveloped on the .71 acre-property, more than doubling the amount that Trump sold it for.
"The house is a short walk from the Beverly Hills Hotel. "It's on the most prime block of Rodeo Drive," said listing agent Paul Margolis of Compass. "It's all new construction, which is very rare for Beverly Hills."
The newly redesigned house has 11 bedrooms, 12 full bathrooms, and one partial bath.
There's also an elevator, a spice kitchen and a sauna. A Bose sound system runs throughout the entire property.
The only remaining vestige of Trump's era of ownership is the home's wood-paneled den, to which the owner added a separate HVAC exhaust system in order for the room to be used for smoking cigars.
When you picture a home on Alabama's bayou, this probably isn't what you had in mind.
This 5,200-square-foot modern masterpiece on the exclusive Ono Island in the Gulf of Mexico has sweeping views of the Bayou St. John and sits on just over an acre of land. There are four bedrooms in the main residence, in addition to a bedroom in the attached guest suite.
The property, on the market for $3.2 million, also features a heated indoor-outdoor swimming pool, a hot tub and a boathouse with two private boat slips.
One of the more inspiring and unusual touches on this property is a 22-foot-tall glass jellyfish sculpture. Don't worry. It's included in the asking price.
Six-time PGA champ Jeff Sluman and his wife, Dr. Linda Sluman, just placed their Chicago-area mansion on the market for $4.35 million.
The two-story house boasts five bedrooms, five full bathrooms and three partial baths.
The property, roughly 18 miles west of downtown Chicago, also contains a finished basement that includes a home theater, a trophy room, a wine cellar, a bowling alley and a rec room with a pinball machine and arcade games.
Many of the furnishings were sourced directly from Europe, including a silver-dipped 150-year-old chandelier in the dining room and a Carrara marble master tub that was once part of a water basin in a Roman square.
For more on our hot house pics and other stunning luxury properties check out Mansion Global.com.