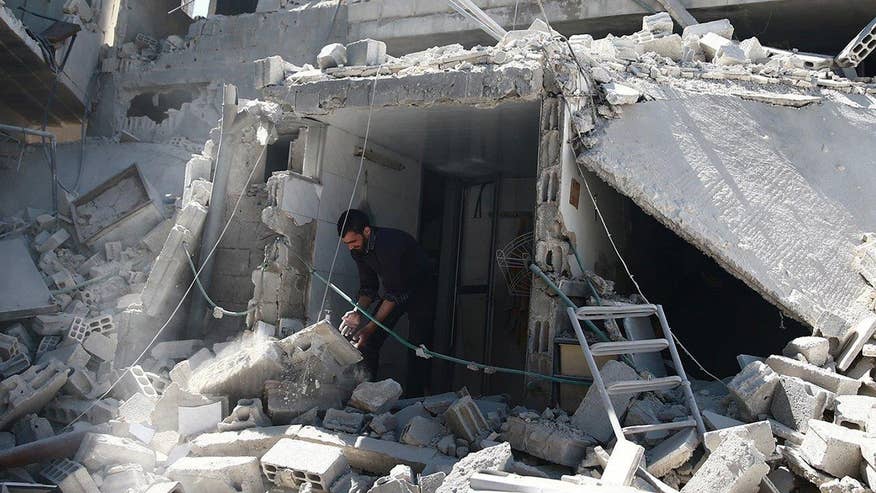 A fatal airstrike occurred Saturday in the same northern Syrian town hit earlier this week by a deadly chemical weapon attack, according to several international monitoring groups.
The airstrike on the town of Khan Sheikhoun killed a woman, following the chemical attack Tuesday that killed 87 people, including children.
The chemical attack purportedly was authorized by Syrian President Bashar Assad and targeted the town because it is a stronghold for rebel forces trying to topple his regime in the country's 6-year-long civil war.
The Local Coordination Committees, another monitoring group, said the airstrike Saturday was carried out by warplanes from Russia, which has backed Assad.
President Trump authorized a missile attack overnight Thursday that struck an air base in central Syria from which the chemical attack was launched, killing nine people.
"Congratulations to our great military men and women for representing the United States, and the world, so well in the Syria attack," Trump tweeted Saturday.
Syria's government has denied responsibility for any chemical attack on Khan Sheikhoun.
And Russia's Defense Ministry, which has condemned the U.S. response, said the toxic chemical were released when a Syrian airstrike hit a rebel chemical weapons arsenal and munitions factory on the town's eastern outskirts.
Turkey's Foreign Minister Mevlut Cavusoglu said Ankara sees the U.S. intervention in Syria as appropriate but not enough.
"If this intervention is limited only to an air base, if it does not continue and if we don't remove the regime from heading Syria, then this would remain a cosmetic intervention," said Cavusoglu in the southern city of Antalya.
Cavusoglu, whose country is a strong backer of the Syrian opposition, said the most ideal process will be a political solution that leads to a transitional government accepted by all Syrians as soon as possible. He said that for that "this oppressive Assad needs to go."
In Saudi Arabia, the official Saudi Press Agency reported that Trump has spoken by telephone with King Salman about the U.S. missile strike on Syria.
The news agency reported that during the Friday phone call, the Saudi monarch congratulated Trump for his "courageous decision."
Saudi Arabia said the missile launch by Trump was the right response to "the crimes of this regime to its people in light of the failure of the international community to stop it."
The kingdom is among the most vehement opponents of Assad and supports Sunni rebel groups fighting to oust him. The Sunni rulers of Saudi Arabia are in a power struggle for regional dominance with Iran's Shiite government and view Tehran's support of Assad as a threat to the region.
The Associated Press contributed to this report.