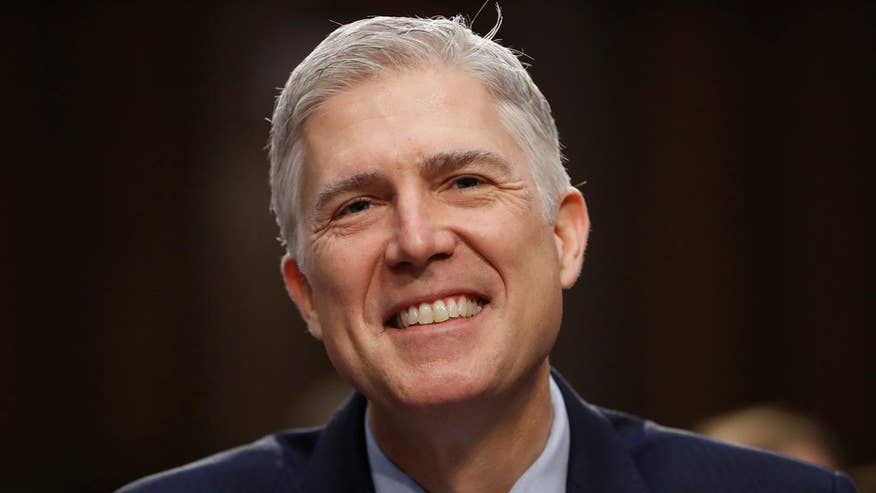 Sen. Bill Nelson, D-Fla., said Monday that he intends to filibuster the nomination of President Trump's Supreme Court nominee Hon. Neil Gorsuch.
The announcement of a Democrat coming out against Gorsuch is not a notable news item, but Nelson is seen as a centrist. Republicans were relying on centrists like Nelson to carry the Colorado jurist to the 60 votes needed to avoid a Democratic block.
Nelson made the announcement in a statement released from his office. He said he met with Gorsuch and entered the hearings with an "open mind." His concerns seemed to echo those of his colleagues on his side of the aisle.
"The judge has consistently sided with corporations over employees, ad in the case of a freezing truck driver who, contrary to common sense, Judge Gorsuch would have allowed to be fired for abandoning his disabled rig during extreme weather conditions," he wrote.
The Wall Street Journal reported that as of Tuesday afternoon, more than two dozen Senate Democrats said they would vote no on Gorsuch's nomination. No Democrat had said he would vote yes.
The National Republican Senatorial Committee said in a statement reported by Politico that in 2006 "Nelson voted for cloture to end the filibuster on Judge Alito's nomination. The same year, Nelson joined his Senate colleagues to confirm Judge Gorsuch to the Court of Appeals for the 10th Circuit in a unanimous vote. Clearly Nelson has been in Washington way too long and is forgetting he represents Florida, not Washington liberals."
Gorsuch's confirmation to the high court appears to be very likely. He will benefit from a Republican-controlled Senate. He needs 60 total votes. Republicans hold 52 seats. Ten Democrats represent states that voted for President Trump in November. And, Republicans can "go nuclear" and change the rule to confirm Gorsuch to a simple majority.
Supporters of Gorsuch said Democrats tried their best to land blows against Trump's nominee. Perhaps one of the Democrats' most effective exchange during the confirmation hearings came in a line of questioning from Sen. Al Franken, D-Minn.
Franken asked Gorsuch how he could rule in favor of a company that fired a truck driver who abandoned his trailer on the side of an interstate on a -14 degree night. Alphonse Maddin, the driver, noticed that his trailer's brakes were frozen and his heater did not work.
Maddin unhitched his trailer and drove off to wait somewhere warm. Gorsuch wrote that the company gave him the legal option to wait with his trailer.
"I had a career in identifying absurdity," Franken, a former member of "Saturday Night Live," said. "I know it when I see it, and it makes me question your judgement."
KRAUTHAMMER: GOP SHOULD CHANNEL CLINT EASTWOOD IF DEMS FILIBUSTER GORSUCH
Franken announced that he would not support Gorsuch.
Pam Keith, a 2016 U.S. Senate candidate considering a bid against Nelson, said in a text message to Politico that "Nelson VERY much is feeling the pressure, as are many Dems in DC."
"Bottom-line is that the base is far more strident than they are," Keith continued. "The grassroots could give a damn about 'collegiality' or decorum in the halls of Congress. I think the leaders are learning that the appetite for outright obstruction is as high on our side as it ever was for the Tea Party."
Edmund DeMarche is a news editor for FoxNews.com. Follow him on Twitter @EDeMarche.