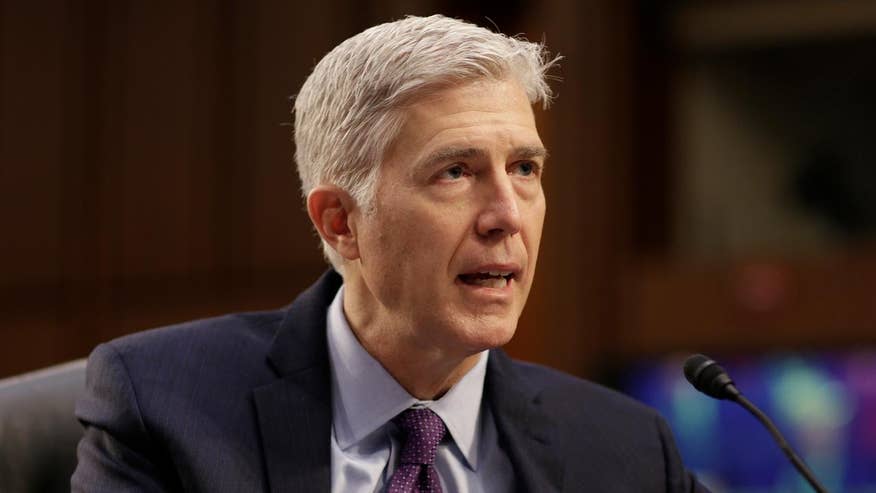 Judge Neil Gorsuch faced tough grilling early Tuesday in what promised to be a gruelling marathon session on Capitol Hill, as Senate Democrats pressed the Supreme Court nominee on his judicial philosophy and past opinions.
Sen. Dianne Feinstein, D-Calif., pressed the 49-year-old jurist on the Second Amendment, the environment and cases in which Gorsuch wrote opinions favoring corporations over individual plaintiffs.
"How do we have confidence in you that you won't just be in favor of big corporations, that you will be for the little guy?" Feinstein asked.
Gorsuch declined to speculate on how he would rule on hypothetical cases, but said his judicial resume is replete with opinions favoring plaintiffs over coporations, and insisted he follows the law.
Gorsuch, peppered with questions for hours from senators trying to pry loose his views on a host of hot-button cases, responded Tuesday with a consistent answer: His job is to follow the law, and set aside his personal beliefs.
"I'm a fair judge," he vowed, under questioning from Feinstein.
The marathon session, which follows Monday's largely introductory affair, was expected to last well into the evening. Gorsuch, who has spent the past decade on the 10th Circuit Court of Appeals, was nominated Feb. 1 by President Trump to take the seat held for decades by Justice Antonin Scalia.
SENATE DEMOCRATS SIGNAL OPPOSITION AT GORSUCH HEARING
Gorsuch, who has spent several days in Washington in "murder boards," or preparation sessions, could also be grilled about past opinions he authored, including his dissent in last August's TransAm Trucking v. Administrative Review Board -- or "the Case of the Frozen Trucker," as liberal groups have labeled it.
GORSUCH FACES SENATE PANEL AMID BITTER PARTISANSHIP
The plaintiff won his appeal after alleging wrongful termination for ignoring his supervisor's demands by unhitching his unheated truck from its malfunctioning trailer and driving away in subzero weather in search of safety. Several Democratic senators Monday mentioned the case to illustrate their claim that Gorsuch doesn't care about the "little guy" and favors corporations over ordinary Americans. Conservatives see a principled stand to support a clear interpretation of the law in the face of a "sympathetic" plaintiff.
Key Republicans, including Lindsey Graham and Ted Cruz, are expected to block for Gorsuch, asking more favorable questions and noting that Gorsuch received unanimous support from the full Senate when he was appointed to the federal appeals court in 2006.
The stakes are enormous, not only for the nominee but also for Trump, who selected him from a list of 21 potential candidates announced during the presidential campaign. Aides say President Trump hopes a successful confirmation will build momentum for his separate political agenda, and bring a measure of stability and public confidence to what has been a challenging two months in office.
In the broader realm, filling the seat left by the death of Scalia will ensure the high court keeps a shaky right-leaning majority. And having that fifth conservative vote will help guide the administration as it makes strategic decisions about which high-profile issues to pursue in court -- like immigration, the environment, transgender rights and expanded executive authority.