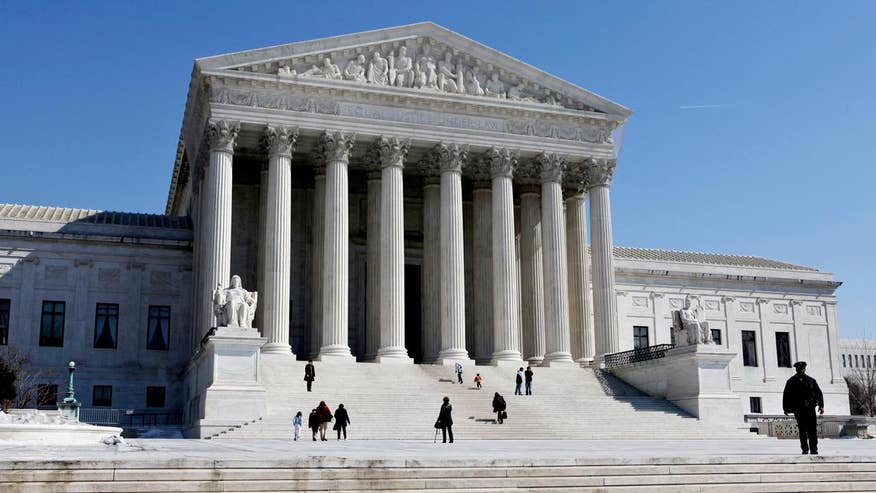 President Trump is set to announce his choice Tuesday night to fill the Supreme Court seat that has remained vacant for nearly a year.
The president plans to unveil his nominee during an 8 p.m. EST televised address from the White House.
The decision follows weeks of vetting and meeting candidates, and Trump is thought to have narrowed the choice down to two federal judges: Neil Gorsuch and Thomas Hardiman.
Gorsuch attended Columbia, Harvard and Oxford universities, and wrote in favor of Hobby Lobby and The Little Sisters of the Poor when they challenged the ObamaCare contraception mandate.
Gorsuch, 49, serves on the 10th U.S. Circuit Court of Appeals in Denver.
Hardiman, 51, has a personal connection to the president, serving on the same bench as his sister on the Philadelphia-based 3rd U.S. Circuit Court of Appeals. He was the first person in his family to graduate college, and got through with scholarships and by driving a taxi.
Both were appointed federal appeals court judges by President George W. Bush. Trump is also said to have considered a third judge, William Pryor, but Pryor's standing appeared to slip in recent days, in part because his reputation as a staunch conservative seemed likely to make him a rich target for Democratic senators in a confirmation hearing.
The judges appeared on Trump's list of 21 possible choices that he made public during the campaign, and each has met with him to discuss the vacancy that arose when Antonin Scalia died nearly a year ago.
Trump's pick would restore a general conservative tilt to the court but is not expected to call into question high-profile rulings on abortion, gay marriage and other issues in which the court has been divided 5-4 in recent years.
Despite Gorsuch and Hardiman emerging as the most likely picks Tuesday, Trump is well-known for changing his mind. Just hours before the president's announcement, his final decision was being closely held.
Fox News' Shannon Bream and The Associated Press contributed to this report.