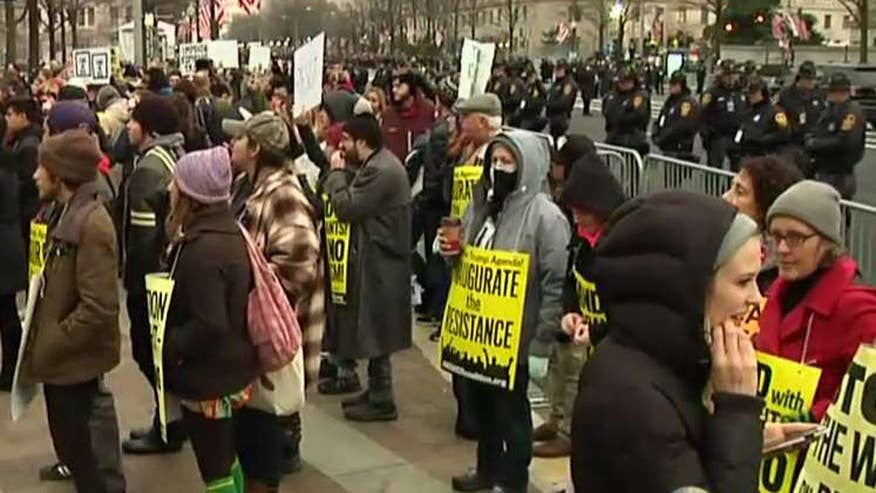 A group of anti-Trump protesters chained themselves together in front of an entrance checkpoint to the inauguration Friday morning, one of several demonstrations popping up across the nation's capital.
Many of the roughly 200 protesters sat on the ground, linked together. Some attached themselves to checkpoint fences with chains. Others said they were aligned with Black Lives Matter.
Guards closed off the checkpoint -- which organizers of the DisruptJ20 coalition said was one of their main goals. The coalition is named after the date of the inauguration.
The protest was peaceful. At one point, the activists repeated the cry, "Shut it down!"
"Our goals are to have to have massive protests and to shut down the inauguration if at all possible, and if not possible -- if we can't shut the inauguration down -- then make it as difficult as possible for Trump to act as if he has a mandate," organizer David Thurston told reporters last week.
For one DisruptJ20 event, a march beginning at Columbus Circle outside Union Station, participants were asked to gather at noon, the same time as Trump's swearing-in as the 45th president. The route for the march, which organizers called a "Festival of Resistance," ran about 1.5 miles to McPherson Square, a park about three blocks from the White House, where a rally featuring the filmmaker and liberal activist Michael Moore was planned.
"We're going to throw a party in the streets for our side," Thurston said, adding that drummers, musicians and a float of dancers were planned for the march.
Along the parade route, the ANSWER Coalition anti-war group planned demonstrations at two locations.
Fox News' Guerin Hays, Griff Jenkins and The Associated Press contributed to this report.