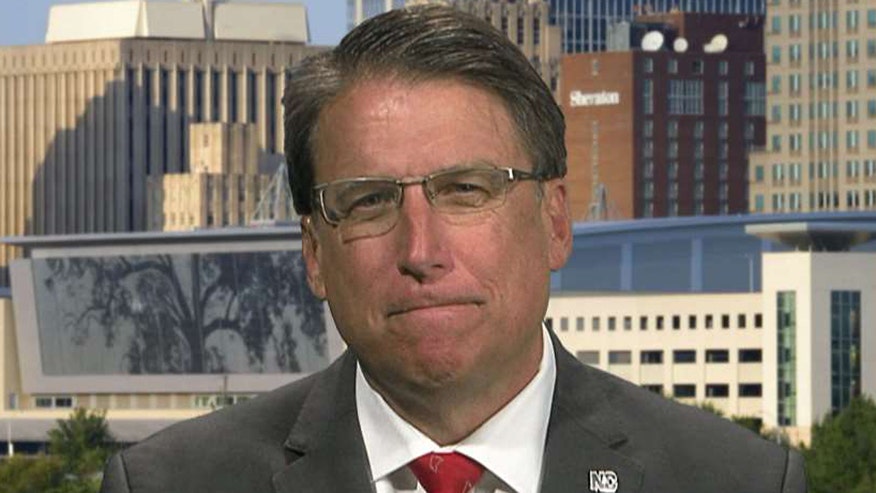 On his way out the statehouse door, North Carolina Republican Gov. Pat McCrory signed into law the first of what could be several bills that would strip the executive powers of his Democratic successor, Roy Cooper. Critics say it's an extraordinary move that flies in the face of voters.
The law would merge the State Board of Elections and State Ethics Commission into a bipartisan board divided equally between Democrats and Republicans. Under previous administrations, the governor would have the leeway to put a majority of one political party onto the panel.
It would also make elections for appellate court judgeships officially partisan again.
The North Carolina General Assembly, which has been in special session since Wednesday, passed several other bills that would strip Cooper of some of his powers as governor.
It is unclear whether McCrory will sign into law any of those additional restrictions. One of the more controversial items would require the governor to put top administer nominees before the state Senate for approval and would prevent Cooper from appointing members of the UNC system schools boards of trustees.
Democrats accused Republicans of attempting a coup, but the GOP defended their actions as merely adjusting the constitutional powers already granted to the General Assembly.
"There's probably no better time than to deal with it in the present," said Republican Rep. Bert Jones.
Democrats said it was an attempt by the GOP to cling to power a week after the Republican incumbent conceded.
"I really fear that we have harmed our reputation and integrity this week," said Rep. Billy Richardson, a Democrat.
Republicans gained power of both legislative chambers in 2010 for the first time in more than a century, and they have veto-proof majorities, holding 108 of 170 seats even though the state has been more closely divided in recent statewide and federal elections.
North Carolina is a presidential battleground state that Barack Obama won in 2008 by just over 14,000 votes. Four years later, Mitt Romney edged Obama by about 92,000 votes. Donald Trump won in November.
GOP legislators have been able to expand their majorities thanks to approving redistricting maps in 2011. But nearly 30 of those legislative districts were struck down last summer. A federal court has directed updated maps be approved by March 15.
"This was a pure power grab," said retired school librarian Carolyn White, 62, a long-time demonstrator who was arrested as part of the "Moral Monday" protests against GOP-led legislative policies. "I got arrested two years ago. Did it make any difference? No. But just like the civil rights movement, it's forward together. You just have to keep going forward."
Friday marked the second day of protests at the statehouse.
Dozens of people were arrested this week, and as demonstrators were led away from the Legislative Building, some chanted "all political power comes from the people." Those that remained behind could only watch the debate through glass windows or listen to it online.
Hundreds stomped their feet or banged on windows outside the gallery, causing several Republican lawmakers to note they were having trouble hearing during the debate. Democrats repeatedly stated their objections.
"The kindergartners are getting rowdy," said Republican Rep. Dana Bumgardner.
She said Democrats were "creating out of thin air a talking point for the next election."
According to The Associated Press, at least 16 protesters were arrested on Friday for disrupting the legislative session. Twenty were arrested Thursday.
The Associated Press contributed to this report.