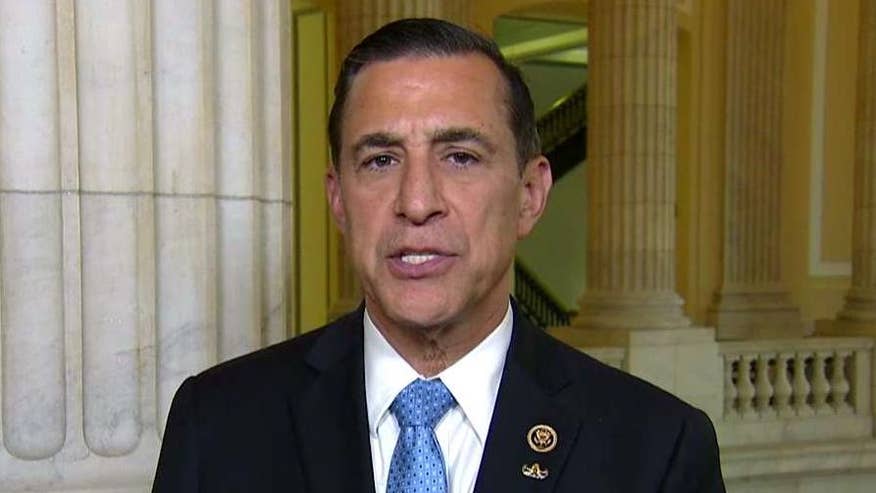 Maligned pollsters made at least one correct prediction this year -- combative, high-profile California GOP Rep. Darrell Issa would in November have the reelection challenge of his political career.
More than two weeks after Election Day, Issa's race, in once-reliable GOP territory, is the only remaining congressional contest still too close to call.
The state's election board reported Tuesday night, after counting additional ballots, that Issa now leads Democratic challenger Doug Applegate 50.5-to-49.5 percent, or by 3,234 votes.
Though the race remains officially undecided, Issa's campaign says Applegate would need to win 75 percent of the roughly 6,000 remaining votes and has declaring victory.
"I am pleased that Congressman Issa will continue to be a watchdog for the taxpayers," campaign manager Phil Paule told the Orange County Register on Wednesday.
The Issa campaign could not be reached for comment, and Applegate told FoxNews.com that a comment would be forthcoming. (The only other outstanding November congressional races are two House contests in Louisiana now going to runoffs.)
Pollsters and other political observers began raising red flags about California's 49th Congressional District race even before this summer's open primary, in which Issa slipped by Applegate 51-to-46 percent, sending the top finishers to a head-to-head November contest.
Issa, the wealthiest member of Congress, had essentially never won by less than 16 points since getting elected to Congress in 2000, even winning reelection two years later by as many as 55 points.
The pollsters and others attribted the outcome in large part to the changing political landscape of Issa's Southern California district -- composed of Orange and San Diego counties.
Though Republicans still have a roughly still 6-point edge in registered voters, more and more Hispanic and other Democratic-leaning residents in the region are increasingly being added to voter rolls.
In addition, Applegate, a retired Marine colonel, was expected to do well with the region's military and retired-military population -- especially in places like San Diego's sprawling Camp Pendleton, home to roughly 38,000 families.
And Washington Democrats and other supporters, inspired by Applegate's close primary finish, poured millions into the race, in hopes of knocking off a high-profile political foe.
Meanwhile, some of Issa's challenges this election cycle appeared self-induced.
Democrats and fellow Republicans alike accused him of putting his Washington profile ahead of the concerns of district voters.
And they argued that his efforts as chairman of the GOP-led House Oversight committee to get to the bottom of the Benghazi terror attacks, the IRS targeted scandal and other Obama administration issues were attention grabbing did little damage to the Obama White House.
As the 2016 White House race stretched through the summer and into early fall, pollsters continued to predict that Trump, the eventual winner, could create big problems for Issa and other Republicans seeking office or reelection.
That prediction largely came true, but not to the expected extent.
Democrat presidential nominee Hillary Clinton handily won California. But Issa survived, at least for now, despite Clinton winning Orange County, 51-to-43 percent, after GOP presidential nominee Mitt Romney defeat President Obama there in 2012, 52-to-46 percent.
"The Trump downdraft did not affect congressional races as much as some Democrats had hoped," Jack Pitney, a political scientist at Claremont McKenna College, told The Register.