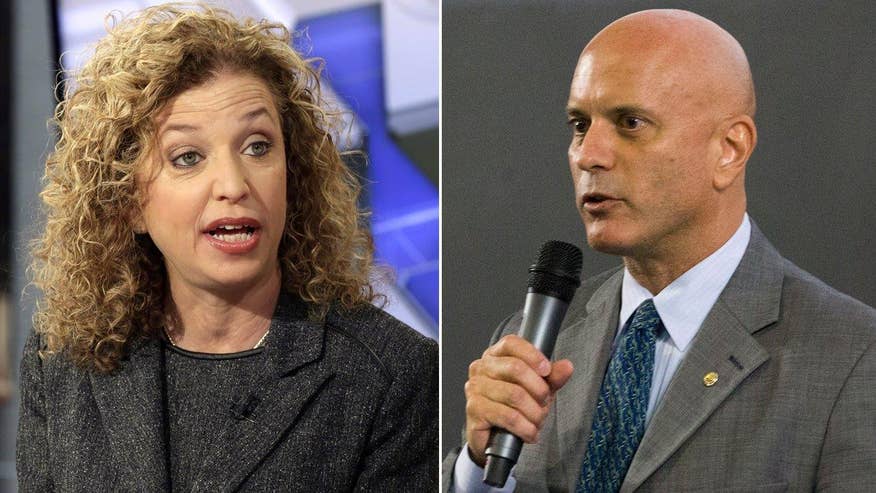 Debbie Wasserman Schultz is fighting Tuesday to hold onto her House seat after losing her post atop the Democratic National Committee last month over a leaked email scandal, amid warnings from her primary challenger that she's taken her base "for granted."
First-time candidate Tim Canova, a law professor backed by Bernie Sanders, is trying to unseat the incumbent Tuesday, in one of several big end-of-the-season primaries.
Canova's longshot bid to upset Wasserman Schultz got a huge boost this spring when Sanders endorsed him and even hinted at coming to Florida to campaign for him. He benefited again when Wasserman Schultz was caught up in the leak of emails showing top DNC officials criticizing and discussing ways to undermine Sanders' presidential primary campaign against Hillary Clinton.
In the end, Sanders never did show up to stump for Canova. But the candidate was able to mount a considerable campaign on his own, amassing $3.8 million to advertise across south Florida and assemble a grassroots organization that has made the race surprisingly close.
A recent South Florida Sun Sentinel/Florida Atlantic University poll shows him trailing Wasserman Schultz 40-to-50 percent. Wasserman Schultz remains the favorite to win, but Canova maintained she's vulnerable.
"Debbie has been reading her press clippings for too long," Canova said in an interview with FoxNews.com. "And she started to take her core base for granted."
He said investing early in what he called a "very large" field operation has been key.
"It's such a big army," Canova said Monday. "This has been a very local race."
Wasserman Schultz's bid for a seventh term in Florida's 23rd Congressional District is just one of several high-profile congressional primaries Tuesday in which incumbents are facing formidable challenges.
In Arizona, GOP Sen. John McCain is facing a primary challenge from former state Sen. Kelli Ward in his bid for a sixth term.
McCain is again answering questions about his conservative credentials and age, which Ward has made a campaign issue, vowing to "retire" him Tuesday, a day after McCain turns 80.
Ward has recently received some backing from groups outside the state, including gun rights organizations. But McCain, a former Navy officer and prisoner of war in North Vietnam, has drawn large support from the state's retired military as well as community and business leaders -- including more than $1 million from the U.S. Chamber of Commerce.
The polling varies widely. But Jennifer Duffy, who analyzes Senate races for the nonpartisan Cook Political Report, thinks McCain will win.
"Ward never got the support from the national Tea Party groups that she needed," Duffy said Monday.
The winner will face a strong challenge in November from popular Arizona Democratic Rep. Ann Kirkpatrick, in a race that could decide whether Democrats retake control of the Senate.
Also in Arizona, embattled Maricopa County Sheriff Joe Arpaio is running for a seventh term against three GOP challengers.
The election comes less than two weeks after a federal judge recommended criminal contempt-of-court charges against the 84-year-old Arpaio for ignoring an order to halt his signature anti-illegal immigrant patrols. The winner will face Democrat Paul Penzone.
The other big Senate primary is in Florida -- Democratic Reps. Alan Grayson and Patrick Murphy competing to take on incumbent GOP Sen. Marco Rubio.
Murphy is the Democratic establishment's choice and joined Congress after upsetting Tea Party favorite GOP Rep. Allen West in a 2012 race eventually decided by a partial recount.
Despite Grayson's lack of support -- including calls from Senate Democratic leaders Harry Reid and Chuck Schumer to leave the race -- he has refused to quit.
Whatever support the combative Grayson had appeared to dwindle after the House ethics committee decided in April to expand its probe into allegations he committed financial improprieties and used congressional staff for campaign purposes.
Allegations then surfaced last month about domestic abuse, which prompted Schumer, in line to replace Reid as Senate minority leader, to call on Grayson to quit the race.
"Once the allegations about domestic abuse surfaced and progressive groups dropped their endorsement, what was already a difficult path for Grayson became impossible," Duffy said.
The three-term congressman and his team have denied any wrongdoing, suggesting the probe is politically motivated and that the ex-wife who made the abuse allegations is "disturbed."
The RealClearPolitics average of recent polls shows Murphy leading Grayson by roughly 8 percentage points.
In his primary race, Rubio mostly cleared the field when he reversed course and ran for re-election following an unsuccessful presidential bid – but still faces homebuilder Carlos Beruff in Tuesday's contest.
Despite the attention on the Sanders connection, Canova, meanwhile, argues his House primary race is largely about Wasserman Schultz losing contact with her constituents and such local issues as the recent algae bloom in south Florida hurting tourism and "just putting food on the table."
Still, Nathan Gonzales, editor and publisher of the nonpartisan Rothenberg & Gonzales Political Report, thinks the advantage goes to the incumbent.
"It's up to the challenger to prove he can actually get over the top in the primary," he said. "It takes extraordinary circumstances. I know Debbie Wasserman Schultz has made a lot of national headlines recently. But I'm still skeptical about the level of dissent in her district."