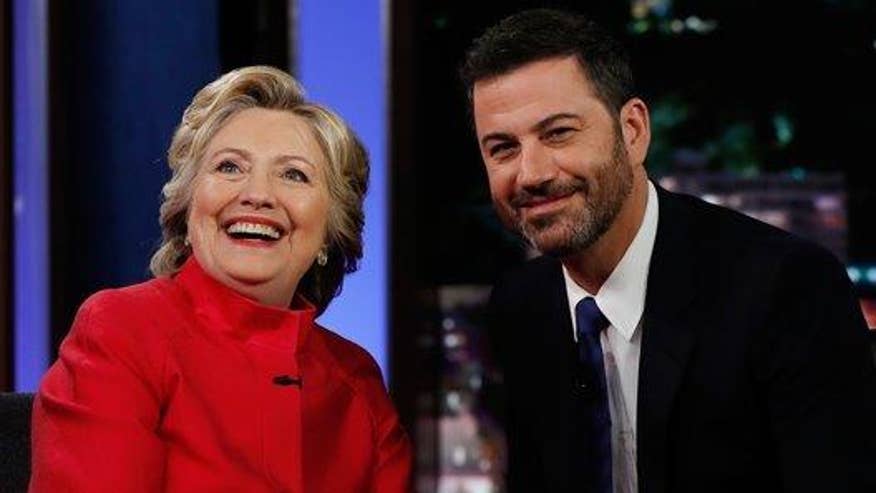 Hillary Clinton is riding a summer wave in the polls – yet the Democratic nominee has left the campaign trail in recent days to fundraise in America's wealthiest enclaves, potentially giving rival Donald Trump the opening he needs as he works to regain his political footing.
While Trump was balancing his fundraising Tuesday with a public rally and a town hall in Texas, Clinton once again was courting donors. Her fundraiser at the Hollywood Hills home of movie stars Justin Timberlake and Jessica Biel follows a weekend fundraising spree in Nantucket and Martha's Vineyard.
In the weeks following last month's Democratic National Convention, Clinton has made only a handful of public campaign stops -- and held one quasi-press conference.
Her most recent rally was almost a week ago, on Wednesday at a Cleveland high school, followed by a roundtable discussion the following day in New York with law enforcement officials.
Meanwhile, Trump has been essentially non-stop on the campaign trail, trying to re-ignite his White House bid and woo voters in battleground states like Florida, North Carolina and Virginia with his law-and-order message.
"Hillary Clinton is in hiding because she doesn't want to face voters or even the press," Trump campaign spokesman Jason Miller said Tuesday. "Her scandal-plagued time at the State Department was an ethical disaster, not to mention a failure by allowing the rise of radical Islamic terrorism. With a track record like that, you'd be in hiding too."
Strategists on both sides of the aisle seem to agree -- though for different reasons -- that the Democratic nominee's limited campaign schedule is for now perhaps her best strategy.
"Every page of her playbook says avoid the public at every opportunity," Republican strategist and Vox Global partner David Payne said Tuesday.
"It's more choreographed than a Broadway musical, but without the fun. Warm, approachable -- Clinton doesn't have those qualities. What she does have is message discipline, a dedicated staff and a disciplined campaign. So why should she do rallies or town halls?"
Douglas Smith, a Democratic strategist and managing director at Kent Strategies, in Washington, D.C., disagrees with the idea that Clinton is missing opportunities.
"She has built a robust campaign that is using her in very strategic ways," he said. "They have all the resources they need for after Labor Day. They're just going to let Donald Trump be Donald Trump. Nobody makes a better case for Hillary Clinton than him."
Right now, Clinton leads in most battleground state polls, and the RealClearPolitics average shows her with a roughly 5-point lead nationally.
But amid a string of politically damaging reports about the alleged overlap between her family foundation and tenure at the State Department, Republicans hope to use this opportunity to close that gap. As Trump shakes up his campaign leadership and aims for a reset, GOP party boss Reince Priebus reportedly predicted Tuesday the nominee could catch up with Clinton by Labor Day.
Clinton isn't entirely out of the public eye.
She appeared to use a Monday night appearance on ABC's "Live with Jimmy Kimmel!" to respond to rumors about her health, dismissing the allegations as "wacky" and opening a jar of pickles to try to discredit critics.
While Clinton has been off the campaign trail for about a week, running mate Virginia Sen. Tim Kaine has been making almost daily stops in battleground states. Clinton's next campaign event is scheduled for Thursday in Nevada, where her campaign says she'll deliver a speech that will outline "The Dangers of Trump's Divisive 'Alt-Right' Candidacy."
Clinton also has faced criticism for not hosting a full-blown press conference for roughly the past eight months.
The Washington Post and the Republican National Committee are each counting the number of days she has gone without what they consider a real press conference -- 262.
In early August, the former secretary of state took questions from reporters following a speech at a National Association of Black Journalists and National Association of Hispanic Journalists convention in Washington.
Some national news media and others complained that two of the five reporters who asked questions were also event moderators and that the other three were invited guests.
"Pretty sure she is standing at a podium taking questions on a broad range of topics from national print and TV reporters," Clinton spokesman Brian Fallon tweeted.